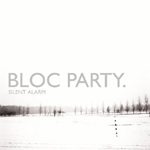 After being dominated by jock rock and M.O.R. sap for the better part of the decade, mainstream rock has finally begun to show some promise of digging itself out of a creative rut. Singles by The Futureheads, Modest Mouse, Franz Ferdinand and Arcade Fire have been infiltrating the radio waves, suggesting that as the pendulum had swung as far as it could possibly go into generic drudgery, it too would eventually swing back toward refreshing and exciting sounds, if only temporarily. Music is no longer a solitary comfort, it's something we can share with each other. And let's face it, most of us want the same thing in a band — hooks, a unique sound, a lasting impression and a long shelf-life. So while varying takes on retro and nü have been vomited forth for the past few years, a band with the perfect balance of old-school UK punk and modern Britpop was born. In a sense, they might be the band that many of us have been waiting for a long time. Friends, fellow music lovers, I give you Bloc Party.
Few albums this year are bound to top the acclaim already given to Silent Alarm, Bloc Party's debut full-length. And it's natural to assume any album that's universally loved or hated is likely to be nowhere near as good or bad as anyone says it is. What's more, some people will love or hate it no matter what it actually sounds like. But Silent Alarm is, simply put, a superb record.
What's unique about Silent Alarm is how well it displays Bloc Party's strength as a singles band, yet holds together well as a cohesive whole. While many of BP's forebears were best consumed in seven or 12-inch form, the UK foursome packs as much punch between the radio tracks. Already making quite an impact here in the US, "Banquet" is one of the strongest indie rock singles out there today. Its herky-jerky guitar harmonies and hypnotically melodic chorus are juxtaposed so well, it's astounding to believe that a band had the foresight to combine the best of punk and pop without hyphenating the two. Similarly, "Helicopter" is a shot of manic, guitar-driven energy and "She's Hearing Voices," in re-recorded form, is heavy and robotic in detached, post-punk gloom.
UK hit "Little Thoughts" is included on the American edition of Silent Alarm, which is a blessing considering the import duties required for finding it otherwise. But it's hard to find a song on this collection that isn't worth gushing over. "Like Eating Glass" is as soaring and powerful as an album opener could be, echoing vintage U2. "Blue Light" and "This Modern Love," with their respective choruses of "you are the bluest light" and "would you like to come over and kill some time?" are melodic and touching, displaying the softer side of the Party without abandoning their edgy, danceable sensibilities.
At their edgiest, Bloc Party is a force to be reckoned with. The marching drums and delay-heavy guitar treatment of "Price of Gas" is among the record's most deliciously sinister goth-rock moments. "Luno" also rocks hard, with layers of reverb-drenched guitar overlaying a racing one-note bassline and Kele Okereke's rapid-fire vocal delivery. But nowhere is Okereke as anthemic and Bono-like as in "Pioneers," in which the young vocalist declares, "We promised the world we'd tame it/what were we hoping for?" in true youthful, invulnerable fashion.
Bloc Party is just the band that the world needs. They're stylish and substantive, and, dare I say it, fad-proof. I could be totally wrong, of course, but there's just too much good stuff on Silent Alarm for me to believe otherwise. I'll spare you all of the "saving rock `n' roll" and "best band of our time" nonsense, because, quite frankly, it's all opinion based. Silent Alarm is an astounding debut and an all-around fantastic listen. And that's all you need to know.
Similar albums:
The Cure – The Head on the Door
The Futureheads – The Futureheads
Gang of Four – Entertainment!