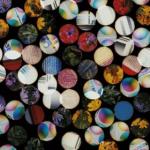 There Is Love in You is the fifth full-length album released by Kieran Hebden as Four Tet, the fourth on Domino and the first since his Ringer EP, a collection of four songs influenced by his DJ residency at London's Plastic People that transposed his production sensibility on more utilitarian dance structures. Last year, he also released a two-song collaboration with Burial, Moth/Wolf Cub, on Hebden's own Text Records. Those two songs—and the pieces of vinyl that carry them—seem to be growing in stature as they recede further into the past, and the collaboration illustrates very well Hebden's interest in the different currents of UK Bass music which have been steadily gaining in notoriety.
But Kieran Hebden is too mature of an artist at this point to let any new fascinations and influences overpower his own steady yet flexible aesthetic. And while the tracks on There is Love in You certainly reflect his time at Plastic People, they also are a step back from the dance floor and into more secluded, personal spaces. As an album should, it appeals to solitary listening that allows one to both skim over its surfaces and dive into its depths; and while a steady 4/4 thud runs through most of the tracks here, it is most definitely the skeleton and not the body, the inner hinge on which each track swings rather than a visceral, serial persuasion. There is Love in You strikes a balance between the linear thrust of his work with Burial and on Ringer, and the meditative cycling of earlier records, Rounds and Pause.
The album's first single, "Love Cry," centers on an unrelenting, jazzy drum break that pushes into the distance as one element after another shows up to draw the listener deeper into its swirling gravity. His trademark whirring, mechanical palette of noises flows in and out, but this track is notably different from anything that Hebden has previously released, and in its use of drum samples, if not in structuring, it is also quite different from everything else on There is Love in You.
"Circling" and "Sing" are more indicative of the mood of the album as a whole. Both build from a steady but not over-powering beat and a repetitive, hypnotic melody into denser and denser soundscapes, second and third melodies played against the original, samples slipping in and out, slivers of the human voice appearing to throw everything into a slow, beautiful spin. "Sing" is my favorite of the moment, with its shuffling hi-hats and videogame melodies, its subtly introduced bell tones and washes of an expertly appropriated female voice, calling us wordlessly to a paradise in the air.
There is Love in You shows Four Tet working fertile territory, deploying all the tricks, cuttings, and sentiments that have made his name, and avidly incorporating new sounds and moods, some inspired by the work of other artists, some simply the product of, one would imagine, new experiences. The guardedly joyful guitar lines on "This Unfolds" and "She Just Likes to Fight" put me in mind of some of his earliest work, both as Four Tet and part of Fridge. They also showcase the more open, vulnerable side of Four Tet, and play excellently as a subtle foil to the deeper, more ambivalently emotional material on There is Love in You. Kieran Hebden remains one of the most idiosyncratic and accessible of electronic music artists, building koan-like sound structures and leaving us to wander their many corridors.
Similar Albums:
Atlas Sound – Logos
Boards of Canada – The Campfire Headphase
Burial – Untrue
Stream: "Love Cry"
Download at