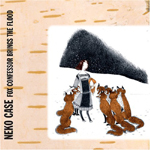 It's only March, and already I'm reviewing the album I've been most looking forward to writing about this year. In the three-plus years since the release of her outstanding Blacklisted, I've seen Neko Case's third album move steadily up on the list of my favorites of all time. As of right now, an exact chart placement hasn't been tabulated, but it's definitely wayyyy up there. So it should be fairly obvious how much my anticipation grew as the release date for Fox Confessor Brings the Flood drew near. Now it's here, and I hardly even know where to begin.
From The Virginian on through the present, Case has always been a spellbinding storyteller, weaving vivid narratives from her reverb-laden loom. Whether she sings of love, death or the bittersweet memories of youth, she does so earnestly, but poetically, finding that perfect balance with which most lyricists struggle. Fox Confessor delivers nothing less than Case's decade-long promise of soul-baring ballads and haunting accounts. Yet Ukrainian folktales inform this album's verse as much as America's great troubadours, as evident in the album's title and corresponding track, which take their name from a story Case loved and remembered from her own childhood.
As mentioned in the press kit, Case's fascination with the Eastern European fairy tales have much to do with their darkly humorous takes on death, a recurring theme in many of her songs and almost all of her album covers. Furnace Room Lullaby, if you may recall, depicted the Washingtonian songbird as a murdered cadaver lying, eyes wide open, on cold ground. And Blacklisted, similarly, found Case trading places with the proverbial deer in the headlights, her corpse lying beneath a predatory van. This time around, the artwork presents a hoofed girl holding a severed head (possibly Case's?) as around a half-dozen foxes surround her. But while death is just around the corner so often, the music never succumbs to gloom or bleakness, opting instead for spiritual and soulful sounds instead.
Nowhere is the meeting place between grief and bliss so close together as it is on "Star Witness," a strange update of "Leader of the Pack" for the reverb and Telecaster set. As soon as the vocals begin, there's disaster: "My true love died in a dirty old pan of oil that did run from the block/of a Falcon sedan 1969/the paper said '75." And amidst the recounts of grieving and horrific details, there is an angelic quality to the song, and absolutely transcendent vocal harmonies between Case and guest vocalist Kelly Hogan.
The title track, meanwhile, seeps in its ominous, twangy melodies courtesy of Paul Rigby and Howe Gelb's shimmering guitar leads, as Case sings of the proverbial fox and ensuing flood. But "John Saw That Number" is rapturous country gospel, joyous and triumphant, and one of the most upbeat tracks on the entire set. But the religious fervor of "John" only sets up for the menacing murder ballad of "Dirty Knife," which finds Case singing "the dirty knife worked deep into his spine/the blood runs crazy," which then transitions into "Lion's Jaws," finding a bleak muse in its soulful, emotional verses.
Most often, the songs on Fox Confessor are slower in tempo and Vitamin D deficient, but there are still a few upbeat tracks, in addition to "John Saw That Number," to break up the mist of gloom. "Hold On, Hold On," with its "Ghost Riders in the Sky"-style ambience is a standout, thanks in particular to the Sadies' outstanding musicianship. And closer "The Needle Has Landed," though still wrapped in sadness and longing, moves at a brisker pace, Case's lyrics drawing parallels between records and lost love.
Much like New Pornographer bandmate Destroyer's Rubies, Fox Confessor is an album that's deeply immersed in allegory and allusion, with strong personal and literary connections that require far more than a mere cursory listen. But as is the case with any Neko Case album, a cursory listen wouldn't do, anyhow. Albums as richly constructed and beautiful as Fox Confessor Brings the Flood were created to be obsessed over, and as I've spent so many hours listening to, contemplating and ruminating over this album, that's exactly what has happened here.
Similar Albums
Giant Sand – Is All Over the Map
Jenny Lewis and the Watson Twins – Rabbit Fur Coat
Bonnie `Prince' Billy – I See a Darkness