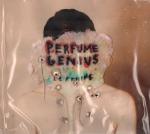 The first listen to Perfume Genius' debut album Learning is likely to be a slightly uncomfortable experience. It's not a difficult album, or an inaccessible album. It's not noisy or experimental or antagonistic. Rather, it's a very emotionally naked album, one that feels more like a private confession than a pop performance. It's hard not to be overcome with the feeling that you're listening to something not intended for listening by an audience outside the artist's home.
That intimacy, however, is exactly what makes Perfume Genius' music so interesting and so special. The project of 26-year-old Seattleite Mike Hadreas, Learning is an album of stark and eerily beautiful compositions, primarily consisting of Hadreas' own voice and piano, and very little else. These stark arrangements, coupled with Hadreas' own fragile and cherubic delivery, contribute to the album's private nature, a quality that grows warmer as the album progresses, and more like a special gift from the performer to the listener. It's not always upbeat, and it's frequently painful, but Learning is also uncompromisingly beautiful.
In spite of Hadreas' sparse arrangements and minimal sonic flourishes, nothing on Learning sounds incomplete. Most of the album's songs are built upon deceptively simple melodies, not unlike Neutral Milk Hotel sans the Anne Frank fetishism, and unexpectedly catchy at that. The opening title track is composed of a straightforward four-chord hook, but before long, little touches like Hadreas' double-tracked vocal harmonies and additional piano riffs make the song twinkle with the delicateness of winter's first snowflakes. Similarly, the 97-second "You Won't B Here" waltzes with the sprightly elegance of Sufjan Stevens' more subdued tracks and a twinge more sadness.
The pain and frailty behind Perfume Genius' songs, as well as the prevalence of themes ranging from drug abuse to molestation, has earned Hadreas comparisons to the likes of Antony Hegarty and Xiu Xiu's Jamie Stewart, both of which are especially apt given the artists' subject matter and sonic similarities. Yet Hadreas' songwriting is not quite as dramatic as Hegarty's, nor as angry and abrasive as Stewart's. But there's more than a trace of each artist in a devastating ballad like "Mr. Petersen," a love song to a teacher who takes his own life less than two minutes into its achingly beautiful melody. But Hadreas delivers the story with affection, adding small details like getting high in his truck, or the Joy Division tape that the titular character gives him. And "Write to Your Brother" is maybe the most sweetly devastating song of the bunch, addressing someone named Mary and an ailing brother, and the gut-punching reminder to "tell him Mom treats you like a lover/ that you have to hide all the mouthwash from her."
While that uncomfortable feeling may linger through Learning's 28 minutes, it's only because Hadreas performs his often tragic and woeful tales with a sense of hope and affection. Ultimately, it's that stubborn optimism and friendly voice delivering each song that makes the ever-present sadness worth enduring. The real life darkness that Hadreas puts into each of these songs may sometimes seem too much, but the young singer is just as quick to offer words of comfort, whispering toward the end of "Gay Angels," "it's okay…it's okay."
Similar Albums:
Antony and the Johnsons – The Crying Light
Xiu Xiu – A Promise
Sufjan Stevens – Seven Swans