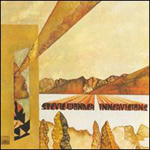 On August 3, 1973, Stevie Wonder released his 18th studio album, the tremendously powerful, sonically mesmerizing and altogether wonderful Innervisions. But fate dealt the singer-songwriter a truly fucked-up hand when Wonder was involved in a car accident, just three days later, leaving him in a coma. While he was in the hospital, however, manager Ira Tucker Jr. and engineer Malcolm Cecil both wanted to play some music for Wonder, hoping that it might bring him closer to recovery. Tucker began to sing "Higher Ground" into Wonder's ear, and in a dramatic, seemingly miraculous turn, he began tapping his fingers along to the rhythm of the song. Depending on how you look at it, Stevie Wonder's music may have actually kept him alive, which is a pretty heavy concept to ponder. But if there's any evidence to just how transcendent Wonder's music is, it would be Innervisions.
Though not quite as immediately accessible as its predecessor Talking Book or as universally life-affirming and epic as its successor Songs in the Key of Life, Innervisions finds its merits in melodic experimentation and social commentary. Not a "political" statement by the standards of, say, American Idiot, Innervisions dabbles with more specific topics, namely racism, drug abuse, spirituality and, on the album's one blatant barb at a political figure, "He's Miss-tra Know It All," Richard Milhouse Nixon.
Quite the contrary to Talking Book's catchy hit opener "You Are the Sunshine Of My Life," Innervisions begins with the scat-sung pop fusion of "Too High," in which Stevie combines an ascending, funky synth bassline with his lyrics of drug overdoses and hallucinatory imagery: "She's a girl in a dream/she sees a four-eyed cartoon monster on the TV screen/she takes a puff and says `it's a crazy scene.'" "Visions," meanwhile, slows the music down considerably to make way for Wonder's musings on social injustice:
"Have I lived to see the milk and honey land?
Where hate's a dream and love forever stands
Or is this a vision in my mind?"
The epic seven-and-a-half minute "Living for the City" finds Wonder transplanting a black Mississippi into New York City, only to find himself wrongfully locked away by the prejudiced system that governs the land. Wonder, himself, provides voices of many of the "characters" that emerge during the song's dramatic break. "Golden Lady," in a slight change of course, is a much simpler and prettier love song that breaks up some of the heavy imagery. And then comes the album's centerpiece, "Higher Ground," which stands as the album's most celebrated song, covered later by the Red Hot Chili Peppers in a much more aggressive white guy rock style. Here, however, it's a catchy, funky jam about reincarnation. Wonder had developed an interest in Eastern religion, which is on display during the song's upbeat chorus:
"I'm so glad that he let me try it again
Because the last time on earth I lived a whole world of sin
I'm so glad that I know more than I knew then
Gonna keep on tryin' till I reach the highest ground"
The following track, "Jesus Children of America," follows suit, offering a more sobering look at religion. Melodically, however, the song is easily one of the most impressive on the record, as a more subtle groove is put in place of a big hook, and gradually percussion and other sounds augment the song until it becomes a fuller, stronger whole. Stevie's Spanish trash-talking opens up "Don't You Worry `Bout a Thing," a song with a lighter, Latin-flavored feel and less political or social-inspired lyrics.
The closer, "He's Misstra Know-It-All," as mentioned before, is Wonder's "Fuck You Richard Nixon" song. Though the song is jazzy and soulful, it's also a scathing indictment of Tricky Dick. Wonder sings, "Take my word/please beware/Of a man that just don't give a care no," and wasn't shy about letting the world know how he felt.
The cover image of Innervisions, created by Efram Wolff, summed things up perfectly. While people seem to roam around blindly, the legally blind Wonder was depicted as a visionary. It's the ultimate irony, a blind man that can see the world more vividly than the rest of us, and yet, it holds true. Yet, in spite of all the social ills, political unrest and soul searching on the album, Wonder kept things optimistic, ultimately looking toward something better and brighter. Three years later, he would release his sprawling masterwork Songs in the Key of Life, but Innervisions still stands as the man's most compelling work.
Similar Albums/Albums Influenced:
Marvin Gaye – What's Going On
Curtis Mayfield – Superfly
Sly and the Family Stone – There's a Riot Going On