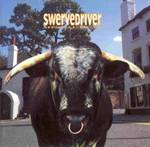 When last we left our Oxford based guitar heroes, they were blowing minds and melting faces with intense mixes of metal, psychedelia, shoegaze, hardcore, punk and pop. They were loud, aggressive, and seemingly on the verge of greatness. Of course, that was before the band began to fall apart. They lost band members, managers, and probably some sanity on the journey beyond their first album, Raise. Every sign seemed to be pointing toward some kind of implosion or at least the dreaded sophomore slump. But instead, the core members of the band, Adam Franklin and Jimmy Hartridge, soldiered on, eventually finding new band members and a special production partner in Alan Moulder. Once the pieces were in place, they released what is now considered the signature Swervedriver album, Mezcal Head.
Whereas Raise was a head first blitz or all out assault, Mezcal Head is a focused attack. The production has almost everything to do with the difference. Alan Moulder brought crispness to the sound of Swervedriver. Where once there was a wall of guitars, with Mezcal Head there was a clarity of sound, an ability to pick out particular melodies and notes. The band leaned less to the aggressive metal tendencies and more to the Teenage Fanclub pop tendencies. The album was tighter and more cohesive while still being muscular and retaining an ever-present forward momentum. You get a sense with Swervedriver, particularly on their second album, that you are standing on a precipice, being pushed closer to the edge with every guitar blast.
"Duel" is the perfect example of that new, cleaner sound. Besides being one of the band's most popular singles, it redefined their sound to one that was purely their own. Guitar lines were far more streamlined. The vocals were dreamy, yet tough. This was a song that made the record label think Swervedriver were going to be the Nirvana of the UK. No longer were critics so quick to namedrop the usual round of suspects who influenced the band. Instead, they began to talk about Swervedriver as musical innovators, as a unique voice in the ever-changing musical landscape of the '90s. With the further explosion of Nirvana, Pearl Jam and Smashing Pumpkins, it's hard to believe that Swervedriver wasn't more popular.
My brother recently created a poster for the band's recent reunion tour stop in Seattle. The concept he came up with, as seen here, seemed to me a perfect visual representation of the band's sound. At first glance, we see a gauzy, diaphanous undersea creature, seemingly, though static, undulating through the murky depths of the ocean. So too do Swervedriver's guitar lines seem to swirl around in the deep, especially in the later tracks and bonus songs added to this deluxe reissue, such as "Duress" and the incredible "Never Lose That Feeling." Heck, "Planes Over the Skyline," as a b-side was far better than most bands' singles. But a closer look reveals thousands of little dots that make up the representation of what appears to be transparent. Again, with Swervedriver, the music is far more complex than just swirliness and shoegazey pedal effects. Closer looks and listens reveal masterful intricate and acute songwriting in a time when directness of sound and obtuse lyrics were the order of the day. Raise may have been the warning fire, but Mezcal Head was the perfectly aimed kill shot.
Similar Albums:
Teenage Fanclub- Bandwagonesque
Jawbox- For Your Own Special Sweetheart
Mercury Rev- Yerself is Steam
Download at