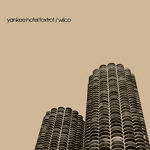 Truly Great
It's the stuff of legend. Band records album. Label rejects album. Band takes album to new label, says "fuck off." Album becomes the most critically acclaimed musical work of the year. Press-wise, Wilco's eventual release of Yankee Hotel Foxtrot heralded a victory for the little guy, while the big, bad label was put in its place, executives humbled by the success that they let slip through their hands. It's probably not really like that, as Wilco's Yankee Hotel Foxtrot didn't exactly sell millions, but if my facts are correct, it was their highest selling album at the time, ultimately going on to sell half a million copies, which has to count for something. And the irony of the whole thing is that the album was eventually issued by Nonesuch, which is not only another major, but it's a subsidiary of Warner Bros., as is the band's previous label, Reprise.
During the label negotiations between rejection and eventual commercial release, the album was available as a stream on the Wilco's website. At the time, I was oblivious to this, as (this will sound quaint in retrospect) my college student budget kept me on dial-up. I did, however, get an early CD-R copy of the album, thanks to a fellow DJ at San Diego State University's radio station, KCR. Before I even gave it a listen, he warned me, "they've definitely gotten a little weird."
I dived in expecting everything: electronica, noise, free-form improvisation and maybe even a little punk. In some ways, Yankee Hotel Foxtrot contained all of these, but in subtle, less obvious ways. Rather, the album was classic Wilco, aided by unusual instrumentation, ornamentation and "sonic treatments" by Jim O'Rourke. But in spite of the experimental ear candy, the songwriting took center stage, proving that whoever said "no" to Foxtrot being released didn't listen to anything further than the odd sounds on the surface.
Album opener "I'm Trying to Break Your Heart" is, in essence, a simple three-chord pop song. But that's selling it short, just as much as calling it post-rock. Sure, it has its fair share of strange noises, but it's a gorgeous song, one of the best the band ever recorded. The lyrics just as oblique as the densely layered composition, Jeff Tweedy offers lines like "I'm an American aquarium drinker" and "I assassin down the avenue." Though it may not make sense to anyone other than himself, it stands as a strangely affecting piece of Dadaist art.
The appropriate way for the band to follow up a wildly innovative and epic song such as "I'm Trying to Break Your Heart" was, of course, with a simple, subdued track like "Kamera." The loosely structured "Radio Cures" followed, running back and forth between spacious white noise and melodic choruses. But "War on War" was the point at which the album made a dramatic turn. Much like "Kamera," the song's basic structure lies in an acoustic chord progression, overlain by electronic squawks. This is also where the album earned its reputation as a reaction to 9/11, despite the recordings having been finished beforehand. Tweedy sings "it's a war on war" repeatedly, until he finally breaks the repetition with the line, "you're gonna lose." This theme of post-September-11th anxiety especially became relevant in the following track, "Jesus, Etc." This is all, of course, coincidental, as the album was recorded shortly before September of 2001. But the gorgeous, melancholy track became a source of comfort for many, particularly in the lines, "tall buildings shake/voices escape, singing sad, sad songs."
"Ashes of American Flags" showed the band returning to familiar structures, it being the most country-flavored on the album. But like most of the others, it contained its share of white noise and feedback on top of the melody. Tracks 7 through 9 saw the run of the three catchiest tracks on the album, "Heavy Metal Drummer," "I'm the Man Who Loves You" and "Pot Kettle Black." The first of the three, "Drummer," remains one of the most light-hearted and carefree songs the band had recorded to date. On top of a danceable drum machine beat, Tweedy sang of youthful summers spent watching heavy metal bands. "I'm the Man Who Loves You" was nothing short of brilliance, a whimsical folky song driven by chaotic electric leads and Tweedy's lighthearted delivery. "Pot Kettle Black" is the most straightforward of the three, but a solid example of the band's incredible songwriting ability, nonetheless.
The album climaxes with "Poor Places," which begins quiet, but cascades into a crescendo of piano, feedback, rolling drums and samples of a British woman saying the album's title, "yankee…hotel…foxtrot," culled from the cult numbers stations collection, The Conet Project. After so much chaos and drama, Tweedy and co. bring things to a hushed close with uneasy lullaby "Reservations." At times the song is almost inaudible until the band reaches the gospel-like chorus, in which Tweedy makes the plea, "I've got reservations/about so many things/but not about your."
Hearing Foxtrot now, the album most definitely played a major influence on the ensuing years of indie rock progression, but at the time, it probably seemed like a risk. Since the release of YHF, Tweedy, O'Rourke and drummer Glenn Kotche released the even weirder Loose Fur project, which only resulted in even more (and weirder) experimentation. This is just one more step in a path of consistently defying and exceeding expectations. And Yankee Hotel Foxtrot was the catalyst.
Similar albums:
Beulah – Yoko
Joe Henry – Fuse
REM – New Adventures in Hi-Fi