Intelligent dance music, or IDM, fought for relevance in the late 1990s on the strength of heavily modified strains of existing electronic subgenres from which it borrowed liberally. The drones of ambient, the 303 squeaks of acid techno, hip-hop sampledelica, and junglist syncopation were all fodder for IDM experimentalists—sometimes taking one and seasoning it to taste, sometimes taking more and layering or weaving them to outsized results. Mike Paradinas' label Planet Mu has carved out a healthy niche for these artists, supplementing his own impact performing under a range of stage names. The best known of Paradinas' efforts has been μ-Ziq, even if his most significant work from that nom de plume came before the turn of the century.
Anchored by releases like In Pine Effect and Lunatic Harness, μ-Ziq built a reputation for music both soothing and emphatic. Although considered a pioneering act in drill'n'bass (the loud, fast, and snotty sibling of drum'n'bass), Paradinas often tempered the speed of tracks of this period with lilting vocals and synth melodies inspired by jazz and classical music. After a string of archival releases through the 2010s, last year's Scurlage was μ-Ziq's first new work in eight years, as aggressive as ever but decidedly moody and at times surprisingly dark, an obvious product of COVID pandemic isolation.
The new Goodbye EP, however, feels like a hot spotlight cutting through a club's smoky, artificial nighttime. The title track of this EP also resides on Magic Pony Ride, a new full μ-Ziq album due in May and teased by Paradinas back in January. Most of what is on that album sounds like a love letter to the "Amen break" of jungle, and there's a lot of what passes for traditionalism from that genre here on Goodbye. Staccato, pointillist bass lines support "Goodbye" and "Giddy All Over" as female vocal glitch-olalia hints at the titles being sung, with breakbeats and muted keyboards taking three steps forward and backward endlessly. "Rave Whistle" feels lifted from the Metalheadz roster, while "Moise" settles μ-Ziq back down into the Planet Mu wheelhouse with clattering, buzzing electro-balladry.
Two mixes of "Rave Whistle" top off Goodbye, and especially the throwback jungle tekno version would be pure dope were it not for the presence of an irritating pitched-up sample of a scream. Still, if this is the trip we're about to take on Mike Paradinas' time machine, sign me up; I'll flip the switches myself.
---
Label: Planet Mu
Year: 2022
---
Similar Albums: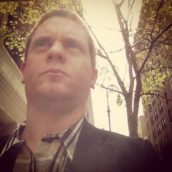 Adam Blyweiss
Adam Blyweiss is associate editor of Treble. A graphic designer and design teacher by trade, Adam has written about music since his 1990s college days and been published at MXDWN and e|i magazine. Based in Philadelphia, Adam has also DJ'd for terrestrial and streaming radio from WXPN and WKDU.