Dave Harrington : Before This There Was One Heart But A Thousand Thoughts
It's easy to downplay Dave Harrington's role in Darkside. Conventional wisdom gives most of the credit for that band's success to Nicolas Jaar, whose talent had been proven with his 2011 LP Space Is Only Noise and his several preceding EPs. Harrington's pre-Darkside career was quiet in contrast, and the fact that he and Jaar had been college buddies at Brown often led major music publications to subtly portray him as Jaar's less-talented coattail rider (Pitchfork notably described Harrington's guitar work on Psychic as "rudimentary […] the last thing you'd expect a forward-thinking electronic musician to incorporate into their mission statement"). Jaar was clearly the driving artistic force behind the project; Harrington was just along for the ride.
Of course, that's reductive and entirely false, and finally we have Harrington's solo debut to prove it. Before This There Was One Heart But A Thousand Thoughts is a 20-minute declaration of Harrington's musical autonomy. Combining five songs over two tracks, the EP is the strongest argument yet that we shouldn't give Jaar all the credit for Psychic's success.
Heart sounds more like Darkside than anything in Jaar's solo catalogue. It's an extension of Psychic's cosmic psychedelia, venturing into even looser territory. Opener "One-All" is a slow-burner in the vein of Darkside's "Golden Arrow," but it combusts into stuttering, sparkling synthesizers before it can settle into any groove. When the bass finally does come in, on "A Thousand Times," it's a strangely captivating doodle, shapeless and tuneless, creating its own meandering logic before fading into "Multiple and Mirror," which, with its gently reverberating guitars, plays like a more fully realized "Sitra."
Noticeably absent are drums. There's the rhythmless banging that kicks off the ambience of "Flash," but the EP lacks the driving percussion that so motivated "The Only Shrine I've Seen" or "Freak, Go Home." This contributes to Heart's weightlessness, but also provides room for experiments like the pulsing waves of static that overtake the second track at times, threatening to derail the EP's dreaminess into a sort of industrial sound collage. But the angularity of "Flash" is resolved by the screeching Middle Eastern strings of "All-One," a noisy, two-minute outro that carries a strange catharsis. Like the rest of the EP, it's a display of Harrington's embrace of meandering, moody tunelessness over melody, and like the rest of the EP, it creates a unique, immersive sonic space that feels gone too soon.
As a whole, Before This There Was One Heart But a Thousand Thoughts accomplishes the task of establishing Harrington's contribution to Darkside, proving that he's responsible for a significant part of the band's signature sound. But through its experimental improvisation, the EP also accomplishes a more difficult task: establishing Harrington as a solo artist and, more importantly, piquing curiosity about what he does next.
Similar Albums:


Darkside – Psychic

Emeralds – Does It Look Like I'm Here?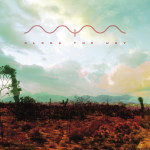 Mark McGuire – Along the Way