Stream the new Parkay Quarts album, Content Nausea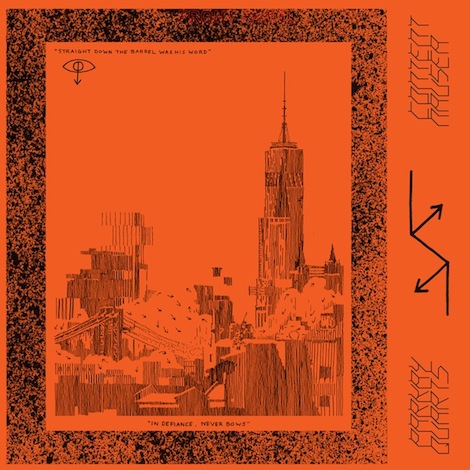 Parquet Courts are releasing a new album next week as Parkay Quarts, which is titled Content Nausea. Why the name change? No idea. But they also perform under the name PCPC with PC Worship, just to make it all the more confusing. And if you're interested in hearing their sort-of follow-up to this year's Sunbathing Animal, it's streaming in full right now, via Soundcloud.
Listen to the Parkay Quarts Content Nausea stream below.
Parquet Courts (and Parkay Quarts… don't ask us, we're just the messengers) is also touring this winter. Check out all of the band's upcoming tour dates below.
Parquet Courts tour dates:
11/6 Washington, DC – DC9 (as Parkay Quarts)
11/8 Philadelphia, PA – PhilaMOCA (as Parkay Quarts)
11/13 Lille, France – Le Grand Mix (as Parkay Quarts)
11/14 Paris, France – La Cigale (as Parkay Quarts)
11/15 Nantes, France – Stereolux (as Parkay Quarts)
11/17 Toulouse, France – Bikini (as Parkay Quarts)
11/19 Oostende, Belgium – De Zwerver (as PCPC)
11/20 Brussels, Belgium – Botanique (as Parkay Quarts)
11/21 Utrecht, Holland – Le Guess Who (as Parkay Quarts)
11/22 Amsterdam, Holland – The Vrankrijk (as PCPC)
11/23 Utrecht, Holland – Le Guess Who (as PCPC)
11/24 Ramsgate, England – Ramsgate Music Hall (as PCPC)
11/25 London, England – Electroworkz (as PCPC)
11/26 Leeds, England – Wardrobe (as Parkay Quarts)
11/27 London, England – The Laundry (as Parkay Quarts)
11/29 Koln, Germany – Museum Ludwig (as Parkay Quarts)
11/30 Zurich, Switzerland – Rote Frabrik (as Parkay Quarts)
12/11 New York, NY – Webster Hall
1/24 Baltimore, MD – Ottobar
1/25 Charlottesville, VA – The Southern
1/26 Raleigh, NC – Kings
1/28 Athens, GA – 40 Watt
1/29 Atlanta, GA – The Earl
1/30 Gainesville, FL – The Wooly
1/31 Tampa, FL – American Legion Hall
2/2 Tallahassee, FL – Club Downunder
2/3 Pensacola, FL – Vinyl Music Hall
2/4 Birmingham, AL – The Bottletree
2/5 Nashville, TN – Exit/In
2/6 Asheville, NC – The Mothlight
2/7 Washington, DC – Black Cat
2/8 Philadelphia, PA – First Unitarian Church
3/8 Meredith, Australia – Golden Plains Festival