King Dude : Songs of Flesh & Blood – In the Key of Light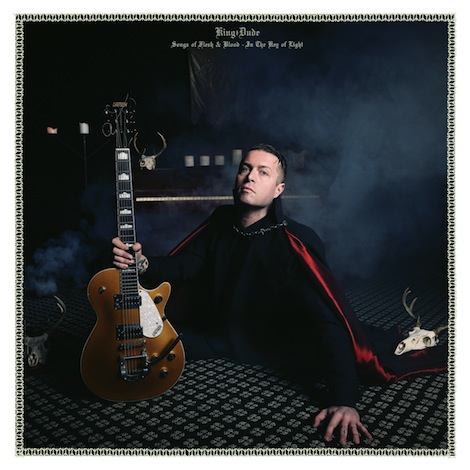 TJ Cowgill keeps good company. The singer/songwriter, better known as King Dude, has toured and collaborated with Chelsea Wolfe, whose own output is consistently strong—just listen to 2013's Pain Is Beauty. But the production quality of his earlier albums was debilitatingly lo-fi, and many of his songs sounded not fully realized. It wasn't until his third album, 2014's Fear, that he worked out the kinks. With album number four, Songs of Flesh & Blood – In the Key of Light, Cowgill dips his foot more solidly into a post-­punk sound, with his past folk and doom-country sound shadowing it. He has taken the darkness of his earlier work and fleshed it out with a greater range of emotion running into the Rome-like strum to "Deal With the Devil." It's easy to assume that post­-punk with folk equates to Death In June, which is not the case here. Despite his sometimes ­Luciferian-slanted lyrics there is a gospel quality underlying his songs, rather than an overt gothic tone like Douglas P and friends. Vocally, he can still hang out in the bat cave as there are some pretty spooky notes that Cowgill scrapes up from the bottom of his register.
Nick Cave is an obvious influence, but TJ doesn't get lost in the narrative and remains focused on the details, be it the piano line to "Death Won't Take that carries more of a swing than the rocking boogie of "Rosemary." The raw production might be forsaken with his musical flourishes, but it remains cavernous enough to retain the layer of darkness. "The Heavy Curtain" carries a pulse that might recall Leonard Cohen's contribution to the Natural Born Killers soundtrack. Cowgill is not content to just brood, bringing in fuzzed out guitar to bring crunch to the climax. The haunting hollow of the apocalyptic blues he frequented on a more regular basis comes out in "Desolate Hour."
He is confident with his vocals, placing them nakedly forward in the mix of the organ-driven hymn "I Don't Wanna Dream Anymore," a song he allows to drone on rather than climax. Then comes the rambling western feel to "Holy Water," wherein he stretches his vocals to a higher key for a rambling atmospheric cowpunk number. Songs of Flesh & Blood has the bearings of being one of those albums you never get tired of as a few songs grab you at first and then the others begin to grow on you with repeated listen, then the next thing you know, one rainy afternoon you realize that the album's been on repeat all morning. Long time followers of the Reverend Cowgill will likely agree that this is his best album. If you have an ounce of darkness in your heart, prepare for conversion.
Similar Albums:


Nick  Cave and the Bad Seeds – Dig, Lazarus, Dig!


Cult of Youth – Final Days


Wovenhand – Refractory Obdurate