Modern Pain : Peace Delusions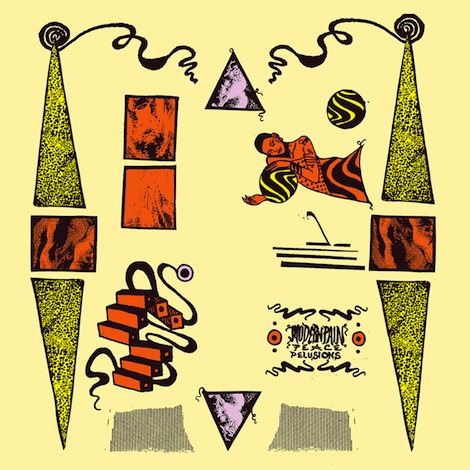 In the fast-moving world of present-day hardcore, itself split into myriad subgenres and scenes, five years is akin to an eternity. Entire musical movements can rise and fall in no time at all, but Dallas-based band Modern Pain have always been about playing the long game. The Cast Aside, Left Behind EP introduced their forward-thinking brand of hardcore, and last year's Self Deconstruction follow-up indicated that they were on the brink of something special. It pulled the listener in multiple directions at once, very much the product of people who have come together from different musical backgrounds. All of this, however, is in the past; the version of themselves Modern Pain want to present to the world on Peace Delusions is one that likes getting weird; perhaps even more than they enjoy deploying mosh-worthy riffs.
A half-hour record that showcases hardcore at its most progressive and complex, it shies away from straightforward song structures and identifiable vocals; the latter of which is more often than not buried under swathes of noise. Drawing as much influence from the world of straight-up hardcore as it does noise rock—this is a band, after all, who were more than comfortable with covering Sonic Youth's "Kill Yr. Idols" on the flipside of their last single —taking detours through grunge and harsh noise along the way. It arrives amid talk of being the hardcore equivalent of In Utero. That's quite a claim, but it goes some way towards justifying the hype. "Vivisepulture pt. 1" opens with industrial clamor and effects-laden guitars, vocals employed as an additional instrument more so than anything else. 'Ego Death' doffs its cap to speed metal and brutal sludge in equal measure, while "When the Hymn Fades" comes on like The Jesus Lizard on a destructive bent, its chugging riffs and anguished screams creating an atmosphere of unbridled terror.
This is a relentless and restlessly inventive record, toying with the conventions of the genre and carving out an interesting niche for itself in the process. The title track is an appropriately violent two-minute juggernaut that leads into one of the album's more ambitious tracks; "Leave Me Here" stretches to almost six minutes in length and is exactly the sort of finale Peace Delusions needs: an energetic and powerful closing statement that finds Modern Pain delighting in ripping up the hardcore rulebook. They're willing to try any number of things, and with their sound still changing and evolving even over the course of their debut album, there's no telling what they could achieve. Uncompromising, unsettling and strange as all hell: this may not be the best hardcore debut of the year, but you'll be hard pressed to find anything with more guts.
Similar Albums:


Code Orange – I Am King


Converge – All We Love We Leave Behind


Cult Leader – Nothing For Us Here