Janet Jackson : Unbreakable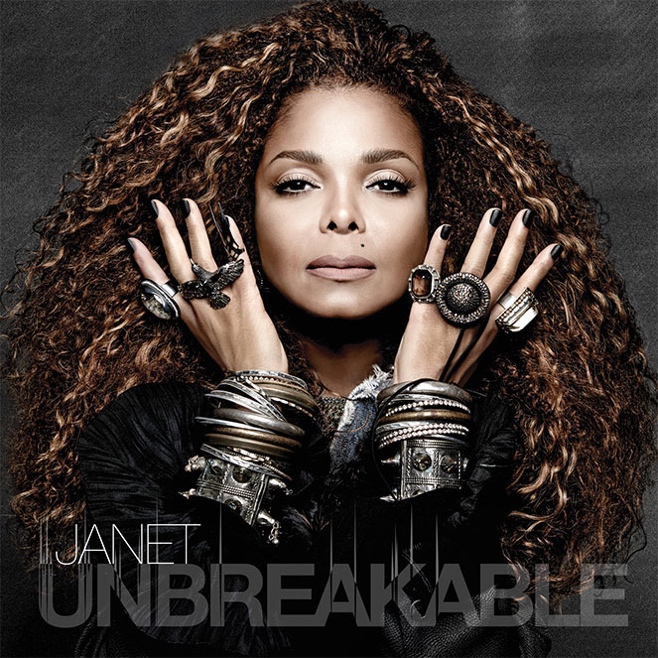 Unbreakable, Janet Jackson's first album in seven years, bears a lot of weight; not only does the album carry the expectation of a long awaited album, but in the interim years since 2008's Discipline, Jackson suffered the tragic loss of her brother Michael, focused on acting and married Qatari billionaire Wissam Al Mana in a private ceremony. In a 2010 interview with Vibe, ex-boyfriend Jermaine Dupri stated, "Janet is just trying to figure out her landscape." The time away from recording seemed to have worked for Jackson as Unbreakable is a mature, self-aware and overall mellow album.
Reuniting with longtime collaborators Jimmy Jam and Terry Lewis (who, let's be frank, made their best work with Jackson), Unbreakable is largely unconcerned with current pop trends. This puts Jackson apart from her contemporary, Madonna, whose Rebel Heart was like a cash grab at any pop trope that might possibly point to her (supposed) relevancy. "Dammn Baby" sounds the most like current radio hits, cribbing from DJ Mustard, but Unbreakable largely ignores current pop, and favors a more throwback vibe that compliments Jackson's lyrics and her vocal range. She sounds like a singer who knows what she wants and isn't looking to transform herself to suit trends.
In her opening track "Unbreakable," Jackson says, "Hello, it's been a while. Lots to talk about. I'm glad you're still here. I hope you enjoy." Her self-aware nod to the time since we last heard from her kicks off an album that is reflective of both her joys and her sorrows. Unbreakable finds Jackson not only singing about her departed brother (the ebullient and breezy "Broken Hearts Heal"), her marriage (the wistful "Take Me Away"), but she also touches on social justice. These explorations of Jackson's idealism and her bleeding heart lyrics aren't new, one can trace these right back to Rhythm Nation 1814, but her most recent work played down these tendencies and it's a welcome surprise to hear them again. Unlike, say, Madonna or Bono, Jackson seems to understand her own limited capabilities to affect change and her own sheltered life. Indeed when she released Rhythm Nation 1814, she stated, "I'm not naïve—I know an album or song can't change the world." On "Shoulda Known Better," Jackson sings that she "just can't feel casual about casualties," and later in the outro, "I had this great epiphany, and Rhythm Nation was the dream. I guess next time I'll know better." The self-critical lyric is surprise if only because our social crusading pop stars tend to come in the form messianic self-aggrandizers like Bono.
The most striking song is "The Great Forever." On it Jackson sounds so remarkably like Michael that it's uncanny and heartbreaking at the same time. His absence and his influence permeate Unbreakable. More than any other track "The Great Forever" speaks to Michael's music. The rhythm borrows from his sublime "The Way You Make Me Feel," and it feels the most indebted to his style.
If there's one through line in Unbreakable it's Jackson's desire for peace and bliss, both for herself and for everyone else. In "Dream Maker/Euphoria," Jackson sings, "wish I could create a perfect place, without jealousy, abuse, or hate," against a blissed-out retro-soul instrumentation. Sure it's vague and more than a little idealistic, especially from someone who, at least superficially speaking, seems to live quite the good life. Yet it's hard to deny Jackson her musings, if only because we've watched her grow up, struggle with her fame and evolve. The euphoria on songs like "Take Me Away" and "Gon' Be Alright" feels well earned. Unbreakable feels like a natural evolution in Jackson's career. Control and Rhythm Nation were bold strikes of independence, janet. and The Velvet Rope were articulations of female desire, and now Unbreakable is a knowing maturation. As she sings in "Well Traveled," "I've come a long way, got a long way to go."
Similar Albums:


Usher – Looking 4 Myself


Beyoncé – Beyoncé


Kelis – Food