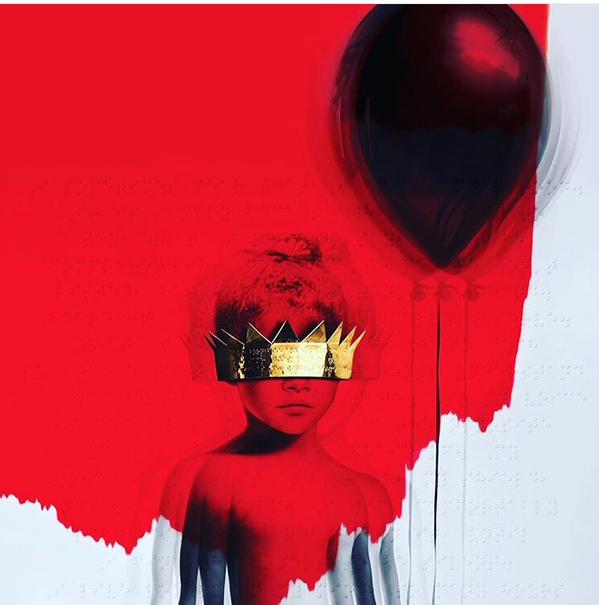 Rihanna doesn't give a shit. It's her blessing and her curse. It imbues her with the confidence to drop her eighth studio album, ANTI, for free, sans fanfare and with little advance notice. It also has historically prevented her from making a record with a cohesive sound, point of view or message. To be fair, no one's expecting Rihanna to make a Grand Statement or masterpiece. It's perfectly fine that ANTI isn't either of those things. What is somewhat disheartening is that it's not at all sure what it wants to be. This is not her Beyonce or Emotion, but it also has no clear antecedents in Rihanna's catalog save for its general unevenness, an attribute it shares with all her albums.
All that may lead you to think the album isn't even worth trying, which isn't true. ANTI is the closest Rihanna's come to making a fully realized album since Rated R and Loud. And despite its production being provided by committee—Boi-1da, veteran R&B hitmaker Kuk Harrell, Hit-Boy, Timbaland, DJ Mustard, No I.D. (!) and others—the majority of it, like R, has a consistent sonic direction. No song goes faster than midtempo, and most are considerably slower, with hard drums that fall somewhere between trap and industrial. Sometimes the sound verges on dystopic, which is fitting given the cover art.
The closest thing on ANTI to A Traditional Rihanna Song is the dancehall-inflected lead single "Work," and perhaps oddly it's one of the pieces that fits the least. (On its own, it's a fairly effective pop song, and Drake's guest spot again showcases the immense musical chemistry they have.) Other sore thumbs include the two boring treacly ballads—one acoustic ("Never Ending") the other piano-driven (closer "Close To You")—the aimless 74 seconds of "James Joint" and the Scott-produced, too-stoned noisefest known as "Woo." (Scott can be an interesting producer, for sure, but more often than not he makes shit worse, including in this case with his sub-Future, leaned-out-robot crooning.)
Perhaps the strangest thing about this album is that many of its best moments are mimicry. Both "Yeah I Said It" and the Tame Impala cover "Same Ol' Mistakes" sound one hell of a lot like Tinashe's superb ambient-R&B opus Aquarius, but they're also great. "Desperado" would work as well for Drake as it does for Rihanna, which, considering their aforementioned chemistry, makes sense. And "Love On The Brain" bites the late Amy Winehouse so thoroughly that her estate could probably consider complaining, but it's an absolutely incredible rip-off and one of the best showcases yet for Rihanna's polarizing voice. (On that note, she has never sounded better than she does on ANTI, particularly in the raw plea of "Higher," which is powerful because of how she cracks with vulnerability, not in spite of it.)
Lyrically, ANTI sticks to Rihanna's push-pull between "IDGAF about you" and "Goddamnit, I need you," which while unsurprising is naturally relatable and has always been one of the biggest reasons for her appeal to so many listeners. Opening track "Consideration," boasting a wonderful guest vocal by SZA, and "Needed Me" fall into the former camp, while the latter is best represented by "Desperado," "Love On The Brain" and "Higher." It's intriguing to me, though, that Rihanna's best songs are those that convey that ravenous romantic need (e.g. "Stay"), despite her public persona and many of her biggest hits being centered around her no-fucks-given side.
It's unlikely that this album will have any overall bearing on Rihanna's standing. She has established a place at the top of it alongside Beyonce, Katy Perry and Taylor Swift, and ANTI would have to be an absolute wreck to diminish that. And whatever the album's flaws, it certainly isn't that. I don't know what her fanbase will think of it—outside of the diehards who'd love it no matter what—and I'm not entirely sure what I feel about it. But unlike past Rihanna albums, I can see myself coming back and puzzling over it more. That alone is a notable accomplishment in the inherently ephemeral pantheon of pop music.
Similar Albums:


Demi Lovato – Confident


Ariana Grande – My Everything


Janet Jackson – Unbreakable