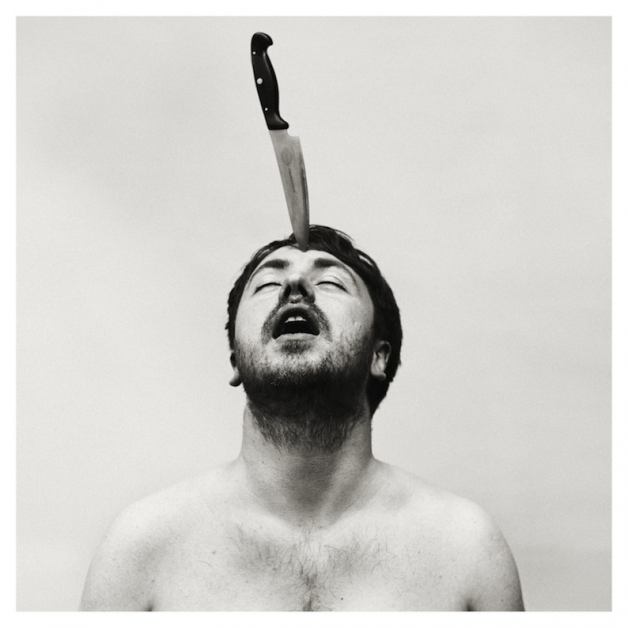 By all accounts, this album should not exist. A harrowing document of existential depression and what Jamie Lee, leader of Manchester's MONEY endured in the aftermath of their acclaimed debut LP (2013's The Shadow of Heaven), it was clearly painful to make. The art and title suggest a man at the end of his rope; that's Lee himself with a knife plunging into his forehead, and in choosing to go with Suicide Songs as the title, he wanted to make an impact.
Suicide Songs comes from a dark place, one that itself stemmed from Lee's battle with alcohol dependency that began once he'd moved back to London to improve his songwriting. There followed a descent into depression that informed his writing, and eventually the band's second LP. Closing ranks after the departure of bassist Scott Bowman, the now-trio (completed by Charlie Cocksedge and Billy Byron) reconvened in London—admittedly, at the urging of producer Charlie Andrew—to work on their sophomore offering.
More expressive than its predecessor, the album is nonetheless brutally raw and unflinching, something that extends to Andrew's production. Even something as seemingly uplifting as the glorious, gospel-flecked climax of penultimate track "All My Life" is never allowed to soar; emotional and jubilant, yet in a prison of its own making. Sadder still, it's swallowed the key to its cell. The band's commitment to a particular aesthetic is absolute: even when delighting in major-key melodies, the album remains fraught with melancholy and listlessness; an aura of resignation that suits it perfectly.
When opener "I Am The Lord" wants to sound big, it's unquestionably cavernous, but in a natural way. A glossy and fleshed-out sound would have clashed with the palpable anguish that runs throughout the album. "I don't want to be god," Lee howls, as dilruba, hand percussion and warm, fuzzy guitar swell around him, "I just don't want to be human anymore." The despondent tone established early on never truly retreats, and the light at the end of the tunnel turns out to be an oncoming train.
On "I'm Not Here," Lee repeats the title over and over with such fervor that it's almost like he's willing himself out of existence, while "You Look Like A Sad Painting On Both Sides Of The Sky" has him "[waking] as if on fire," a deeply unsettling image that turns the song's unwieldy title into something a lot more impactful. In a similar manner, "I'll Be The Night" contrasts hopeful opening lines ("When I was a child, I made a deal against the sun / That if it died out that I would carry on") with a sense of loneliness and longing that borders on unbearable.
Suicide Songs isn't an easy listen, and it never tries to be. It's the sort of record you put on when you're miserable and drained, in a "Hopeless World" like the one of which Lee sings and dares you to join him in ("My hopeless world, where I make a strange light, uncertain and absurd"). It manages to be even more emotional than The Shadow of Heaven by virtue of never fully resolving itself, frequently trailing off into ellipses and wordless despair.
It's the sort of album that takes everything out of you whether or not you let it, and offers little by way of compensation. It's also one of the most beautiful and rewarding albums to come out of Manchester—hell, even London or the whole of the UK—in quite some time. Bleak and uncertain from its first note to its brass-assisted conclusion on "A Cocaine Christmas And An Alcoholic's New Year," it'll make you feel something and remind you you're alive. Sometimes, no matter our mental or physical wellbeing, that's all we need.
Similar Albums:


How to Dress Well – Total Loss


Perfume Genius – Learning


Majical Cloudz – Are You Alone?