Inter Arma announce new album, Paradise Gallows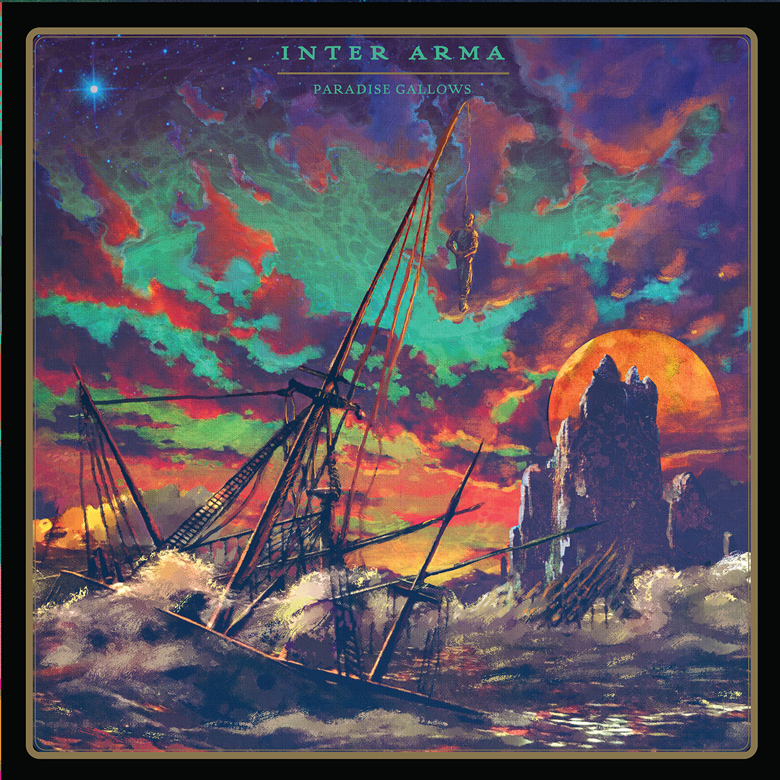 Richmond, Virginia metal band Inter Arma is returning this year with new music. On July 7, they're releasing Paradise Gallows, their second full-length, via Relapse. That's the album's artwork above. According to a press release, the album is "71 minutes of expansive, progressive heaviness," and "dense, funereal, and richly evocative." The band has just debuted a new song from the album, the 9-minute epic "Transfiguration," via Pitchfork. Listen to the Inter Arma "Transfiguration" stream below, and check out the album's tracklist. They're also touring all over the U.S. Check out those dates below.
Paradise Gallows follows 2013's Sky Burial.
Inter Arma Paradise Gallows tracklist:
1. Nomini
2. An Archer in the Emptiness
3. Transfiguration
4. Primordial Wound
5. The Summer Drones
6. Potomac
7. The Paradise Gallows
8. Violent Constellations
9. Where the Earth Meets the Sky
Inter Arma tour dates:
4/6 Roanoke, VA – The Q
4/7 Johnson City, TN – The Hideaway
4/8 Chapel Hill, NC – Local 506
4/9 Athens, GA – Caledonia Lounge
4/10 Nashville, TN – The East Room
4/11 Knoxville, TN – Pilot Light
4/12 Bloomington, IN – The Bishop
4/13 Lexington, KY – Best Friend Bar
4/15 Cincinnati, OH – MOTR Pub
4/16 Pittsburgh, PA – The Smiling Moose
4/17 Rochester, NY – Bug Jar
4/18 Burlington, VT – Nectar's
4/19 Kingston, NY – BSP Kingston
4/20 New Haven, CT – BAR
4/21 Baltimore, MD – Metro Gallery
7/5 Washington, DC – DC9 (W)
7/6 Philadelphia, PA – Boot & Saddle (W)
7/8 Brooklyn, NY – St. Vitus (W)
7/9 Boston, MA – Great Scott (W)
7/10 Buffalo, NY – Waiting Room (W)
7/11 Cleveland, OH – Grog Shop (W)
7/12 Detroit, MI – Pike Room (W)
7/13 Chicago, IL – Empty Bottle (W)
7/14 Milwaukee, WI – Cactus Club (W)
7/15 Minneapolis, MN – 7th Street Entry (W)
7/16 Fargo, ND – The Aquarium (W)
7/19 Seattle, WA – Barboza (W)
7/20 Portland, OR – Dour Fir (W)
7/22 San Francisco, CA – Thee Parkside (W)
7/23 Glendale, CA – Complex (W)
7/24 San Diego, CA – Soda Bar (W)
7/25 Phoenix, AZ – Rebel Lounge (W)
7/28 San Antonio, TX – Limelight (W)
7/29 Austin, TX – Sidewinder (W)
7/30 Dallas, TX – Three Links (W)
7/31 New Orleans, LA – Gasa Gasa (W)
8/1 Birmingham, AL – Spring Street Firehouse (W)
8/2 Atlanta, GA – The Earl (W)
8/3 Asheville, NC – Mothlight (W)
(W) with Withered