Treble's Top 100 Guitarists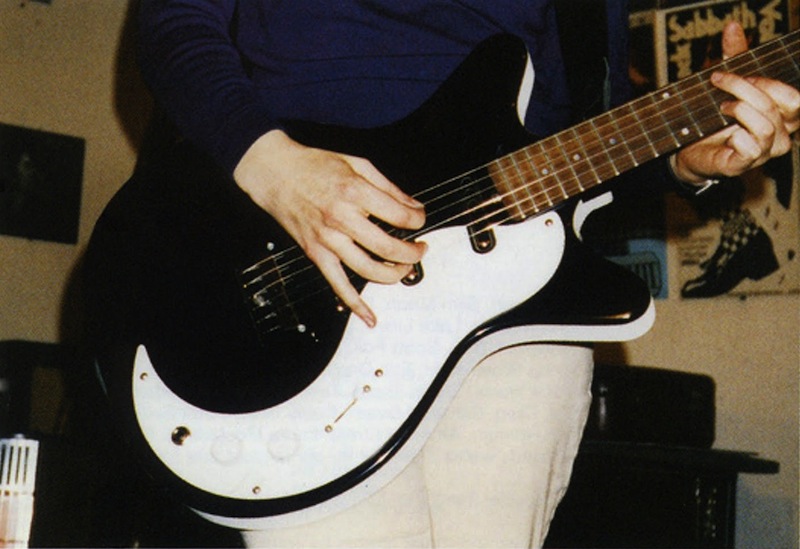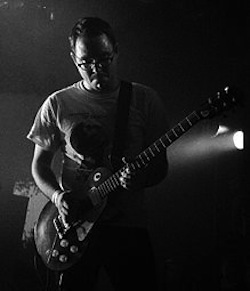 80. Kerry McCoy
I can only imagine McCoy scored so low on this list because he's a relative newcomer because, holy fuck, the man's style does not lack for talent, innovation or precision. First catching mass attention for a style that blended black metal and shoegaze, a closer analysis of McCoy's discography with Deafheaven reveals influence running the gambit from screamo to slowcore to thrash to indie-rock and britpop. And McCoy isn't all style either—a look beneath the effects reveals how much work he puts into teasing out beauty and complexity in every part. – ATB
Air guitar moment: McCoy's shoegazing black metal triumph on Deafheaven's "Sunbather".
---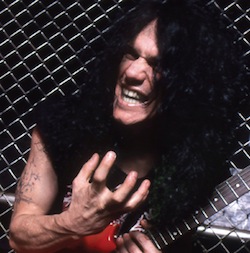 79. Trey Azagthoth
Death metal started before Morbid Angel, but it didn't have its shape until Trey Azagthoth & Co. showed up on the scene. Similar to how Judas Priest crystallized what Black Sabbath started, Morbid Angel developed the sounds started by Death and Possessed. Trey Azagthoth is proof positive that the term "technical death metal" is often redundant, with demanding mad virtuosity in riffs and solos alike, wielding atonality and shred in solos like a version of Kerry King that knew what he was doing.
Air guitar moment: The death metal terror of Morbid Angel's "Chapel of Ghouls".
---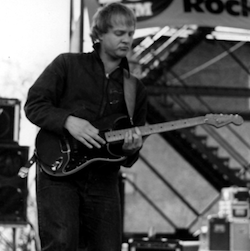 78. Bob Stinson
While Bob Stinson's career was short-lived and tragic, the body work of he left behind is so great, it's challenging to pick his best moments of shred. Without him, The Replacements would've just been another rock band. The legacy of his musicianship lives on in those early 'Mats records: "Color Me Impressed" and "Seen Your Video" are proof enough of that. When The Replacements' production value went up on Tim, Stinson managed to keep his raw playing intact. Paul Westerberg's lyrics were definitely the band's greatest asset, but Stinson was their secret weapon. – GM
Air guitar moment: Stinson's speed-freak riffs on "Otto."
---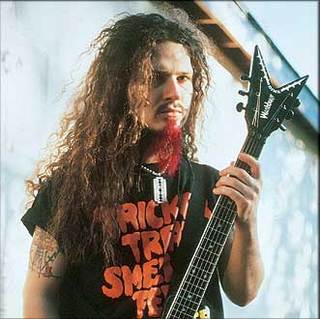 77. Dimebag Darrell
On the Mount Rushmore of Heavy Metal Guitarists sits Pantera and Damageplan's "Dimebag" Darrell Abbott, creator of some of heavy metal's most electrifying and recognizable guitar riffs. From their early glam-metal days (when he was Diamond Darrell) to his tragically brief time in Damageplan, Abbott built a catalogue of incendiary solos that stand second to almost no one. A lot of his guitar influences stem from Tony Iommi of Black Sabbath and  Ace Frehley's work in KISS—Dimebag was in fact a dedicated member of the KISS Army, and actually buried in a KISS casket. – CD
Air guitar moment: Dimebag's heavy grooves on Pantera's "Floods".
---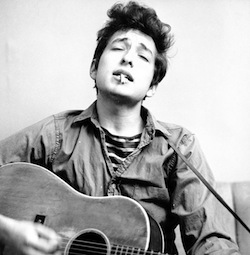 76. Bob Dylan
It wasn't Bob Dylan's singing that made him so attractive to Colombia Records back in 1961, nor was it his songwriting. John Hammond was interested in his harmonica and finger-picking skills. Yes, it was Dylan's guitar work that helped introduce him to the world of folk music. Over the years, the recognition shifted to his lyrics and delivery, but his guitar playing is not to be ignored. The rhythms and cadences tell the songs' stories as well as the words do. – CG
Air guitar moment: The finger-picked folk journey of "It's Alright Ma (I'm Only Bleeding)"
---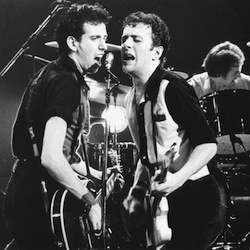 75. Mick Jones/Joe Strummer
The Clash are quietly like The Police in that their brand of UK punk was always more musically literate and detailed than the stereotyped mean. This is due in large part to their lead riffmakers. From the siren's call of "Police on My Back" to the forced march of "London Calling," from the chugging pseudo-disco of "The Magnificent Seven" to the dub dread of "Straight to Hell," Strummer and Jones constantly found new ways to herald young society's leather-clad, secondhand desperation. – AB
Air guitar moment: The Clash's punk rock heroism in "Death or Glory".
---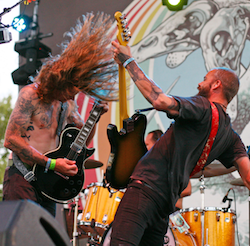 74. John Baizley/Pete Adams
Many of metal's greatest bands are those defined by their twin-guitar attack: Iron Maiden's Dave Murray and Adrian Smith; Judas Priest's K.K. Downing and Glenn Tipton; and Baroness' John Baizley and Pete Adams. Though a relatively young duo by the standards of metal's now classic rock age, Baizley and Adams are essentially co-lead guitarists, the act of playing rhythm a fairly unheard-of concept within their psychedelic harmonizations. It's to the duo's credit that their intertwining lines are so catchy, considering how advanced their performances are. – JT
Air guitar moment: The ascending rock 'n' roll majesty of Baroness' "A Horse Called 'Golgotha'."
---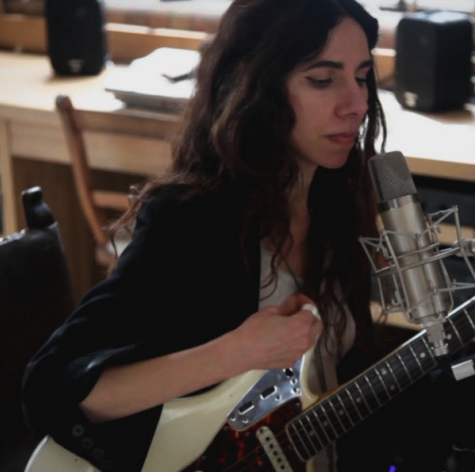 73. PJ Harvey
When Polly Jean Harvey picks up a guitar, she wrenches something harsh and real from it, channeling the soul and torment of the blues through punk's dirty, fucked filter. The most obvious example is her torso-thumping crunch on 1993's Rid of Me, but that raw power and unfiltered nastiness shines through the crust of every album's chord sequences. Harvey isn't about showing off—truthfully, very few instrumental performances are anything but in the service of the song—but you better believe that when she plays, she's bashing out every last emotion she can. – JT
Air guitar moment: Harvey's tense, solo strumming in "Rid of Me."
---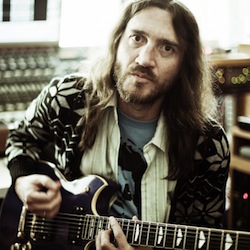 72. John Frusciante
As the former guitarist for the Red Hot Chili Peppers, John Frusciante may not seem like the first choice for this list. But look harder and you'll find a wide breadth of solo work. His talents, however, shine most brightly on the first Ataxia record, a collaboration with Joe Lally (Fugazi) and Josh Klinghoffer (Dot Hacker, Warpaint, The Bicycle Thief). Just listen to the twin solos on "The Sides" or the extended drone of "Montreal," and it should be clear: Automatic Writing is, at its heart, a guitar record: moody, contemplative. – BB
Air guitar moment: The hypnotic arpeggios of Ataxia's "The Sides".
---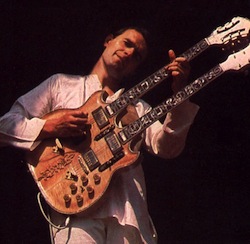 71. John McLaughlin
One of the first adopters of the notoriously dismissed Fender Mustang, McLaughlin could bring the kind of brash and mid-heavy thump that Miles needed in his avant-garde and fusion excursions, while still tempering the variety of his influences (Indian Classical, Flamenco, Gypsy Jazz) to accommodate Miles' vision. His work with The Mahavishnu Orchestra went on to inspire musicians across the span of genres and decades (David Sylvian, Massive Attack and Mars Volta to name a few). But more than anything, McLaughlin should be remembered as a guitarist able to reconcile the divide between disparate schools of music, all with one instrument. – JM
Air guitar moment: Twenty-five minutes of groove-heavy jazz-rock fusion strut on Miles Davis' "Right Off."