Atari Teenage Riot's Burn, Berlin, Burn! started a digital hardcore riot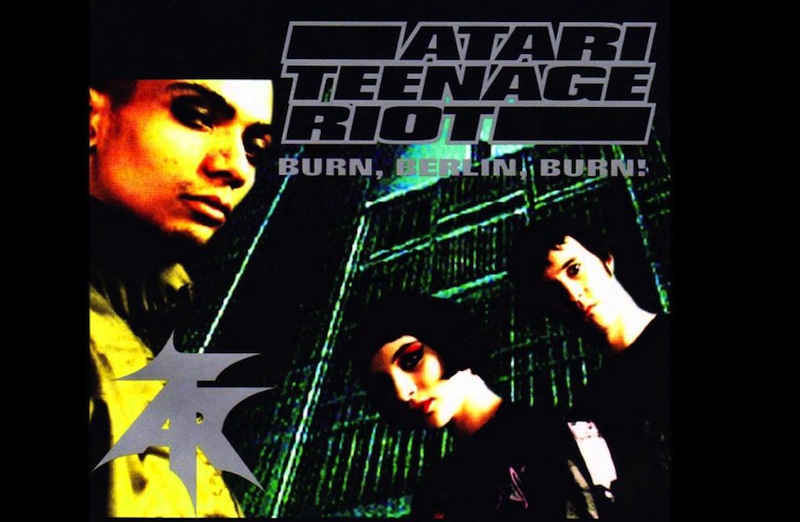 "Fight! War! Violence! Death! Police! TV! Fuck Youuuuuuu!"
The fiery chants of "Start the Riot," the opening track on Atari Teenage Riot's Burn, Berlin, Burn!, introduce the band with immediacy and aggression, leaving little room for nuance or, for that matter, preparation. It sounds like chaos and danger, a visceral assault on the senses that fucks with your system and tests the limits of your own endurance. It's only three minutes long, and about half of it is sampled dialogue from anime movies (in addition to the weird spoken declaration "I would die for peanut butter"), but it's kind of a lot to take in a single sitting. It's unapologetically hostile—as a song titled "Start the Riot" should be.
Atari Teenage Riot stormed American shores during a time when punk rock was enjoying an extended period of pop crossover success. Green Day played Woodstock '94, The Offspring brought crowd-surfing to the Billboard Awards, and Rancid had been winning critical praise that positioned them as The Clash's heirs. Punk wasn't dead; on the contrary, it was maybe as successful as it had ever been, but it was also the most commercially friendly it had ever been, polished and produced for a mainstream radio audience and aired at primetime. Atari Teenage Riot, by comparison, were marketable in their intensity and rage-against-every-goddamn-thing image, but markedly less so in sound. To press play on their early records Delete Yourself! and The Future of War was to unleash a shitstorm of noise and venom that probably had no business being on mainstream radio, though in the unlikeliest of scenarios, managed to get there anyway.
Formed by three Berlin musicians—Alec Empire, Hanin Elias and Carl Crack—Atari Teenage Riot fused electronic music, punk and metal into an incendiary mixture that, perhaps on paper, looks a lot like industrial. The sound, which they dubbed "digital hardcore," is something far more ill-tempered and unstable, a kind of anarchopunk hybrid for the Hackers generation. Empire's foundation of breakcore and gabber techno beats made each song sound on the verge of reaching speeds incompatible with popular music, as if the rapid acceleration of BPMs would render the idea of rhythm irrelevant or, at the very least, unpredictable. Maybe this is music for dancing; definitely this is music for screaming and breaking things. And it's all charmingly, gratingly lo-fi. The use of "Atari" in their name was both a nod to their own affinity for video game culture and an apt description for the low-tech analog bass thumps that propelled each fuck-the-system anthem. Theirs wasn't a glossy or high-tech revolution—it was digital D.I.Y.
In the context of their growing hype and stature in the mid-'90s, Atari Teenage Riot made the case that they were more punk than anyone in the '90s, if only because it sounded like they would break everything in the building and not give one-fifth of a shit about it. That thesis statement, in the U.S. anyhow, came in the form of Burn, Berlin, Burn!, a 14-track compilation of highlights from their first two studio albums (not included was their anti-fascist bruiser "Hetzjagd Auf Nazis!" aka "Hunt Down the Nazis!"), released via the Beastie Boys' Grand Royal label 20 years ago this week. Appropriately enough, Beastie Boys' Mike D described it as "the most punk-rock shit ever." And he's not necessarily wrong. It's easy to forget how little of a hold leftist politics had on popular culture outside of Rage Against the Machine (whom Atari Teenage Riot toured with, naturally). So to see videos for "Sick to Death" and "Speed" somehow infiltrate the late-night MTV playlists on 120 Minutes and AMP seemed strange, even a little unsettling. It's as if a band of brick-throwing anti-fascist revolutionaries literally hijacked corporate programming. That's a hell of a thing to see between Third Eye Blind and Semisonic videos.
No track on Burn, Berlin, Burn! spared the group's righteous anger, whether it was against nationalism ("Sick to Death"), high-tech methods of warfare ("The Future of War") or drug culture ("Speed"). Yet almost as if to feed a poison pill to the corporate media that was suddenly so fascinated with them, Atari Teenage Riot delivered a cynically over-the-top anthem in "Atari Teenage Riot," which sampled both Nirvana's "Smells Like Teen Spirit" and Martin Luther King Jr. That takes balls, though beneath these instantly recognizable icons (as well as those they name check in the song: Elvis Presley, James Dean and Marilyn Monroe) there's a pointed criticism of privilege and a culture placated by corporate media: "Power for those who can fuck it/ Freedom for those who can find it/ Sex for those who can buy it/ Television today never lies." It's "Radio, Radio" as a Trojan horse.
The vitriol that Atari Teenage Riot spewed didn't always necessarily hit its targets so directly. They detonated dirty bombs instead of aiming straight for the bullseye, but they left their impact all the same. At the time they seemed almost absurdly intense; today it's easy to hear their influence in any number of bands that erupted in the years since they first arrived. The twisted synth-punk of Crystal Castles. The hyper-aggressive hip-hop of Ho99o9. And, most importantly, Death Grips, who essentially put a nihilistic spin on ATR's anarchist hardcore dynamic. But while they have some obvious successors, in sound they had no peers. In polemics, attitude and politics, however, they came from a punk rock lineage that stretched back to Black Flag and Minor Threat, and whose closest contemporary wasn't actually a punk band at all: Public Enemy.
Atari Teenage Riot stopped performing three years after the release of Burn, Berlin, Burn!, after Carl Crack died of a drug overdose in 2001. Yet Empire resurrected the Atari Teenage Riot name 10 years later to release 2011's Is This Hyperreal?! And weirdly enough, their single "Speed" ended up being used in the Fast and Furious franchise, which suggests that even anarchists won't turn down a big enough check. The era in which they had re-emerged was considerably different, though there were arguably more bands that had something in common with them than there were in the '90s. Yet the sheer weirdness and total lack of filters is exactly what made them stand out at the time. I had gone to one of the tour dates they played with Rage Against the Machine and The Roots (after Wu-Tang Clan dropped out) at Irvine Meadows Amphitheatre, and somehow managed to enter the venue just as the band had finished. From the parking lot, however, it sounded like a blur of noise, beeps and total destruction.
The world in which Atari Teenage Riot emerged was on the brink of chaos, but it was masked in a facade of prosperity and civility. That chaos has finally boiled over, however, and ironically enough it's the president of the band's own native Germany, Angela Merkel, who has been hoisted into the role of leader of the free world. Music like Atari Teenage Riot's doesn't always make sense when the world has a sense of order. Those days are long behind us; in hindsight it's likely that we were always on the brink of chaos, which was the group's point all along, delivered however ham-fistedly. All bets are off now: Start the riot.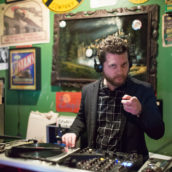 Jeff Terich
Jeff Terich is the founder and editor of Treble. He's been writing about music for 20 years and has been published at American Songwriter, Bandcamp Daily, Reverb, Spin, Stereogum, uDiscoverMusic, VinylMePlease and some others that he's forgetting right now. He's still not tired of it.