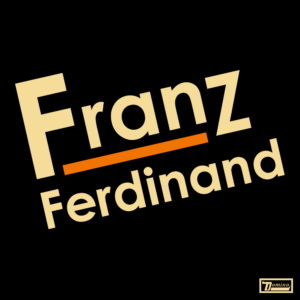 10. Franz Ferdinand – Franz Ferdinand
(2004; Domino)
Franz Ferdinand were once so confident about their own personal brand that they suggested all of their albums would be titled Franz Ferdinand, and simply change the colors of their rock 'n' roll expressionist logo. It's a bold step for a new band. It's not like bands haven't done one or the other, but this seemed unusually cocky for a young band. But it's easy to forget how much of an impact the band's debut left in 2004. They were a cocky band, and in carrying the weight of both 30 years of post-punk history and another 15 or so of Britpop on their shoulders, the Glaswegian quartet took it upon themselves to take on both. ln doing so, they released one of the best albums in either genre of the entire decade.
Frontman Alex Kapranos, lanky and handsome and possessing a debonair croon, came across as part Jarvis Cocker and part Bryan Ferry fronting a more radio-friendly Gang of Four. That formula might look peculiar on paper, but it led to a massive hit in the form of "Take Me Out," a shape- and tempo-shifting single that provided anthemic disco fodder via loud, jagged guitars. Franz Ferdinand made the promise of dancepunk into something more accessible, even commercial, and they manipulated it into bespoke shapes tailored in their own image: fiery riff-rock ("Jacqueline"), hook-laden post-punk ("The Dark of the Matinee"), dark dub ("Auf Achse") and disco ("Come On Home"). Franz Ferdinand made imperfection sound impeccable and perfectly polished pop sound raw. They changed their mind about the album titles, by the way; they didn't need to continue stamping their name in large typeface for everyone to understand they were hearing Franz Ferdinand. – Jeff Terich
---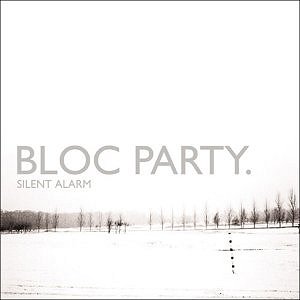 9. Bloc Party – Silent Alarm
(2005; Wichita/Vice)
Despite writing and DJing across two centuries (!), there are surprisingly few musicians I feel like I discovered early enough to help "break" them even in some small fashion. At the end of the 20th century there was Tori Amos, and at the beginning of the 21st I got in on the ground floor with M.I.A. and Bloc Party. I'll save my admiration of Arular and Kala for another venue, and focus on the rare album from the 2000s that I continue to evangelize for, and continue to find endlessly replayable.
The word I keep using to describe Silent Alarm to other people is "buzzsaw." For a traditional rock album, regardless of its indie genre or youthful players, this is a fascinating headphone trip. Yes, Kele Okereke's moody yelps and chanting are their own starmaking instruments on this LP, cutting through the clatter of "So Here We Are" for example. But it's Okereke and Russell Lissack's visceral guitar edge and Matt Tong's punchy drums in songs like "Helicopter" and "Like Eating Glass"—Gang of Four misplayed on 45—that fucking torch their contemporaries.
By extension, that means props must also be given to Paul Epworth, whose production choices and methods for this album helped start his studio career pretty much in the stratosphere. With this band just finding their way, the scraping and downright physical nature of their recorded sound (hi, "Banquet"), and their nebulous lyrical takes on love and politics, Bloc Party hit the ground running as R.E.M. once did. Their later releases have nosedived through Okereke's fascination with dance music and lineup changes beginning with Tong's 2013 departure. Still, nobody can take Silent Alarm away from us. – Adam Blyweiss
---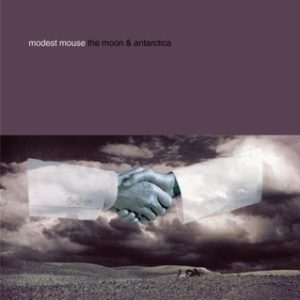 8. Modest Mouse – The Moon and Antarctica
(2000; Epic)
The Moon And Antarctica was Modest Mouse's follow-up to the great (and arguably even superior, just not by me) The Lonesome Crowded West, and it built on the former's gritty, spacious indie-rock with even more fully realized pop hooks. Frontman Isaac Brock at the time of the recording was only 24 years old, and even though he must have been somewhat aware of his own lyrical talents, he still carries a bit of awkwardness (which probably comes with the nasally voice). Ultimately, although he could still embrace it a bit more, it's all part of the charm.
It's debatable as to what's a "hit" and what's just a "fan favorite" here, because The Moon And Antarctica is almost 100 percent filled with bangers. And this is especially impressive given the record's length and number of tracks. Unlike many other albums, I couldn't possibly describe anything on here as filler; my least favorite tracks ("Gravity Rides Everything," "Paper Thin Walls") could very well be someone's favorites, and vice-versa. Honestly, so much of The Moon And Antarctica is beyond any verbal argument, but that's natural when you adore something so much as this—as The Sound once said, "words fail me." - Ben Braunstein
---
7. Fugazi – The Argument
(2001; Dischord)
Fugazi never officially broke up. As far as the official story goes, they're still on hiatus—in a 2011 interview bassist Joe Lally even entertained the idea of recording another Fugazi album, however far off that prospect might be. Yet if the end of the story is The Argument, it'd still be one of the greatest career-closers of all time. Fugazi had spent more than a decade recording and performing with a strict D.I.Y. ethos—inexpensive ticket prices and albums, no complicated effects setups, all ages audiences. And when reality made maintaining that approach unrealistic, the band eased back, wrapping up one last statement of art-punk innovation before retiring to a cozy Dischord House desk job.
The Argument, whether intended as a final album or not, is a singular album in Fugazi's discography. It's their most experimental and atmospheric by some measure, easing off of more full-throated hardcore beatdowns in favor of unexpectedly psychedelic punk songs that twist into compelling, beautiful shapes. The band often doubled up drums in the studio, resulting in stereo-surround post-hardcore expressionism. Elsewhere, they let off the overdrive on the anti-war title track or the anti-gentrification "Cashout." From a musical perspective, it's Fugazi's most unconventional album, but in terms of its politics it's still a very human statement, reinforcing the ethos that held the band together throughout their career. The Argument feels like a beacon of wisdom in a world desperately in need of direction; Fugazi might never return in any recognizable form, but we'll be OK as long as we still have this roadmap to guide us. – Jeff Terich
---
6. Sufjan Stevens - Illinois
(2005; Asthmatic Kitty)
There are countless ways to measure the heft of a decade in music, but my favorite is to take the most essential moment and work outward. That moment for me comes at the heart of Illinois' centerpiece "Chicago." The track, surrounded at both ends by endless ambition, finally takes a beat to bathe in the cathartic glow of accepting one's fuck ups. "I've made a lot of mistakes" goes the refrain, Sufjan's near pitch-perfect voice repeating and repeating until the phrase sounds mushed and alien in dialect.
This overwhelming self-reflection is a microcosm for the entire album. Illinois is a dense and markedly American album, overstuffed with ghost stories, superheroes, monuments, landmarks, serial killers and quintessential Midwestern nostalgia. Childhood reflections on the crisis of faith in the wake of a friend's cancerous death are placed alongside, and given the same treatment as, the serial murder of 33 young men.
Sufjan does everything imaginable to match this sprawling verbosity, including but not limited to playing 27 instruments and recording in a 5/4-time signature. But through all this grandiosity and ambition, like "Chicago," there's heart and catharsis. Illinois is the staggering musical accomplishment of the 2000s. – Wesley Whitacre
---
5. LCD Soundsystem – Sound of Silver
(2007; DFA/Capitol/EMI)
For all of the strides it showed that dance-punk had made—and could make—since its gestation in New York record stores, British clubs and LA blogs, I think James Murphy's second proper LP with his big band actually feels like a meditation on one song. "No Fun," penned by Iggy Pop and the rest of The Stooges for their self-titled 1969 debut album, was a simply written and jaggedly grooved anthem against boredom and loneliness. "Well, come on!" presaged so many other desperate calls and complaints: Pretty, pretty vacant. I just want to have something to do. Here we are now, entertain us.
LCD Soundsystem stretched those basic ideas out to an album-length meditation on ennui, lost direction and sought identity. In that stretching, Sound of Silver made the genre into Silly Putty. "North American Scum" lifts up the ink of geopolitics for big-ticket pop. "Someone Great" reshapes this music into leftfield artistry, making beautiful yet barely-danceable Big Statements from the school of 1990s intelligent techno. "New York, I Love You But You're Bringing Me Down" pulls it in a then-new direction of disaffected balladry.
If these three songs alone stood out from your everyday mindless electronic stomp you'd likely still have a mold-breaking, form-redefining LP on your hands. But this is LCD we're talking about here, able to deliver the Nancy Whang-led wiggle of "Get Innocuous" and Murphy's frustrated wit in "All My Friends." Delivered with a disco heart and a poet's mind, Sound of Silver restates this band's position as one of the most literate and exciting of the start of the 21st century. I expect that vintage will continue to age well as 2099 draws ever closer. – Adam Blyweiss
---
4. Sleater-Kinney – The Woods
(2005; Sub Pop)
"This part should sound like Keith Moon — and then like a blanket being lowered over Keith Moon's kit."
Imagine getting these notes from a producer and trying to translate them into something usable. When Sleater-Kinney chose to work with Dave Fridmann for their seventh album, The Woods, they ended up pushing themselves to their physical and emotional limits and sometimes without any feedback from the studio wizard adding the extra nudge. It's no wonder that the Portland trio took a 10-year break after releasing the album. The Woods took a lot out of Sleater-Kinney. No album of the band's is as loud, as intense or as draining to listen to as this booming, distorted rock epic.
By 2005, Sleater-Kinney's sound was already well established. Corin Tucker's fiery vocals, Carrie Brownstein's dynamic guitar leads and Janet Weiss' nimble drumming combined in a perfect mixture across six good-to-essential LPs. But in their last pre-hiatus recording, they took that as far as it would go, through the lung-capacity-challenging heroism of "The Fox," the emotional climaxes of "Jumpers" and the sprawling guitar freakout of "Let's Call It Love." The Woods is Sleater-Kinney at their best and most unfiltered, proving themselves worth of wielding the Hammer of the Gods and giving it a good swing back at an uninspired rock 'n' roll landscape. – Jeff Terich
---
3. Arcade Fire – Funeral
(2004; Merge)
Long before Arcade Fire won any Grammys, before they were soundtracking Spike Jonze joints or Hunger Games sequels, before Win Butler was winning celebrity basketball MVP awards or having beef with John Mayer, before David Bowie ever donned a papier-mache head in any music video, the band was a revolving door of French Canadian youths going through some stuff (most of that stuff being attending funerals—the album is aptly named). Almost a decade and a half later, Funeral has achieved legend status. It's hard to remember when the first time I heard it was, being only 11 when it was released. During the Where The Wild Things Are trailer? Or that Kelly Clarkson song that sounds a little too much like "Rebellion (Lies)?" Regardless, there's no denying that it belongs here.
Funeral's greatest strength (and Arcade Fire's in general) is in being sentimental without ever being overwrought or melodramatic. Butler sings about youth and loss and neighborhoods and love without ever going pop-punk on us, and the album weaves organs and strings without ever sounding like an expensive dinner band. Songs such as "Laika" and "Power Out" have energy and speed, while "Wake Up" and closer "In The Backseat" are simply beautiful. In a lot of ways, indie music might still be waiting for its next Funeral, a rare piece of music that can earn its distinction of being decade-defining. – Matt Perloff
---
2. Wilco – Yankee Hotel Foxtrot
(2002; Nonesuch)
At times it's difficult to imagine how Wilco's Yankee Hotel Foxtrot would be regarded were it not for the well-documented, surreal comedy of its pre-existence: rejected as an uncommercial "career-ender" by Reprise executives, whose e-mail servers were apparently down when Kid A went to no. 1. That legend had to have some impact on YHF's legacy, and maybe would have been its sum total if Wilco had provided a remote and ungraspable slab of self-indulgence. But curios like that don't survive time whatever publicity it gets, and YHF had too much humanity to be set aside.
Jeff Tweedy had already peeked out from the good-times curtain on 1999's Summerteeth, which cast dark self-doubt against a fractured pop backdrop. On YHF the music followed as Tweedy's lyrics went further upstream. "I Am Trying to Break Your Heart" arrives as slowly as Tweedy's shuttered realizations do, with tentative percussion and staggered reveals. "Radio Cure" and "I'm the Man Who Loves You" were opposite sides of a lover's miscommunications: the first as a near-dirge, the second as a Muscle Shoals soul stomp.
The real testament to YHF's endurance are three straight songs—"War On War," "Jesus, Etc."and "Ashes of American Flags"—which aimed towards America's emotional reconciliation after 9/11, even though all were recorded well before the date of the attacks. In sweeping order they connote loss, renewal, inevitability and the soft permanence of certain wounds. They would have been true no matter what happened, and that's why Yankee Hotel Foxtrot is every bit as good as the legend tells it to be. Maybe better. – Paul Pearson
---
1. Interpol – Turn on the Bright Lights
(2002; Matador)
I've written before about how hearing The White Stripes' Elephant significantly improved my relationship with music at the dawn of the 21st century. There was, however, another album black and white and red all over that helped [re]open my ears to new directions in sound at that pivotal time in my life. From the same long-gone coworker who curated Jack and Meg White for me came the sullen echoes of this particular debut from this particular New York quartet. "Oh, I will surprise you sometime/I'll come around when you're down"—words from a patient friend, perhaps, the motto of a wandering ghost, or the results of a work of art that lingers as inspiration. This is wisdom and biography heard early in "Untitled," the opening salvo of Interpol's Turn on the Bright Lights, likely the moment when post-punk transformed into post-punk revival for hoi polloi music fans. This is also history repeating itself on many levels, not the least of which is the importance of when you speak and to whom you speak.
So-called millennials, depending on your research, would have been approaching or just cracking adulthood as Turn on the Bright Lights hit store shelves. Their perceived disaffections needed an outlet, a spokesperson, a scapegoat. Interpol delivered the first true snapshot of New York City—and society, for what it's worth—in a post-9/11 world, with most recording starting just two months after those terrorist attacks and the album coming out just shy of their one-year anniversary. To me, "NYC" has turned into a post-mortem on the fall of the World Trade Center, the centerpiece lyric "New York cares" simultaneously addressing teamwork and acknowledging a guarded step back from the "Love" in the city's well-worn advertising slogan. "NYC" makes macro the more personal, individual micro-issues addressed elsewhere across the album: lost love in "PDA," lost life in "Obstacle 1," the imperfect sexual character studies of "Stella Was a Diver and She Was Always Down" and "Hands Away."
Yes, Paul Banks and his bandmates played the parts of Ian Curtis and Joy Division to the hilt, aided by dream-pop's enveloping production and R.E.M.'s bag of tricks with language and guitar riffs. (Look to "Roland" as a thrilling, chilling microcosm of the album.) On its face Turn on the Bright Lights could be considered well-executed mimicry. Even its loudest champions acknowledge this history repeating itself; it's neither the first nor the last album constructed as such. What really makes Interpol and this album legend is what Robert Christgau called in The Village Voice "luxurious cynicism"—a critical epithet at the time, but also a defining sound for the conflicts and concerns raised on record. – Adam Blyweiss