A Pure Drop: Jeff Buckley in Print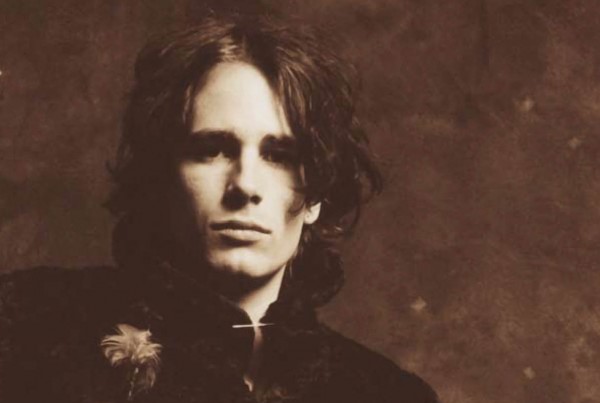 Bono once described Jeff Buckley as "…a pure drop in an ocean of noise." I used to wish there was a book that could capture the complete life of Buckley just as succinctly as Bono's quote. But it seems that there's been a lack of candid biographies willing to sift through the amazing myths about the man. I don't know if it's because of the estate of Jeff Buckley, or the fact that so many of his closet compadres have been so protective of him. I don't blame them; many have refused to share any details about the friend they once knew intimately, professionally for otherwise.
Enter Australian scribe Jeff Apter, who spent five years as editor of Rolling Stone magazine in his native homeland. Apter is no stranger to the music industry, having already written acclaimed biographies on The Cure, Dave Grohl and The Red Hot Chili Peppers. Apter had the challenge of uncovering the many lives of Jeff Buckley that included the loner, the lover, the dreamer, poet and other surprising aspects, even to longtime fans.
This is where I come in to the picture, the critic and a J.B. devotee who is such a follower that I've actually ended relationships with the women I was with because of their lack of respect to Buckley and his music. I was disappointed with David Browne's Dream Brother, a dual biography of Jeff and his father Tim that seemed an unfair portrait to the son's legacy. What Browne touched upon and Apter expanded on was Jeff's desire to exorcise himself from his father's creative and professional music career. So many critics and admirers linked him with his troubadour father, a mistake that first official Buckley biographer Browne should have known before taking on this very elusive subject.
Apter takes a different and more original path in dissecting Buckley's life. Every step of the way, even from the first chapter, Apter ties the younger Buckley's upbringing and past to his future exploits as an artist on the Sony label. This one of the aspects that I most appreciated in A Pure Drop. Unlike most critics and readers, I am not so much a fan of the early life of an artist. I love to get to the chase—cut out all the grade school and teenage crap and give me what I desire most, the artist on his peak of creativity. Apter's writing style is like a dramatic mystery where every little step of Buckley's life was a link to his eventful future. Even when describing the life of his mother Mary, his infamous father Tim and their life in California, the focus is always on Jeff and his artistic rise.
To Apter's credit, and unfortunately for Browne, he had more access to Buckley's closest confidants, including his Los Angeles comrade Chris Dowd, guitarist Gary Lucas, New York producer and music curator Hal Willner and, much to my surprise, Glen Hansard of The Frames and Once fame. They first met in New York when Buckley's band opened up for The Commitments touring band that Glen was on the road with. This led to a long friendship between Hansard and Buckley.
Another surprise was discovering the many sessions that Buckley had recorded for Sony and left in the can. Apter spoke to producer Steve Addabbo who spent time in the studio with Jeff before Buckley hooked up with Andy Wallace. Addabbo recorded some seven and half hours of Jeff doing some covers of The Smiths, Bob Dylan and early versions of songs that would end up on Grace. As I read this I literally screamed out, release these sacred tapes already will you Sony?
While I was reading A Pure Drop, I could not put it down. It was as if through every page I was watching the simultaneous coming of age of an artist and demise of an eventual legend. Get ready to bring out your Buckley CDs and rare songs like the unreleased duet with Elizabeth Fraser "Flowers in Time," because it's hard not to be drawn back to them as you read through Buckley's electrifying life.
The best part of Apter's book is that he gets past the myth, and what comes across is a true, imperfect human who's trying to find his voice and space in the world without giving up his integrity to the demands of corporate major label. Buckley hurt friends and fellow musicians, and certainly broke hearts, but through out A Pure Drop you get a more complete sense of who Jeff really was. Buckley was a demanding friend who would wound you with words like he did with photographer Merri Cyr and would try to lure you back with his charming ways to make amends by his unpredictable behavior.
What I cherished about Apter's book was the little stories that bring out the amusing characteristics that made Buckley unique, like the way he would stalk dogs in New York City. The owners thought that this weird guy would be trailing them but in reality Jeff was following the mutt. He had this strange connection and fascination with dogs.
Jeff Apter's insight to the life of Jeff Buckley is rarity in this age of celebrity commercialism. He's not about myth making; Apter shows us the true Jeff, flaws and all, as he was from his beginnings in Orange County till his tragic end in Memphis, Tennessee. With A Pure Drop, Jeff Apter has done the legacy of Jeff Buckley right. He has managed to show us a complete portrait of the imperfect man within the gifted artist before he soared among the stars.
A Q&A with Jeff Apter
Treble: Why Jeff Buckley? What inspired you to write A Pure Drop?
Jeff Apter: I'd read so much about Jeff Buckley, especially since his death, that I was very keen to try and separate the man from the myth. Not to be iconoclastic in any way, mind you, I just wanted to understand him more clearly. I wanted to find out how it came to be that a guy who'd finished only one album in his lifetime engendered so much love and devotion from music fans, some who weren't even aware of his music while he was alive. That was my challenge.
T: Were you always a fan?
JA: As a music writer, I certainly took notice of Grace and the groundswell of interest in Buckley while he was alive — I wouldn't be doing my job if I didn't. But I wasn't an enormous fan, no. On first few listens I actually thought My Sweetheart The Drunk was a disaster, but now that I understand much of the back-story, I find that album even more rewarding than Grace. I can't think of a vocalist who would rival him in the past 15 or 20 years, either: the guy could sing the phone book and you'd be asking, `My God, I wonder what's on the next page?' He was that good.
T: Jeff seemed to have a huge following in Australia. Did you ever meet him or see him in concert?
JA: If only. I was actually living and working in America at the time he toured Australia (twice). I was having unusual experiences with people like Patti Smith and Frank Black when Jeff was blowing away Australian crowds. But he did connect really strongly here and in France; I guess because he was very emotionally honest in his music and we respond well to that. Strangely enough, I was in Memphis soon after he took that fateful dip. I remember sitting near where he went in and thinking to myself, `You don't swim there.' And this from an Australian; we're born with gills!
T: Were you hesitant because of the myth of Buckley?
No, as I said above I was actually inspired by that, because from my experience — and I've now written 10 books — it's become pretty clear to me that no-one can live up to such an idealized legacy. A UK reviewer got it right when they said, and I hope you don't mind me quoting: `Apter resists mawkishness to reveal a difficult – if charismatic – man who doesn't quite match the idealized image of the gifted lost boy destroyed by fame and family.' I really thought that summed it up perfectly.
T: Did you have trouble getting some of Buckley's friends, colleagues and associates to talk with you? And a follow up, one slight criticism, a few spots in the book you attribute quotes to unnamed Buckley friends who wanted to remain anonymous. Did you struggle with that putting in quotes and words from people who didn't want to be recognized?
Not really. When I began the project some 10 years had passed since his death, so a few of those scars have healed, and those close to him could talk with a little more clarity about Jeff and his life than, say, if we'd spoken in 1997. Although I did have a few interesting conversations —where I'd be talking with someone on the phone for an hour, perhaps two, in some very heavy emotional detail, and then be told, `Oh, you do realize this is off the record, right?' Err, no.
T: While writing and researching A Pure Drop, what did you discover about Jeff Buckley that surprised you the most?
Many things, including his true and total love for such prog rock bands as Yes — `Never be ashamed about loving Yes' he told one friend. I was surprised at how canny he was, especially when it came to the business of music: he knew exactly who would be good for his career, and he gravitated to them whenever the chance arose. He was very tight with the McCartneys, for instance. He was goofy, too — `a real doofus,' according to photographer Merri Cyr — and genuinely funny. And he did indeed love the ladies, and they loved him right back. A very rounded and in some ways very flawed individual.
T: Favorite Jeff Buckley story or anecdote?
I do like the story, related to me by Danny Fields, a publicist who worked closely with Tim Buckley and also knew Jeff well, about a night at the Rock & Roll Hall of Fame dinner. Danny was the go-to guy on the night, setting up backstage interviews and keeping the thing rolling. Jeff, who'd connected with some A-list people to swing an invite, spotted him — this was before Grace blew up. Jeff, who was decked out in a shocking pink Stephen Sprouse jacket, yelled out to Danny, then strode across the floor, grabbed him and planted an open mouthed smooch on the man, with the who's who of the music biz looking one, in absolute shock. He genuinely didn't give a rat's arse what they thought; he was just happy to see his friend Danny and maybe give him a thrill, too. He was an impulsive guy, no doubt about it — to his detriment, as it played out in the end.
T: Favorite Jeff Buckley song?
It changes all the time. In the wee small hours I gravitate towards "Lover, You Should Have Come Over" or "Everybody Here Wants You." If my mood is more upbeat it's hard to go past "The Sky is a Landfill" or "Vancouver," which has the most fantastic, propulsive guitar groove. And his unreleased duet with Elizabeth Fraser, "All Flowers in Time Bend Towards the Sun," is golden.
T: What about the unreleased recording sessions and songs by Steve Addabbo, did you hear them? When are they going to be released by Sony?
I haven't, aside from the odd scratchy one-off on some bootlegs (incidentally, the Buckley bootleg industry is as active as that of the Grateful Dead). Hard to say when the label might drop that one; perhaps because there's a lot of covers in the mix it might be copyright clearance hell. Or perhaps those who control his estate don't think it's sufficiently commercial. A shame, because I get the sense that it would provide an up-close glimpse of an artist-under-development. However, the next release from the vault is something called Grace Around the World, another series of live performances, which won't really offer any new insights.
T: Looking back was there anything that was edited out of A Pure Drop that you wish you would have left in the book?
No, not at all. I was very lucky; some really good people gave me a lot of their time and input, even though they could have easily told me to shove off. It was a clear indication as to how much his friends, peers and colleagues hoped that the real Jeff Buckley would emerge from my book. And judging from the feedback I've received by many people who knew him well, I achieved just that.
T: What's next for you?
I've finished a study of the Australian country star, Keith Urban, called Fortunate Son: The Unlikely Rise of Keith Urban, which was published by Random House in Oz and should have a North American release soon. I'm currently chipping away at a biography of the Finn brothers, Neil and Tim, of Crowded House and Split Enz legend, with hopes of publication in 2010. I'm always drawn to both the story and the music: how did someone become successful? Who knows the real story? How did that song come to be? What was happening in their life when they made this album and how did it affect the music? Those are the constants, the big attractors, for me.