A Whisper in the Noise : As the Bluebird Sings
With a voice like David Lowery, and music that nearly defies description, West Dylan Thordson brings us his group A Whisper in the Noise, and their sophomore album, As the Blubird Sings. Thordson, living in Minnesota with the middle name Dylan, which must be either a gift or a curse, moved into his old abandoned elementary school and began creating his eclectic style of music. The town in which he resides, Hanska, has a population of only 365, so I can only assume that the schoolhouse was literally a house and not some massive structure. Either way, the idea of an abandoned schoolhouse sends shivers up my spine and makes my hair stand up. Despite, or perhaps because of, the creepiness inherent throughout the album, As the Bluebird Sings is a remarkable set of songs from a visionary songwriter.
There is truly an element of spookiness to As the Bluebird Sings. Sonja Larson's violin, Rachel Drehmann's French Horn, the sounds of children singing, and Thordson's various bits of noise, including toy pianos and what he calls `random artifacts,' all contribute to the sense that this record is somewhat haunted. This sense of tense uneasiness is what makes the album memorable and unlike almost anything I've ever heard. Sure, one can pull out elements of Danny Elfman's film compositions, or the Eastern European flavors of Devotchka or Gogol Bordello, or maybe even the atmospheric sounds of Mogwai or Sigur Rós. One song on the album even begins to sound like Pink Floyd's "Comfortably Numb" in parts. All of these elements are there for the discovering, but A Whisper in the Noise is not just the sum of these parts.
Thordson has put together something truly unique, despite the influences, which is refreshing in a world of indie bands trying to be the next (insert hip band or genre here). A Whisper in the Noise has done Minnesota proud. For a state with such a pedigree, with artists like Dylan, Prince and the Replacements, Thordson has managed to keep up the tradition of the upper Midwest talent pool that never seems to runneth dry. Sonja Larson's backup vocals throughout the album deserve special recognition. Her voice juxtaposed with Thordson's makes for a beautiful yet equally eerie composition. Songs like "Hell's Half Acre," an idiom which stemmed from a Civil War battlefield and has since become a colorful name for an arduous journey, is one of the standout tracks on an album, which makes it difficult to single out any one particular standout song.
Thordson closes out the album with a nod to his namesake, his hometown hero, and one of his influences, the great Bob Dylan, by reworking in his own inimitable style, the classic protest song, "The Times They Are a-Changin'." To Thordson's credit, he makes the song nearly unrecognizable. It's not easy to cover Dylan without sounding like a carbon copy, but Thordson not only pulls it off, he even adds that layer of spookiness by adding the voices of two young girls, feedback and white noise. No wonder Steve Albini became so interested in them when he produced their first album!
Similar Albums:
Devotchka- How it Ends
Danny Elfman- Music for a Darkened Theatre
Camper Van Beethoven- Our Beloved Revolutionary Sweetheart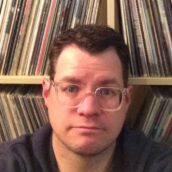 Terrance Terich
Terrance Terich firmly believes that 1985 is the best year for music. He lives near Seattle with his books, movies, and music.