Part Two: Bigger Than Both of Us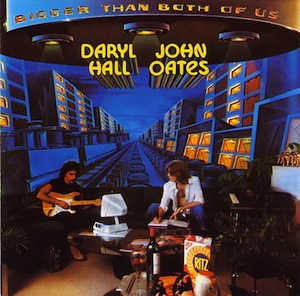 Bigger Than Both Of Us
(1976; RCA)
The first single from Bigger Than Both Of Us was "Do What You Want, Be What You Are," a lazy, prickly R&B waltz that hinted at new brashness. Hall croons for the cause of doing your thing: "Do you believe in hot cars, leather bars, movie stars… Payin' dues in earth shoes, Chicago blues." Meanwhile a shrill chorus interjects, "You can change! You can change! You can cha-EE-ange!" to break the mood. It's a good song, obviously chosen as lead single because it smoothly transitioned from The Silver Album, but it stalled out at No. 39 on the charts. That was okay because the next single was "Rich Girl."
Excepting a couple of instrumental interstitials on later albums, "Rich Girl" is at 2:23 the shortest song in their entire catalog. It's the perfect '70s single: economical, smartly orchestrated and nowhere close to simple-minded lyrically. You know a well-off person or two — maybe you've been to their homes. Certainly you can perceive a forced altitude in character that comes from a thick wallet and little substance. Hopefully you stole an ashtray. Daryl had a good point, and "Rich Girl" is a great pop song that, ironically, made them rich.
Bigger Than Both Of Us contains some of H&O's strongest songwriting, especially two of John Oates' contributions. "Crazy Eyes" throbs with a hard beat and an acoustic posture that resolves in one of Oates' sweetest choruses. "You'll Never Learn" was his meanest rock song, a dressing-down that's sort of an intramural retort to "Do What You Want": "You can change" (again with the "you can change"), "You're not too far gone/Life's such a pain, ain't it?/No dying, no fun."
"Rich Girl" aside it's the rock songs that define this album: the loopy "Kerry," the modest "London, Luck and Love" and the swaggering but uncertain "Room to Breathe." Hall's closing "Falling" is a multi-movement triumph, starting with Daryl elegantly dialing in languor over simpatico Fender Rhodes chords and untimed vocals. Then it accelerates into an insistent but still gentle beat, Oates performs a heroically prog guitar solo, and then the song wipes into an electronic, nearly Krautrock coda that cops a 2001: A Space Odyssey feel as their makeup artist plunges into the void.
Rating: 7.4 out of 10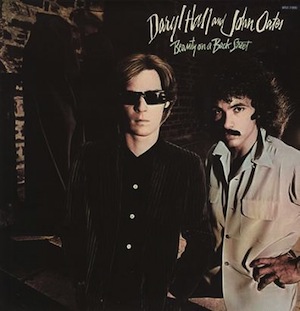 Beauty On a Back Street
(1977; RCA)
Don't feel bad if you hate this album: so do Hall & Oates. When they put together their box set Do What You Want, Be What You Are in 2009, not one of its 74 tracks came from this album. It has a common thread of disappointment and spite. It's not much fun, so you couldn't fault anyone for thinking the album had fallen off the face of the earth.
But it's better than they think it is. One song belonged on that box set: "Bigger Than Both Of Us," which was on Beauty and not the album named after it. It's a tough breakup song blanched in pessimism, but with strong build and a great chorus. Hall's self-pity translates into skepticism: "Just think of me as another page in your life/A curious way for you to pass the time/Just another memory when you're middle-aged." That'll sober up those Sex And The City girls.
There aren't any happy endings on Beauty, but there are good songs: Hall's doubting "Don't Change," his sneering rocker "You Must Be Good For Something," and the Frankie Lymon-esque inquiry "Why Do Lovers Break Each Other's Heart." Oates' closing "The Girl Who Used to Be" is tender in its fatalism, with rueful guitar arpeggios that predate Todd Rundgren's "Tiny Demons."
True, there are more misfires than usual. Oates' "The Emptyness" [sic] overplays the anguish of "She's Gone" into creepy psychodrama. Hall's "Bad Habits and Infections" is frantic and unfocused New York rock interrupted by a jarringly light-sounding bridge. "Winged Bull" is a curious attempt at Eastern fusion that both cites raga strains and rips off Led Zeppelin's "Kashmir."
Beauty on a Back Street is generally sufficient material weighed down by exhaustion that seeps through the room and affects everyone involved except for bassist Leland Sklar, whose excellence on this album sticks out like a sore thumb. It's not so much a false step as it is a small, sideways, kind of limping one.
Rating: 5.8 out of 10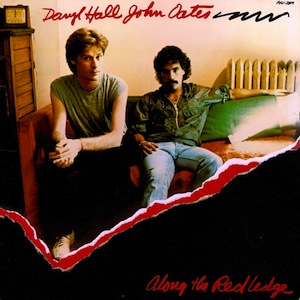 Along the Red Ledge
(1978; RCA)
Remember when I said Hall & Oates played with the conventions of album sides? I was talking about Along The Red Ledge, where they don't play with the idea so much as they drive it to a deserted military base in Nevada and blow it up. Something's off-kilter on both sides of Along the Red Ledge.
David Foster's production sounds remote and reverberant on Side One, but there's a new edge. "It's A Laugh," a Top 40 single, never settles on a key in the verses and resolves in a Brian Wilson-like chorus. Hall's cynicism is more wistful and complicated. "The Last Time" is a Phil Spector homage with a mournful guitar cameo from George Harrison. Side One's other songs are closer to their established soul sound, but two of them — "Melody For A Memory" and "Have I Been Away Too Long" — have the barest hint of aggression.
Side Two starts with as drastic a move as H&O made: the four hardest rock songs they ever lined up, with H&O fully invested by drafting a small army of guitarists (Rick Nielsen, Rundgren, Caleb Quaye) to deliver the goods. So many things should not work on Side Two and they all do. Like "Alley Katz," which blended raw New York energy with Aerosmith's "Draw The Line." (It also began Hall's habit of using drawn-out metaphors, as we'll see again in a bit.)
"Don't Blame It On Love" is Hall's greatest rock song, showered with Robert Fripp's wavering guitar and electronics, and sudden shifts. It's hard not to hear it as a defense of the duo's career to that point, in-reverse optimism about their music: "When they fall you know the loser's always deified/Winner only takes home the prize." Then comes Oates' best rock song: "Serious Music," an intricate tribute to George Gershwin filtered through a Thin Lizzy verse, pop-prog violins and a woozy space dream sequence.
Along The Red Ledge concludes with John's silly '60s parody "Pleasure Beach" and Hall's unearthly ballad "August Day," finishing out their bravest side to date with levity and exhalation. Hard to blame H&O for that: They both subtly tweaked and radically shattered their sound on the same album, and it was their best since Abandoned Luncheonette.
Rating: 8.0 out of 10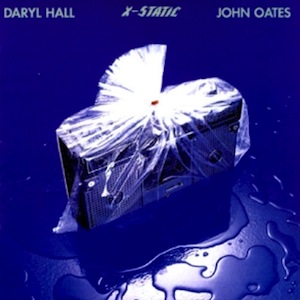 X-Static
(1979; RCA)
Hall & Oates brought producer David Foster back, maybe because Red Ledge was an unexpected critical success, maybe because the kid still worked cheap. X-Static pitted rock off against pop again, but since Red Ledge was such a bombshell they were going to have to pull off some surprises.
Disco was the elephant in the room that Hall & Oates had miraculously not yet addressed. X-Static's forays into dance music do have some freshness. That doesn't make the dance material less artificial, but maybe more palpable. "Who Said The World Was Fair" races so quickly Daryl can barely inhale, but the strong melody saves it. "Running From Paradise" is a sexual protest song in which the girl in Hall's clutches is staring at the mirror on the ceiling of the bedroom (not sure whose), while he obediently gives her "every pose you asked for." He's just another pastrami on rye to her. "Portable Radio," almost as panting as "Who Said," is too contemporary for its own good.
X-Static is hit-and-miss, but its hit's a great one. "Wait For Me" is as sincere a love song as Hall could make, a pleading piano ballad with startling muscle that develops as it goes, held together by a pitch-perfect chorus. John's "All You Want Is Heaven" continues his big-chord winning streak, great power-pop you suspect he could churn out all day if he wanted to.
The rest just jumps around. The blue collar rock of "Woman Comes and Goes" is sleazy and sloppy, but works. "Number One" is an obvious genre exercise — this time reggae. The album ends with songs that highlight Hall & Oates' uneasy treaty with hard rock and new wave. Oates' stuttering, punk-admiring "Bebop/Drop" feels like a concept looking for a song. "Intravino" (yep, its real name) ends it with a greasy combination of power chords and chirpy new wave keyboards, plus a list of Daryl's favorite wines.
X-Static's confusion was at least happier than Beauty On a Back Street — it's not boring — but it was the last album on which they relied on someone else's services as producer. At the time nobody had a clue just how big that shoe-drop was gonna be.
Rating: 6.7 out of 10
Next: Part Three – Big Bam Boom