Celebrate the Catalog: Jason Molina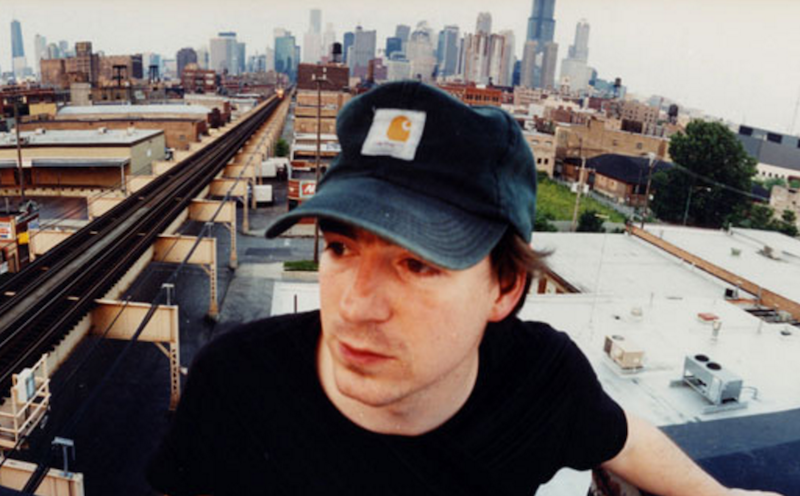 Jason Molina played the blues. That's a simple way to describe the diverse, mysterious, alternately sad and euphoric music of the late singer/songwriter, who died in 2013 at the age of 39. He used music as a way to explore big concepts: life, death, love and existence. He'd write rock epics about the endtimes, and hushed dirges about being followed by ghosts, either real or metaphorical. His music was unmistakably Midwestern at times, evoking the factories and long stretches of road between Indiana and Chicago. At others, he seemed to occupy a space outside of any recognizable locale. And he was often followed by vivid man-made and natural imagery, the most iconic presence in his songs being the eerie light of the moon.
Molina grew up in Ohio, and many of his early recordings—under the name Songs: Ohia—reflected those roots. He was raised on a diet of Led Zeppelin and Black Sabbath, but he developed his own unique style early on, employing space more deftly than most indie singer/songwriters of the '90s and early '00s. And while his first few records employed a bare-bones lo-fi folk sound, it didn't take long for Molina to cultivate a sound of his own, one that was almost a contradiction of itself. His songs weren't often loud, but they carried an intensity that volume alone couldn't convey. "He would crank his electric, but he would barely touch the strings," said artist Will Schaff, who designed the covers of several of Molina's albums and singles.
The body of work that Jason Molina released in his lifetime is split into several disparate parts. The first part comprises his work as Songs: Ohia, which was a slower, more atmospheric sound that he eventually built into breathtaking, haunting perfection. The second part is Magnolia Electric Co., which was Molina's proper rock band, often drawing comparisons to Neil Young, and rightfully so. It wasn't just that Molina was influenced by Young and Crazy Horse, but that he actually wrote songs good enough to stand up to Shakey's. And in between there were the solo recordings, mostly just Molina and his guitar, not quite as dramatic or intricate as the others, but still beautiful, still affecting, still Jason.
With the 15-year anniversary of Magnolia Electric Co. arriving this week—one of the best Jason Molina albums as well as one of the most transformational—it seemed like the right time to take a look at the whole of his studio album catalog, from his early lo-fi sounds to his later forays into rock 'n' roll. Everything he did was interesting. Most of it was very good. Some of it reflective of the sadness and addiction that followed him throughout his life. And a solid segment of his albums are utterly essential. Let's take a journey through the catalog: The Jason Molina albums ranked, rated, and given a deeper listen.
Songs: Ohia – Songs: Ohia
(1997; Secretly Canadian)
Jason Molina began his recording career in much the same way every indie band does: With a set of songs rich in promise and made on a shoestring budget. It's not the lowest fidelity of any Songs: Ohia release, but it's close. The songs are well-written and feature full-band arrangements, Molina's folk-rock sounds touched up with the occasional accordion or saxophone. Yet the production quality does flatten what should be much richer-sounding songs, and most of them are far shorter than the gorgeous ballads that Molina would develop over the next couple of years. Molina himself sounds reedy and thin, the full power of his tenor buried a bit in the mix. Yet it's easy to hear the strength of the songs and the possibilities of what Songs: Ohia could, and did, become.
Rating: 7.3
Songs: Ohia – Impala
(1998; Secretly Canadian)
The first few years of Songs: Ohia were remarkably prolific, with Molina releasing seven albums in just four years. Two of those were limited-edition recordings featuring demos and improvisations, but it's still an impressive amount of music for a concentrated period of time. The second of those seven, Impala, is mostly in line with the self-titled debut, a recording of primarily stark recordings built from overwhelming sadness and bare-bones instrumentation. It's all very good and emotionally draining, though it has its moments of variation and a handful of standouts, like the epic slowcore opener "An Ace Unable to Change" and the almost punk "One of those Uncertain Hands," which explodes throughout its 87 seconds. Still, it's hard not to miss the bigger arrangements of the debut, even if the recording quality is a little better.
Rating: 7.0
Songs: Ohia – Axxess and Ace
(1999; Secretly Canadian)
Not only did Molina release a lot of music in those first few years, but he actually progressed a lot as a songwriter and performer in that time. His third album, Axcess and Ace, had become the template for the next few (official) Songs: Ohia records, and was the best yet upon its release. There's a hushed, spacious sensibility to the songs, with an almost jazz-like aesthetic throughout. Molina switches from acoustic guitar to electric on much of the album, and the greater clarity of sound gives the record a more graceful, eerily beautiful sound. At times it's emotionally devastating, as on "Love Leaves Its Abusers." But the album also features Songs: Ohia's first truly great song, "Captain Badass." Unfolding over seven-plus minutes with its nocturnal strums and brushed drums, the track finds Molina embracing jazzy textures to great effect. Moreover, his voice sounds even stronger than it had on the previous two releases, the young singer/songwriter coming into his own as a powerful presence and a stellar songwriter alike.
Rating: 8.0
Songs: Ohia – The Ghost
(1999; Secretly Canadian/tour only)
Early on in his Songs: Ohia career, Molina released a handful of tour-only releases that featured material in the vein of his proper studio recordings, albeit made in considerably different circumstances. For a lot of touring indie bands in the '00s, this was fairly common practice (and still is to some degree), though for the most part Molina kept to wide-released albums after 2000. Still, it offered an interesting behind-the-scenes glimpse of the songwriter. The Ghost sounds essentially like a collection of demos, its 10 songs recorded with bare-bones, no-budget technology—probably a hand-held tape recorder. And through the fuzz, some hints of his songwriting strengths can be heard, though the hiss and static do obscure a great deal of it. It's not a proper album of his for a reason, though it's at least interesting, a limited-release obscurity that in all likelihood helped contribute a few bucks to something greater ahead.
Rating: 5.5
Songs: Ohia – The Lioness
(2000; Secretly Canadian)
Jason Molina's fifth album (or fourth if you're less inclined to count The Ghost among his "official" albums) marked the beginning of a new phase of exploration, emotional expression and undeniable beauty. Or, put more simply, The Lioness, after three good albums, was his first great one. Possessing neither the kitchen-sink lo-fi sounds of his debut nor the more overt folkiness of the others, The Lioness is a spacious, slow-moving album that allows each moment of bruised beauty to linger. It helps that this was the best-recorded album of his to date, which is apparent through the gripping seven minutes of "The Black Crow," opening the album with a breathtaking tension that leaves one exhausted after listening. And yet, there's a minimalist sensibility about it—the chord progression almost never changes, just the volume and intensity, and Molina's own rising voice as he yells the phrase "And it's fading!" with some distance between him and the mic. It's not a loud album, but it can take a lot out of a listener, particularly in tracks like "Tigress" or the title track, wherein Molina treats courtship as bloodsport: "Want to feel my heartbreak if it must break in your jaws/ Want you to lick my blood off your paws." It's one of the most gruesome albums ever written about love, which in a sense makes it all the more romantic.
Rating: 9.2
Songs: Ohia – Protection Spells
(2000; Secretly Canadian/tour only)
Songs: Ohia released three albums in 2000, which is close to a record for Molina, although only if you view the box set Sojourner as a solitary release rather than as four in one. Yet of the three full-length releases to bear the Songs: Ohia name in 2000, Protection Spells is something of a minor inclusion, as it was a tour album that didn't find its way on to most retailer shelves. That's because, in contrast to his other albums, it comprised an entire session's worth of improvised material. This doesn't mean it's a free jazz album or anything quite so chaotic. Rather, Molina and a band played their way through some loose jams of slow, bluesy sounds that are often stark, unrelentingly melancholy and occasionally quite stunning. "Trouble Will Find You," for instance, is utterly gorgeous. It most closely resembles Cat Power's What Would the Community Think, which is a strong album to be compared to, though it's mostly missing that album's melodic peaks. Overall it's a much more listener-friendly set of music than 1999's The Ghost, though still out of reach of a stunner like The Lioness from the same year.
Rating: 7.0
Songs: Ohia – Ghost Tropic
(2000; Secretly Canadian)
There are a lot of songs in Jason Molina's catalog that make mention of ghosts. One might say that Molina was haunted in many senses of the word, and one of them seemed to be quite literal. Ghostly visitations took place in many of his albums, and he even let them creep into the title of his 2000 album Ghost Tropic. Ghost Tropic is indeed ghostly, aided by Lullaby for the Working Class' Mike Mogis and Shane Aspegren on a set of music that's considerably different from many of Molina's other recordings. It's not as folky as his first few solo albums, nor as gritty and rock-oriented as his Magnolia Electric Co. material. It's stark, gothic avant-blues that's as eerie and shadowy as anything he's ever recorded. And though it received mixed reviews upon first release, there's no doubt that it's one of the best things he ever made, in part because it's such a bold statement. There are open spaces throughout, ominously ringing piano keys, field recordings of birds and whirring organs. There's even a touch of The Bad Seeds' ornate punk blues, channeled through lengthy dirges. And for his part, Molina is a bit more restrained than usual, singing on six of the album's eight songs but often with hypnotic repetition or leaving ellipses rather than carrying out his characteristic narratives. The two 10-plus-minute tracks toward the end of the album, "Not Just a Ghost's Heart" and "Incantation," are breathtaking in their pitch-black atmosphere. Yet the shorter tracks reveal their own stunning details, like the chilling two-note piano bassline of "The Body Burned Away" and the pick harmonics and stylistic detuning of "Lightning Risked It All" (which could easily be slipped onto a Califone album without raising red flags). Ghost Tropic is such a strange album, but it's executed so beautifully and so hauntingly that it amounts to one of Molina's greatest single recordings.
Rating: 9.2
Songs: Ohia – Didn't It Rain
(2002; Secretly Canadian)
Just about everything Jason Molina recorded was good to great. A handful of albums he released were absolute masterpieces. Didn't It Rain is perfect. His most highly acclaimed album at the time of its release, Didn't It Rain has aged remarkably well, its nocturnal blues-folk dirges an enchanting continuation of the stunning sounds on Ghost Tropic, rendered in the oxidized hues of Rust Belt America. Gone are the birdsong and metallic sounds of percussive elements and harmonic-scrape guitar strings. In their stead are is the spiritual soul of gospel and electric blues, still played slowly and with a hushed beauty. The album was mostly recorded at night, and it sounds like it—this isn't music that makes a lot of sense during the daytime. And though it's dark, it's also hopeful. The opening title track, arguably Molina's most beautiful composition, is a beacon of hope that guides the album. "If you do see that golden light, that it shines in its fiery eye," he sings, "go on and catch it while you can… let it course through you, and let it burn through you." Elsewhere, Molina and his bandmates—which include Jim and Jennie of the Pinetops, lending some breathtaking vocal harmonies—groove through a hypnotic two-chord repetition in "Steve Albini's Blues," take on a gothic Americana sound in "Ring the Bell" and go whisper quiet in "Two Blue Lights." The album is streaked with imagery of Middle America—the blue factory flame, the Chicago moon and the bridge out of Hammond, Indiana. It lends a certain warmth and soul to a piece of America that's often reduced to demographic data, and in all of the darkness of Didn't It Rain, Molina never lets go of hope. This was technically the last official Songs: Ohia album, as Molina would later clarify. It's not necessarily that surprising in hindsight. Once he perfected it, he was ready to move on.
Rating: 10.0
Songs: Ohia – Magnolia Electric Co.
(2003; Secretly Canadian)
There's an interesting paradox about the ninth and final Songs: Ohia album. It's technically a Songs: Ohia album, and the title of it is Magnolia Electric Co. But since Molina adopted the name of Magnolia Electric Co. to name the rock band he assembled from that moment forward, it's technically that band's first album too. It came as something of a surprise when Magnolia Electric Co. was released, however, as much of Molina's output to that point had rarely been steeped in fuzz and recorded with the volume cranked. Not that Molina ever suggested such a thing was out of the question; he had covered Black Sabbath and AC/DC songs, and was a longtime fan of hard rock and metal, despite mostly playing a much subtler style of music. Perhaps it's credit to Molina's rock 'n' roll schooling that right out of the gates, he delivers one of the best rock 'n' roll anthems of his career—and of the '00s—"Farewell Transmission." Driven by a recurring chorus of "long dark blues," it's a sprawling country-rock telling of an apocalyptic event that's painted in vivid hues: "Now we'll all be brothers of the fossil fire of the sun/ Now we'll all be sisters of the fossil blood of the moon." The entire album comprises highlights, essentially, many of them hard rocking ones, such as "I've Been Riding With the Ghost" and "John Henry Split His Heart," though fascinatingly it's one of few Molina-fronted albums that gives two other singers the lead. One is Scout Niblett, who sings "Peoria Lunch Box Blues," and the other is whiskey-throated country singer Lawrence Peters, who gives "The Old Black Hen" some powerful Western soul. Molina later declared this the first proper Magnolia Electric Co. album, and it makes sense as being that; instead of choosing a gradual transition into a new project, he made the line of demarcation a bold one, louder and more maximalist than any of his previous albums. As Molina himself says, it's a long dark blues: Listen.
Rating: 9.3
Jason Molina – Pyramid Electric Co.
(2004; Secretly Canadian)
Back when this album was released, I remember getting in touch with the label about receiving an advance. There weren't any—in fact, the label in-house PR person said that whoever reviewed it for Pitchfork must have bought a copy, since it wasn't being serviced (which is writerspeak for being on the album-promo mailing list). The fact of the matter is that Pyramid Electric Co. isn't a high profile release from Molina, sandwiched between his first two Magnolia Electric Co. releases (one of which was also the last Songs: Ohia album). A limited edition vinyl-only album, Pyramid Electric Co. was a stark, primarily voice-and-guitar record that harkened back to Molina's early tour-only issues. But that's not to say it's a disappointing set of songs at all. Better recorded than The Ghost and more stripped down than Protection Spells, Pyramid is both haunting and gorgeous, its most striking moment the dark and spacious opening title track. Yet the tuneful "Song of the Road" showed that there was still room for a good hook.
Rating: 7.5
(2005; Secretly Canadian)
With the release of 2003's Magnolia Electric Co., Molina drew a dividing line between the hushed dirges of his Songs: Ohia project and the full-band country-rock that he'd soon fire up. At the time it came as a surprise—a spectacular one—though it's far from an unprecedented move in indie rock. In fact, that same year Phil Elverum did the same thing in reverse, transitioning the ambitious indie rock collective The Microphones into the anything-goes solo recordings of Mount Eerie. The biggest revelation of Magnolia Electric Co., however, was that Molina could—and did—rock. Inspired heavily by Neil Young and Crazy Horse, Magnolia Electric Co. delivered one hell of a rock single with 2005's "The Dark Don't Hide It." Maybe the catchiest song Molina ever wrote, "Dark" takes the idea of heartbreak and human unkindness into a masterful display of clever, homespun verse: "Now the world was empty on the day when they made it/But heaven needed someplace to throw all the shit." It's the first song on What Comes After the Blues, and that's its biggest flaw. All of its songs are very good; none of them are quite that driving and powerful. "Hard To Love A Man" comes close, more of a slow burn than an explosion. And interestingly, the final three songs (of eight) are entirely acoustic, borrowing the Neil Young/Bob Dylan trick of splitting the album's aesthetics in two. But while no song musically kicks as much ass as "Dark," closing track "I Can Not Have Seen the Light" is just as emotionally poignant, exploring depression in a very real and plainspoken way: "Do I have to be alright all the time?" While it's by no means Molina's best album, it's still an album that still often finds him at his best.
Rating: 8.7
Jason Molina – Let Me Go, Let Me Go, Let Me Go
(2006; Secretly Canadian)
The release of Let Me Go, Let Me Go, Let Me Go was a return to an old way of doing things for Molina. Released after he had transitioned into the full-band roots-rock sound of Magnolia Electric Co., the album found Molina shedding the bigger, noisier rock songs for songs that were mostly just the sound of the man's voice and his guitar. There were some organs and pianos here and there, sure, but Let Me Go is essentially an intimate session with just Molina himself, free of additional adornments and instrumentation. He never needed much else, and here his dark visions are as mysteriously evocative as ever: "The dark outside the world/ I think it looks like rain." While the transition into leading a proper rock 'n' roll sound does leave this feeling a little bit less robust as his other recordings around the same time, it's still a strong set of music that's worth a listen after dark, during an autumn rain.
Rating: 7.2
(2006; Secretly Canadian)
Fading Trails is an excellent record. It's also a peculiar record. For one, its artwork depicts a topless woman with a kind of ghostly air about her, rather than the illustrations that typically adorn a Songs: Ohia or Magnolia Electric Co. recording. Furthermore, while it's ostensibly a studio album, it's pieced together like a compilation, its nine tracks culled from four separate recording sessions, all of which were collected on 2007's Sojourner. So on the surface it might seem like a more disjointed work, considering it features different producers, including Steve Albini and David Lowery. However, it doesn't sound that way. Maybe it's simply the result of being the work of a singular artist with a strongly defined style, but Fading Trails all fits together quite well, from the country rock hooks of "Lonesome Valley" and "Talk to Me Devil, Again" to the stripped-down closing tracks, "Spanish Moon Fall and Rise" and "Steady Now." And the imagery of past records still looms large over these songs: "Out here the ghost wears its feathered crown of blues/And the sickle moon to watch over all the lost horizon." Ghosts, blues and the moon: That's Jason Molina's music in a nutshell.
Rating: 8.9
Magnolia Electric Co. – Sojourner
(2007; Secretly Canadian/limited edition)
The curious thing about so much of Jason Molina's recorded output is not so much what he released but how he released it. While his best albums were no question the "official" Songs: Ohia or Magnolia Electric Co. releases (Molina was often his own best editor and judge), there's so much additional material that can't be purchased in physical formats anymore, like the 2007-released limited-edition box set Sojourner. At the time it was issued—in a wooden box, beautifully packaged and currently going for $150 or so secondhand)—Sojourner didn't entirely comprise unreleased material. Nine of its tracks made their way on to the previous year's Fading Trails, essentially a studio album culled from the best of those four sessions. Most of them were taken from Nashville Moon, the first, Steve Albini-recorded disc whose outtakes are just as strong as those that made the Fading Trails cut. The final disc is entirely made up of acoustic tracks, some of which tend to lose some of the steam of the early material, and the EP-length Sun Sessions is a brief but interesting set of extras. But the David Lowery-produced Black Ram is perhaps the most interesting inclusion, a dark and haunting set of dirges that takes a much eerier turn than the catchier, driving songs of Nashville Moon. Altogether, Sojourner contains much of the best material that Molina ever recorded, along with some that's not necessarily incredible but still enjoyable. It's a pretty overwhelming set of music, but proof that Molina's leftovers occasionally were just as good or even better than the official LPs.
Rating: 8.5
Magnolia Electric Co. – Josephine
(2009; Secretly Canadian)
Jason Molina's final album release in his lifetime was never expected to be that. His death four years later came as a shock, though his own health had been deteriorating due to alcohol, and he essentially stopped releasing music. In fact, in May of 2012, he released a letter to fans expressing gratitude for their concern and sounding relatively upbeat in spite of his deteriorating health. But in 2009, despite being the year that he'd fall off the radar after canceling tour dates with Will Johnson, he still was as productive and prolific as ever. His final release was his collaborative album will Will Johnson, Molina & Johnson, but just five months before that, he released his last album with Magnolia Electric Co., Josephine. And again, it was never intended to be that. In fact, it feels like a strong continuation of his previous three Magnolia albums, albeit one more steeped in country-rock sounds and adorned with gorgeous accents of pedal steel. And much like those albums, Josephine also returns to the rewarding well of Crazy Horse-style rock 'n' roll, particularly on standouts "The Handing Down," "Map of the Falling Sky" and "Little Sad Eyes," all of which run together in a sequence. That Josephine isn't considered one of the greatest moments in Molina's career isn't necessarily a knock on it. He had already issued about four true masterpieces in his lifetime. If anything, it feels just slightly out of reach of those heights, a comfortable continuation rather than besting the heights of Didn't It Rain or Magnolia Electric Co. It's a warm and lovely album that suggests Molina had far from reached the bottom of his songwriting well, and there's something oddly reassuring in that.
Rating: 7.8
Molina & Johnson
(2009; Secretly Canadian)
The final album that Jason Molina released in his lifetime wasn't a proper solo album or a Magnolia Electric Co. effort either. It was a full-length collaboration with Centro-Matic's Will Johnson that felt less like a fully formed album than a fun set of songs and unfinished sketches that the two musicians simply had fun putting together. It's not bad at all, and in fact features some truly gorgeous songs, including "What You Reckon, What You Breathe" and "Each Star Marks a Day." But Molina is only a solo vocalist on a handful of songs here, Johnson mostly taking the lead, and quite a few of the songs seeming either unfinished or pale sketches of something that could have been even greater with a bit more time devoted to them. It's all mostly stark, few of the songs featuring more than guitar and voice and occasionally some keyboard, and the fidelity even seems a bit inconsistent throughout. At the time, though, it was merely a nice appendix to an already rich catalog, less an essential than something along the lines of the Songs: Ohia tour-only releases from earlier on in his career. Not essential, but not bad. And though the music itself is stark and minor key, the truly sad thing about it is how open-ended it feels.
Rating: 6.7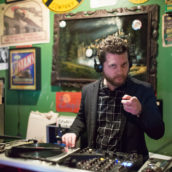 Jeff Terich
Jeff Terich is the founder and editor of Treble. He's been writing about music for 20 years and has been published at American Songwriter, Bandcamp Daily, Reverb, Spin, Stereogum, uDiscoverMusic, VinylMePlease and some others that he's forgetting right now. He's still not tired of it.