Celebrate the Catalog : Depeche Mode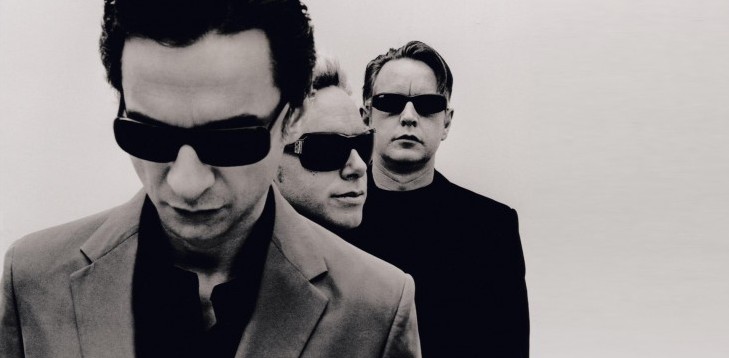 Black Celebration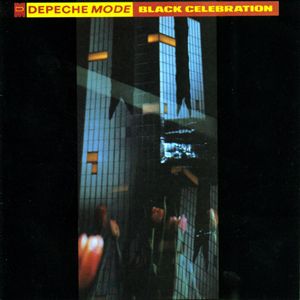 Black Celebration
(1986; Sire-Reprise)
With Depeche Mode ascending on a steady upward curve for four straight albums since their debut, the group finally arrived upon what could easily be called their first masterpiece with 1986's Black Celebration. True to its name, Black Celebration has earned a reputation for being the album in which the band truly begins to embrace dark, gothic textures, even at times nodding to the ethereal darkwave movement going on in UK in the '80s. Yet Dead Can Dance this isn't. DM, rather, made an exceptional pop album that simply thrives in the darkest of hours. But for Depeche Mode, darkness translates to anthems — soaring, mighty and towering pieces of synthesizer majesty that helped propel them to a massive stadium act in a time when such a thing was possible. Black Celebration might not have been the album to put them at the top, but it certainly edged them closer.
What makes Black Celebration so successful, in part, is the level of songwriting that Martin Gore has graduated up to and the confidence gained in doing so, even putting himself behind the microphone more than usual. But most Depeche Mode fans recognize that, for the most part, when Gore sings, he's the guy doing the ballads. Dave Gahan is the edgy rock star. And those two personalities fall into place nicely here. It's a little harder to steal the show when sticking to the softer material, as Gore does, but for him, "A Question of Lust" is a breakout performance, revealing not just a powerful tune, but an impressive vocal range that broadcasts the emotion in a much more compelling manner than, say, 1984's "Somebody." That song's decent, this one is much better. But Gahan still gets to helm most of the standout tracks, as he should — he's the one with the more dynamic presence, and that presence is what lends songs like "Stripped," the Nabokov-ian "A Question of Time" and the ominously glorious title track an extra dose of charisma beyond the widescreen post-punk sounds they emit. When the album was released on CD in the U.S., Sire included the bonus track "But Not Tonight," originally a b-side to "Stripped." The band wasn't all that keen on the song, considering a throwaway track they had written for '80s flick Modern Girls, which is a shame really. It's a stellar tune; we even included it on our Top 200 Songs of the '80s.
Rating: 9.2 out of 10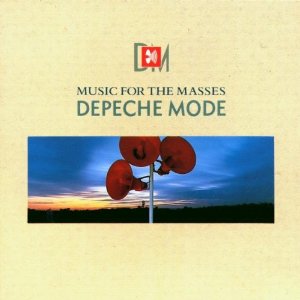 Music For The Masses
(1987; Sire)
Choosing Music For the Masses as the title for their sixth album revealed a self-deprecating side to the band, as Gore once suggested the music on the album was anything but commercial. I guess nobody bothered to tell their fans. With each album, Depeche Mode was growing not only artistically, but commercially as well. The album marked the group's highest Billboard peak to date, not to mention the launch of a highly successful tour that saw the UK act sell out the 60,000-capacity Rose Bowl. Let's pause and reflect on this for a second — Depeche Mode played to an audience larger than the town I grew up in. I can scarcely think of any act that can pull off those kinds of numbers nowadays in the U.S., save for someone like Jay-Z or Kanye West. But in 1987, Depeche Mode did so, even before going platinum!
So what, exactly, was it about Music For the Masses that appealed to such a wide audience? That's a harder thing to pinpoint; it's a better produced album, a more sophisticated one, and a pretty catchy one at that. Perhaps it's some combination of the three, but I like to think that maybe it's a fourth, admittedly subjective, quality that put the band on a new level of success — Music For the Masses, when it was released, was simply the best album of their career. And today, that's still essentially true, save for the even more successful Violator, which came three years later. It's readily apparent from the first track, "Never Let Me Down Again," a massive and hammering EBM-industrial synth-pop banger about recreational drug use, that the band had stepped into a whole new world of larger-than-life songwriting and majestic productions. "Never Let Me Down Again" stands as one of the best songs in the band's catalog, but even more than that, at the time it was simply the hugest, an overture that soared to the heavens while Martin Gore stacked it sky-high with his most opulent goth-rock flourishes.
Not that the rest of the album is all that shabby either. "The Things You Said" once again finds Gore at the helm of a knockout track, while "Behind the Wheel" thumps along an ominously tense stretch of synth. One of my personal favorites, however, is "To Have and to Hold," which is a fairly atypical track for the group, featuring no chorus or bridge, just a handful of verses that slowly build into an eerie sense of crushing doom. The band referred to the sound on Music For the Masses as "electronic metal," which on its face seems odd, but makes perfect sense in retrospect. Nevermind the fact that there are far more guitars on this album than any of its predecessors, Music For the Masses is, by far, Depeche Mode's heaviest record.
Rating: 9.5 out of 10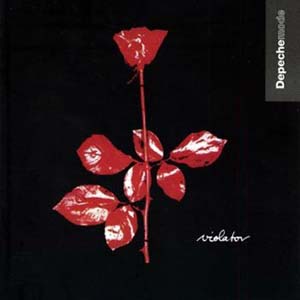 Violator
(1990; Sire)
Depeche Mode is, on some level, the quintessential '80s band. From the beginning, they embraced the music video format, and rose to prominence via increasingly big-budget clips directed by the likes of Anton Corbijn, who also frequently documented the band via still photographs (and designed some of their album covers). And by being one of the pioneering synth-pop bands in the UK, they helped to change the landscape of both underground and popular music. So it's a little ironic that their most iconic album actually came out in 1990.
Both the first great album of the 1990s, or perhaps the last great album of the 1980s, depending on how you look at it, Violator is the pinnacle of Depeche Mode's career. As the first recording of a new decade, the group saw fit to change their methods, leaving ideas a little more open ended rather than planning them out so rigidly, and allowing for songs to evolve more fluidly. Where Music For the Masses went a little deeper into darkly ominous terrain, there's a more explicitly commercial appeal to much of the material, most notably "Personal Jesus," which is the most ubiquitous song in the group's canon, appearing everywhere from films to TV, to Acqua di Gio commercials and strip clubs. The British pop cowboy video certainly helped, playing up the camp factor of the song, which stands in stark contrast to some of the artier, more serious tracks on the album, but nonetheless striking a compelling balance.
But hey, those serious tracks are pretty fucking good. Actually, they're frequently amazing. Violator launched four singles, which included "Jesus," "World In My Eyes," "Policy of Truth" and "Enjoy the Silence," which are all knockout tracks, though "Silence," like "Never Let Me Down Again," is in the pantheon of the band's all-time greatest tunes. The immortal song, an unconventional paean to cherishing the unspoken (and the implicit suggestion that it's the one thing standing between the narrator and a broken relationship), began as a ballad, but the new approach to writing and arranging found it morphing into an upbeat pop tune at the suggestion of Alan Wilder. Somehow both an atmospheric anthem and a pulsing dance tune, "Enjoy the Silence" brilliantly compressed everything Depeche Mode did well into one four-minute tune. However, the deep cuts reveal other interesting strides in the band's growth. "Waiting for the Night" is almost an ambient track, its ethereal arrangement predating much of the electronica outgrowth of the 1990s. And closing dirge "Clean," which swells into a powerfully gothic overture, is an often overlooked stunner in their discography. It might be a stretch to say that Violator is flawless — "Blue Dress" stumbles a little. But I'm willing to overlook that by sheer virtue of the band's ability to outdo themselves on just about every level. Let's call this one a 10.
Rating: 10 out of 10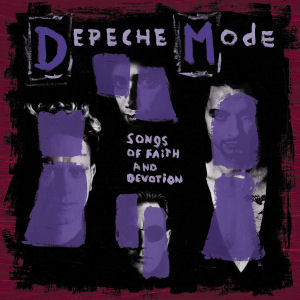 Songs of Faith and Devotion
(1993; Sire)
This one, however, isn't a 10. Not that Depeche Mode didn't aim for some pretty ambitious heights on Songs of Faith and Devotion. On the band's previous two records, love, sex and drugs all played fairly prominent and sometimes interchangeable roles. With Songs, however, they added a new element that lent an interesting, if somewhat odd twist — religion. Indeed, at least two songs here — "Get Right With Me" and "Condemnation" — are actually musically indebted to American gospel music. And on the whole, there's much heavier use of acoustic instruments, be it piano, guitar or uillean pipes. Yet it's the central thematic elements of Biblical imagery that loom largest on Songs, from name-dropping "Judas" to channeling the divine in "I Feel You" and the impassioned pleas of "Walking In My Shoes," which translate, roughly, to: Judge not, lest ye be judged. If Personal Jesus Christ Superstar wasn't a working title for the album, then color me disappointed.
Songs of Faith and Devotion is a good album, and if nothing else, "Walking In My Shoes" belongs to the pantheon of immortal DM tunes that includes the likes of "Never Let Me Down Again" and "Enjoy the Silence." But it's all a little too much. Violator may have seen the band reaching their creative peak, but in taking it a step even farther toward maximalism, the group sort of lost a little bit of their creative spark in a flurry of theatrical arrangements and Christ poses. Dave Gahan even looked a bit like Jesus during this period, but rather than performing miracles, he was mostly just doing a lot of drugs. Nothing exceeds like excess, and the album is a reflection of that. Still, "Walking," "In Your Room" and "Mercy In You" all slay, and even the biggest missteps aren't disasters, just a little overdone.
Rating: 8.5 out of 10
Next: Ultra through Sounds of the Universe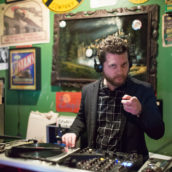 Jeff Terich
Jeff Terich is the founder and editor of Treble. He's been writing about music for 20 years and has been published at American Songwriter, Bandcamp Daily, Reverb, Spin, Stereogum, uDiscoverMusic, VinylMePlease and some others that he's forgetting right now. He's still not tired of it.