Celebrate the Catalog: Nine Inch Nails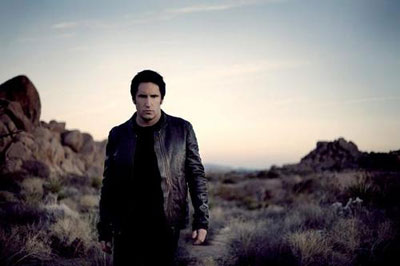 Fans of industrial-rock pioneers Nine Inch Nails have watched with wonder as lead Nail Trent Reznor consummated at least a temporary reinvention. Let's face it, NIN is really Reznor and vice versa; he formed the modern template for the individual musician as octopus, touching every lyrical, instrumental, production, and business facet. But the change of late has been his stepping away from NIN's whirlwind creativity and emotion to focus on more intimate work and purposeful collaborations. He accepted a not-quite-frontman place in a new band, How to Destroy Angels, as well as marriage and fatherhood with West Indian Girl's Mariqueen Maandig. And as 2011 dawned, Reznor's work alongside Atticus Ross earned them prized mainstream status symbols — Golden Globes and Academy Awards — for soundtracking the film The Social Network.
There are no such accolades this year (despite more awesome film music for The Girl with the Dragon Tattoo) and no big milestones to grasp, just yet. In the meantime, we can't ignore recent rumblings from the Reznor camp which suggest he's hankering to pull the NIN moniker off the shelf. So the moment feels right to celebrate the Nine Inch Nails catalog, focusing on the major releases in the discography of what Reznor called "halos." Let's revisit and review a body of work from the man who attempted to make a troublesome underground genre palatable, and in doing so paved the way for pop music to experiment with more challenging volume levels, themes, technologies and public access.
Happiness in Slavery

Pretty Hate Machine: Halo 2
(TVT Records, 1989)
Industrial music — and this album which was, for many, a primer in it — is the sound of spare parts. As a genre it regularly employed field recordings of machines and metal, aggressive keyboards and guitars, scraps of harmony and melody. As a purveyor of it, driven by muses of late-night isolation and escape via commercial success, a young Trent Reznor had to stitch together studio downtime to assemble his demos. And if you still happen to have the physical CD or tape (!) of this album somewhere, go back into the liner notes and find some of Reznor's disparate inspirations. There's Prince, whose sexuality and synthesized funk snakes through songs "The Only Time." There's Public Enemy, heard specifically in the rap of "Down in It" and the sound collage-as-rhythm track on work like "Ringfinger." And of course there's Coil and Clive Barker, infusing the dance of "Head Like a Hole" and balladry of "Something I Can Never Have" with dread and abuse. Nine Inch Nails offered a bracing, bold update to party music, suggesting that those wallowing in misery indeed love company with which to share it. Maybe it's not an instant classic, but certainly an acknowledged one.
Rating: 10 out of 10

Broken: Halo 5
(Nothing/Interscope, 1992)
Made without the knowledge of TVT Records, as Reznor sensed they planned to put NIN in a synthpop pigeonhole, his major-label bow was tilting at industry windmills with a distortion pedal as lance. Yet Broken was less like Neil Young's "This Note's for You," meant to annoy just his handlers, and more like Lou Reed's Metal Machine Music, challenging the buyers as well as the sellers. Inspired by the sound of the NIN touring band, there was almost wholesale replacement of dance music with heavily-processed metal — "Wish" and "Happiness in Slavery" somehow won Grammy awards for that. A variety of release formats forced listeners to play hide-and-seek with the EP's squeaky covers of Pigface and Adam and the Ants songs. And after three years, can you blame Pretty Hate Machine fans for wanting more than six new originals? The Fixed remix collection would help keep them at bay a little while longer and define Reznor's fondness for reinterpretations; Broken songs like "Gave Up" would become concert favorites. Still, I can't be the only one who was pissed off to no end when this EP first came out.
Rating: 5 out of 10

The Downward Spiral: Halo 8
(Nothing/Interscope, 1994)
After releasing music that asked "What's this love for?" and "What's this work for?", Nine Inch Nails put together a concept album ultimately asking "What's this life for?" It's not like the question hasn't been posed before (Roger Waters on line 1, Trent), but where other subjects of other stories descend into madness or ascend back to redemption, Reznor suggests that there is no refuge more secure than suicide. The premise of The Downward Spiral got NIN in hot water: "Big Man with a Gun" was interpreted as a violent hip-hop boast instead of a critique, and the young Columbine killers found endless inspiration in the album's depressive nature. Yet these were thoughtless outliers, the sad catharsis suggested in Reznor's art made manifest. Intelligence lurks elsewhere in the maelstrom. We find NIN's signature singles, the weirdly sex-positive "Closer" and the nihilist manifesto "Hurt." Groundbreaking production techniques and lyrical imagery interest and frighten throughout "Mr. Self-Destruct," "The Becoming," "Eraser," "Reptile." If longtime fans aren't repeatedly going back to Pretty Hate Machine for the beats, they're going back to this album for the sturm und drang.
Rating: 9 out of 10
Things Falling Apart

The Fragile: Halo 14
(Nothing, 1999)
Ten years on, NIN unconsciously channeled Guns 'n' Roses by putting out two albums at once. Problem was, they were stuffed into the space of this one release, an uneven blend of themes: stepping back from the brink, and being resigned to take the fall. Even producer Bob Ezrin admitted that his involvement was a result of Reznor's cry for help to rein in an album that was getting out of hand. For all the studio wizardry and dramatic sonic motifs that remain — "We're in This Together," "The Great Below," "The Frail" — I still needed to make a mixtape that cut The Fragile in half, resequencing it to my own idea of perfection. It makes me wonder, though. Reznor was poised to embrace open-source music later in his career, so maybe The Fragile was just another way for listeners to find and use what they wished in his ongoing tales of woe.
Rating: 6 out of 10

And All That Could Have Been: Halo 17
(Nothing, 2002)
This isn't the first or last document of live NIN material, but as CD and DVD versions exist independently of each other this is the only concert "halo" that doesn't actually require visuals. Sadly, it feels like somebody knew they shouldn't have been separated from the music in the first place. Recorded at shows supporting The Fragile in 2000 and sequenced continuously in the studio, outside of the crash open of "Terrible Lie" to kick things off there's precious little bite to the album's proceedings. NIN shows are visually compelling, especially when seeing Reznor and his sidemen throw themselves (often literally) into their playing. However, since most everything since Broken had derivatives of a full guitar-bass-drums-keys sound, the dirty little secret is that the live band really isn't straying too far afield. In typically difficult NIN fashion the best part of this album is Still, the second half of two-disc editions of And All That Could Have Been. There, Reznor leads skeletal acoustic performances of songs from the three NIN albums and previously unheard compositions, justifying his classical background and lifting all filters from the power of his music.
Rating: 4 out of 10 for the single disc edition, 6 out of 10 for the double disc

With Teeth: Halo 19
(Interscope, 2005)
There were certainly interceding releases — a remix compilation here, a soundtrack song there — but five-plus years is a long time to go between full studio albums. That's what NIN averaged up to this point, certainly affected by recording and tours and business considerations. Yet there was no mystery about what With Teeth covered, and why its schedule played to type: Trent Reznor needed to get clean. He hit the studio and the stage newly buff, absent of drugs or alcohol. He revisited and reversed some of the personal interactions of Pretty Hate Machine, attempting to embrace companionship (in a backhanded way on "Beside You in Time"), positivity (in the objectivist "Only"), and populism (in the quasi-political "The Hand That Feeds"). With Teeth contained little evidence of epic distortion or grand eschatological explorations. A bunch of vintage instruments, lots of 4/4 rhythms, even Dave freakin' Grohl on drums? For better or worse, this Nine Inch Nails music was brash and basic modern rock.
Rating: 7 of 10
Survivalism

Year Zero: Halo 24
(Interscope, 2007)
Trent Reznor first found his storytelling voice on The Downward Spiral, at least in the abstract. Merging that skill with the With Teeth approach to concepts literal and static, he quickly and enthusiastically immersed himself in the world of Year Zero. What a world it was: He developed a so-called alternate reality game with a network of secret messages, stunt websites, and clandestine events to "warn" listeners (and the world) of events to come in the U.S.A. of 2022. The tale is essentially an X-Files update with a leftist slant, full of references to bioterrorism, paramilitary aggression, unchecked global warming, and otherworldly presences. All this serves to promote the actual Year Zero album, wherein each song takes up the point of view of a participant in the story — soldier, parent, protester. Against a backdrop made from NIN's versions of pop both analog ("In This Twilight") and digital ("Me, I'm Not"), and atmospheres simultaneously feng shui ("Zero-Sum") and erratic ("The Great Destroyer"), Reznor's tale transcends the musical and approaches the cinematic. And oh look at that, there's a miniseries coming.
Rating: 9 out of 10

Ghosts I–IV: Halo 26
(The Null Corporation, 2008)
Speaking of cinematic: This double album was a Reznor labor of love that worked best as soundtracks for movies either in his head or on a film student's syllabus. He was on something of a creative roll, and liberated from any recording contract he could mimic Radiohead's pay-what-you-want business model for music. He holed up in a studio for 10 weeks with trusted studio hands Atticus Ross and Alan Moulder, and gifted players like Brian Viglione and Adrian Belew. Frankly, and sadly, the results can be summed up as two hours' worth of instrumental swooshing and buzzing, by turns calming and frustrating. The best thing about Ghosts I–IV is that it really turned out to be a precursor to his targeted soundtracks in the 2010s. Upon its surprise release, though, it was neither suggested by his prior soundcraft for Oliver Stone's Natural Born Killers nor a logical extension of what Nine Inch Nails had been up to that point. The good news for Reznor is that he made more than $1 million thanks to his generous/ravenous fans swooping down on this release. He claims to have more Ghosts albums planned — it remains to be seen whether that's good news, too.
Rating: 3 out of 10

The Slip: Halo 27
(The Null Corporation, 2008)
Nine Inch Nails fans initially wondered if The Slip was a continuation of the Year Zero mythology. There are a lot of psychic connections to be made: songwriting suggestions of aliens and authority, the appearance of a "resistance" logo, the iconic cover shot of Reznor being grabbed from behind. Yet The Slip wasn't released with that album's fanfare — just two weeks' notice, then a "this one's on me" post on the NIN website. And instead of broad, buckshot storytelling, The Slip concentrates its strength as Pretty Hate Machine once did. The fairly loud front half has no less than four radio-ready powerhouses, from "1,000,000" through "Echoplex," before settling into moodier, more contemplative atmospheres anchored by new fan favorite "Corona Radiata." A thank-you note to listeners who stuck with him through good and bad and yet another Dear John letter to the music industry — one to be downloaded, bought, remixed, reposted — The Slip might just be the most underrated, underappreciated album in the NIN catalog.
Rating: 8 out of 10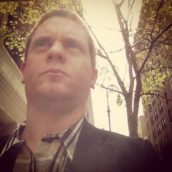 Adam Blyweiss
Adam Blyweiss is associate editor of Treble. A graphic designer and design teacher by trade, Adam has written about music since his 1990s college days and been published at MXDWN and e|i magazine. Based in Philadelphia, Adam has also DJ'd for terrestrial and streaming radio from WXPN and WKDU.