Any Day Now
Till the Band Comes In
(1970; Philips)
The 1970s weren't particularly kind to Scott Walker. After a dynamite 1960s, in which Walker made a name for himself as an avant garde crooner with a knack for wit and dark storytelling, he had begun to lose the qualities that made him such a formidable performer to begin with, at his lowest points going through the motions with uninspired covers. But Till the Band Comes In is still pretty far from that nadir. In fact, it's quite good. While starting to show fissures in his otherwise solid foundation, Till the Band Comes In is the last really good album Walker released before briefly losing his way in the 1970s. A more-or-less concept album about the goings on in an apartment complex, the album focuses on odd characters and hard-luck tales, each one on the wrong side of the best years of their life. Yet there's a vibrancy to the arrangements here that hides the tragic nature of his stories. "Joe" has a big, brassy jazz arrangement, and the title track hits harder than almost any of the Walker tunes of the '60s. But there is certainly some filler, some mushy middle, some bloat. It's not perfect, but it's an album that deserves more praise than it gets, particularly from Walker himself.
Rating: 7.5 out of 10
The Moviegoer
(1972; Philips)
The deeper Scott Walker eased into the 1970s, the more of a creative rut he found himself in. His voice still could soothe every regenerating head of the hydra, of course, and there's no question that the man had good taste. But with The Moviegoer, he had followed the questionable instinct of recording an album's worth of ballads from popular films. This in itself isn't really a horrible thing, but it also — at this point in Walker's career — meant a pretty serious dearth of inspiration. It's essentially an inoffensive, pleasant, easy listening pop album with a few highlights and not much in the way of memorable material. As fun as it is to hear Walker croon "Speak Softly Love," the highly recognizable love theme from The Godfather, he plays every track pretty straight. They sound good, and professionally performed, but the challenge and art of the material on his first four albums has essentially vanished. I don't know if I'm cynical enough to say this was a "cash-in," but it's not far off.
Rating: 5.5 out of 10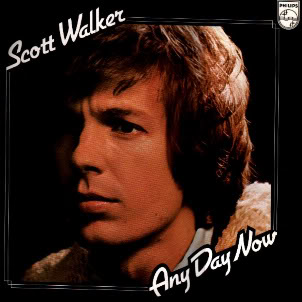 Any Day Now
(1973; Philips)
Wow, things really went downhill after Till the Band Comes In. For as much as Walker himself has a problem with that album, and as bloated it is compared to the stunning Scott series, it at least had its share of really good songs. And Walker originals, at that. Any Day Now, like The Moviegoer and the two albums that follow it, is all covers, and uninspired ones at that. Where before Walker's career was something of a study in Brel, here he's just doing Randy Newman and Bill Withers karaoke. Even more problematic is his cover of Caetano Veloso's "Maria Bethania" with an odd fake Brazilian accent. This is what creative wilderness sounds like. Certainly, the '70s did a number on a lot of artists, but for Walker it damn near derailed his career.
Rating: 4.0 out of 10
Stretch
(1973; Columbia)
Released the same years as Any Day Now, Stretch is basically just a continuation of that album's tepid easy-listening covers. In fact, it, too, contains songs written by Randy Newman and Bill Withers, so it's almost as if Walker set a template for himself that he didn't intend to step out of. But, oddly, Stretch is — and this is relatively speaking, of course — a better album. It might be that Walker seems more engaged with the material, particularly on Withers' "Use Me," which is a more successful adaptation than "Ain't No Sunshine" from his previous effort. But it's still a weak effort, even if it's not the weakest.
Rating: 4.7 out of 10
We Had It All
(1974; Columbia)
Walker goes country! On Stretch, Scott Walker had already begun to show some interest in country & western music, and if you really want to split hairs, he even revealed some traces of country influence on his first true masterpiece, Scott 4. But We Had It All takes it much, much further. In fact, it's basically a Glen Campbell album. Critics didn't respond well to this transition, though at this point, he hadn't gotten much critic support in a good half-decade or so. And, once again, We Had It All is yet another weak effort, particularly in light of all the excellent material that Walker released in the '60s. But it's a good step up from the previous two, at least, showing that country, while not a step forward for Walker, at least produced some halfway decent material. In particular, the title track and closing Alex Harvey cover "Delta Dawn" are salvageable. For the next 10 years, however, Walker wouldn't release any more solo material, which on paper might seem like he had hit a drought of sorts. That, of course, isn't true. He was working toward something…
Rating: 5.2 out of 10