Ciccone Youth : The Whitey Album
Many of Sonic Youth's albums could be classified as weird, but for one to actually be considered the weirdest, it has to be pretty damn wacky. It has to compete with their early no wave, their later jam rock odysseys, their 40 minute noise symphonies, their loud skronky pop songs and near spoken word post-punk narratives. There is, however, one album that outweirds anything else in the Sonic Youth catalog, and it pretty much outweirds anything in anybody else's catalog as well—Ciccone Youth's The Whitey Album. In the mid-80s, Sonic Youth began a strange fascination with Madonna, naming one of their songs "Madonna, Sean and I (Expressway to Yr Skull)," mentioning her in interviews, and then creating a new "band" with Mike Watt for one album, using Madonna's last name in tribute. And, among other curiosities on the album were two Madonna covers.
The Whitey Album, for obvious reasons, is not usually considered a Sonic Youth album proper, though it is Sonic Youth with one extra member, their MO is a little different and their sound is all but impossible to pin down. Originally released in 1988, then reissued again in 1995, The Whitey Album sees its third release this month with one extra track, an alternate take of "Macbeth." The rest of the album remains in tact, and every bit as strange and off-kilter as it was upon its original release. In fact, the album is often referred to as a prank. What's interesting, though, is how well much of the material sounds today.
If John Cage and Marcel Duchamp were in a punk band, it might sound something like Ciccone Youth. Beginning an album with tribal noise, following it up with a minute of silence, then transitioning into a noisy Kim Gordon narrative, Ciccone Youth cared little for convention, expectations or making any sense at all, actually. Yet, the further into the album one gets, the more interesting the material becomes. "Platoon II" pairs dubby hip-hop beats with ambient drones. "Macbeth" is a funky, fuzzy instrumental rock song that sounds oddly accessible, despite its unconventional, improvisational nature. Then comes "Burnin' Up," the band's weird-assed Madonna cover, featuring some wild guitar work from Black Flag's Greg Ginn. Mike Watt's vocals, however, are pretty silly, sounding like a pisstake demo that just happens to rock hard.
More droning guitar work fuels "Children of Satan/Third Fig," while "Two Cool Rock Chicks Listening to Neu" is what the title says it is, complete with discussion on top of the sampled Krautrock band. Kim Gordon's karaoke version of "Addicted to Love" is downright funny, though not unlistenable. "March of the Ciccone Robots" actually sounds like marching robots, with more Madonna sampling. "Making the Nature Scene" is the band's attempt at a hip-hop song, which acts as one of the few "pop songs" on the album that isn't a cover. Hands down, however, the real gem is the group's cover of "Into the Groove," titled "Into the Groove(y)," which rocks hard, uses samples from the original and sounds oddly original and classic, even as a jokey cover.
Much of Sonic Youth's career has been pretty weird. There's no debate about that. But even when they were just having a bit of fun in the studio, as they did here, they created a few gems, albeit ones that will most likely take a dedicated fan to appreciate. Still, it's a fun album and Geffen deserves a bit of credit for keeping it in print, even if it is just a prank.
Similar Albums:
Negativland – Helter Stupid
Lee Ranaldo – From Here to Infinity
Pussy Galore – Exile on Main Street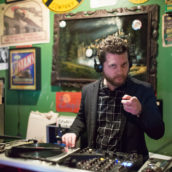 Jeff Terich
Jeff Terich is the founder and editor of Treble. He's been writing about music for 20 years and has been published at American Songwriter, Bandcamp Daily, Reverb, Spin, Stereogum, uDiscoverMusic, VinylMePlease and some others that he's forgetting right now. He's still not tired of it.