fanclubwallet : You Have Got to Be Kidding Me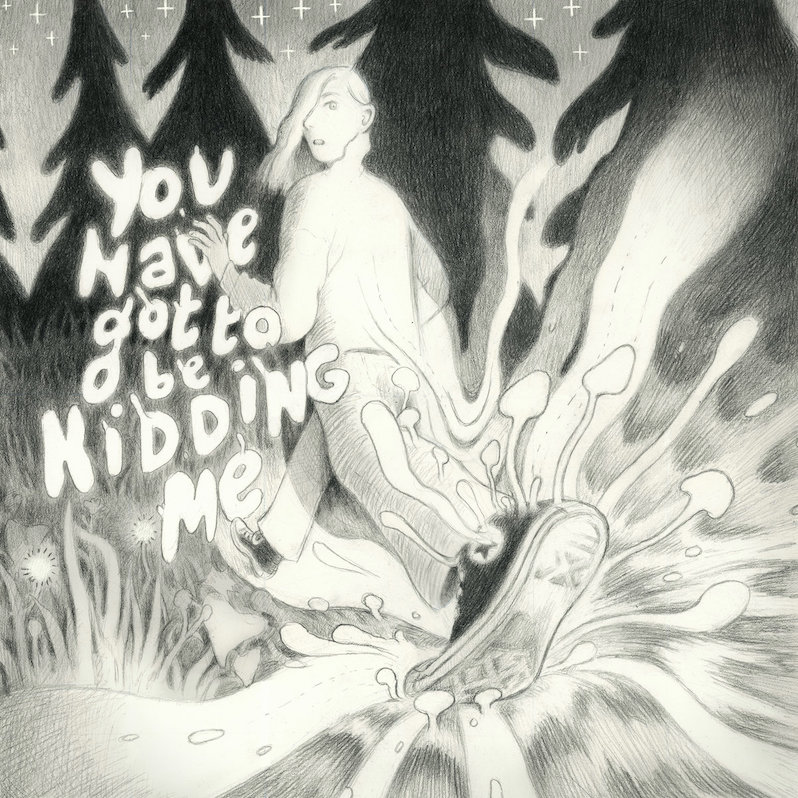 Those who lived through the '90s as teenagers have to be mystified at some of the pop cultural trends that have reared their heads over the past few years. The resurrection of Doc Martens, choker necklaces, farm girl dresses, and other hallmarks of the decade. But they should likewise be celebrating when it comes to the music, whether it's the contemporary prevalence of shoegaze, riot grrrl, emo, or just the overall embrace of youthful angst. So many young, up-and-coming acts are combining buzzy guitars, slacker aesthetics, and lyrics about and with feelings—and it feels fresh after a decade of chill vibes designed primarily with escapism in mind.
Into this milieu steps fanclubwallet, the brainchild of Hanna Judge. Released on AWAL, this Canadian Zoomer has crafted a deliriously creative 12-song debut titled You Have Got to Be Kidding Me. The album fuses high-quality slacker sensibilities with delicate pop clarity to create punky, quirky indie-rock energy. It's easy to get enamored with the sweet sarcasm of Snail Mail, hushed delivery of Soccer Mommy, and wry, world-weary observations of Courtney Barnett.
The project feels like two EPs hardwired into a single release with the instrumental at track 6 serving as the dividing line. The first half exhibits the low-key swagger of an extrovert who wants to say their piece without being an obnoxious loudmouth. The guitar-driven songs showcase talented execution and pop craftsmanship, especially when it comes to funky guitar licks and sublimely relaxed syncopation in the drumming, both live and programmed. On the second half, Judge turns inward by turning down the grooves and turning up a reliance on acoustic guitar strumming. Even then, she matches that downtempo energy with sound effects and synth swatches that feel necessary to the arrangements instead of being cliched background noise.
The album's lead single "Gr8 Timing!" packs a slinky punch, as Judge's breathy delivery peeks out from underneath the delicious conflagration of grooving guitar riffage, four-on-the-floor drum pattern, and fuzzed-out bass line. She then matches the angst of the music with a heavy dose of self-deprecation at the end of the first verse, "Is it that easy for you to see through me now that I've gone and shown myself to someone else?" With "Trying to Be Nice," fanclubwallet conjures up a rootsy '90s pop ditty featuring strong acoustic guitar work, catchy lead guitar phrases, plinky keyboard effects, and bright drumming. Yet, the true emo power of the tune arrives at the end of the second verse when she intones, "Consequences of my own actions have got me feeling faster than I can throw or you can catch."
On "National TV," she doubles down on her penchant for mixing acoustic guitar chugging with airy electro programming. Judge then couples that with a gut-punch of a lyric: "I hope the people that always surround you drown you in love like you drowned me too." Closing out the album, the title track centers around this fantastic bass groove and laid-back drum pattern as guitar melodies and synth arpeggios swirl gently. Despite her laconic vocal stylings, she offers up a crushing sentiment toward a frustrated love interest: "Now months have come and gone by. I guess I won't say that I tried, but that would be a lie of gigantic proportion. I tried more than I had."
You Have Got to Be Kidding Me excels when it's at its most understated. fanclubwallet provides boatloads of fun hooks, off-kilter beats, and whimsical lyricism. It's delightful to hear such layered blends of acoustic and electric instrumentation, especially from a fresh-faced 22-year-old. Judge possesses a superb capacity for textures and melodic movement that feel familiar without being formulaic. Much like her forebears in this decade and 30 years earlier, she is unafraid of her feelings, and her music encourages people to explore the world and go below the surface—even if it means getting hurt sometimes.
---
Label: AWAL
Year: 2022
---
Similar Albums: