Girl Trouble : Hit It Or Quit It!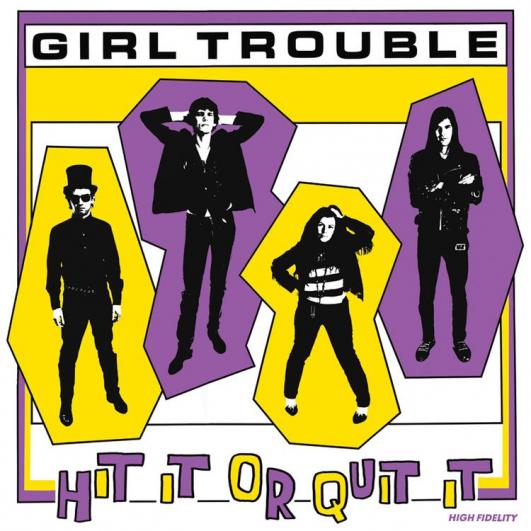 Buy at iTunes | Buy at Insound (vinyl)
Nobody remembers Tacoma. It's a modest port city with a domed auditorium situated about halfway between Washington State's two major music cities, Olympia (Beat Happening, Sleater-Kinney, Nirvana) and Seattle (Paul Revere & The Raiders). For years Tacoma's most distinguished achievements were a cabbage-like aroma thanks to the local paper plant and a brief mention in the Steve Miller Band's "Rock'n Me." Despite some encouraging renovations happening downtown, Tacoma still has a blue-collar, working-class ethic that gets lost in the I-5 bypass.
Tacoma is the perfect place for a band like Girl Trouble, one of the Evergreen State's longest-tenured bands and an undervalued historical chapter in the histories of both Olympia's K and Seattle's Sub Pop Records, who originally partnered for the debut album Hit It Or Quit It! in 1988. The 25th anniversary reissue of the album is all K's baby, truer to Girl Trouble's continued presence as the South Sound's most unrelenting garage band.
It's easy to compare Girl Trouble to The Sonics, who also hailed from Tacoma and set up the tradition of primitive rock in the '60s. But it wouldn't be completely accurate. Whereas The Sonics were pretty much just animals, Girl Trouble have some nuances. Guitarist Kahuna shoulders all of the lead playing on his back. Most of Hit It Or Quit It! highlights the comfortable tension between his constantly moving, echoing lines and lead singer Kurt P. Kendall's relatively untreated, throaty narration. Engineer Steve Fisk took a bit of a chance in treating the two lead elements of Girl Trouble with such drastically different reverb treatments, but it gives them more clarity and depth.
Whereas the Sonics dwelled on subject matters more akin to H.P. Lovecraft, Girl Trouble more frequently occupy the same turf as Flannery O'Connor. Well, yes, they had a song called "Hot Monkey Love," but the most diverting songs on Hit It Or Quit It! casually mine for miniature personality profiles. "Riverbed" is a rolling force of unforgiving despair, punctuated by self-inflicted gunshots that are, to be totally frank, kind of amusing. "Old Time Religion," one of Girl Trouble's first singles, takes another O'Connor stock character, the snarling revivalist preacher, and shapes him into the mutant he more accurately resembles ("He will dunk you in the water/And he'll leave you just the same.") When they do go back to the shock well, they come up with something like "The Skin," where a dance craze turns murderous. Their psychology even turns the bonus track covers of George Jones' "White Lightning" and the eternal "Shakin' All Over" into more nerve-wracking experiences than originally intended.
Girl Trouble's staying power stems from their clash of unadorned consistency and the Northwest's frequently overlooked trait of no-big-deal cynicism. There's just enough release on Hit It Or Quit It! — especially on "She No Rattle My Cage," which properly ends in an instrumental meltdown between Kahuna, drummer Bon Von Wheelie and bassist Dale Phillips — to keep people looking for the next Girl Trouble club date. They're properly part of the family of the Northwest now, and not just the crazy uncles nobody wishes to discuss at family reunions. Now they're patriarchs. Look, it's Tacoma.
Similar Albums:


Dead Moon – Echoes of the Past


Mudhoney – Superfuzz Bigmuff


 Lantern – Rock 'n' Roll Rorschach

Paul Pearson
Paul Pearson is a writer, journalist, and interviewer who has written for Treble since 2013. His music writing has also appeared in The Seattle Times, The Stranger, The Olympian, and MSN Music.