If "late to the party" ever showed up in a dictionary, you'd find Allison Goldfrapp's picture gracing the definition. For all of her smoky waif-model style, she regularly showed up on the wrong side of a musical trend. She was first a guest with artists and albums, at the time, exponentially bigger than her (Orbital's Snivilisation, Tricky's Maxinquaye). Teaming up with Will Gregory as Goldfrapp, the eccentrically glamorous frontwoman and her partner made a late but great play in the electroclash game, 2000's Felt Mountain.
As time went on, though, they always seemed to need remixes to prop up their album tracks. The buzz around 2006's Supernature hinged on a centerpiece single ("Ooh La La") that was really "Spirit in the Sky" or "La Grange" on ecstasy — a point borne out in at least one mashup. And frankly I gave up on them with Seventh Tree, a disastrous turn toward the lush and pastoral. So their new greatest-hits collection The Singles isn't going to change my mind about their diminishing returns. The most I can hope for is that someone out there would give Goldfrapp's brighter efforts a chance.
Their greatest successes are found in diva-tastic disco bangers like "Strict Machine" and Head First tracks "Rocket" and "Believer." "Ooh La La" and "Train" have undeniable power even if they sound like different mixes of the same song. "Utopia," "Black Cherry" and new studio offering "Yellow Halo" even suggest they could pull off slightly slower, more complicated arrangements with aplomb. Yet this compilation is also forced to highlight the Serge Gainsbourg-mimicking "Lovely Head," the spineless dance track "Number 1," and the country-esque "A&E." And I will never, ever get over the laughable opening lines of "White Horse."
A lot of Goldfrapp's music tends to follow a formula of a spare rhythm underneath a verse/wiiiiide-open chorus/bridge/chorus structure. It also sticks to extremes of pained, boring balladry and trashy synthpop pounding. There's so little middle ground delineated, and so many problems with what exists. If The Singles really is the best of Goldfrapp, it begs the question of whether it's worth having the patience to wait for what comes next.
Similar Albums:
Garbage – Garbage
Portishead – Third
Robyn – Robyn
Video: Goldfrapp – "Ooh La La"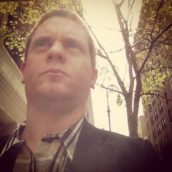 Adam Blyweiss
Adam Blyweiss is associate editor of Treble. A graphic designer and design teacher by trade, Adam has written about music since his 1990s college days and been published at MXDWN and e|i magazine. Based in Philadelphia, Adam has also DJ'd for terrestrial and streaming radio from WXPN and WKDU.