Harvey Milk : Life… …The Best Game In Town
In Georgia, they do heavy right. Having spawned the likes of Mastodon, Baroness and Kylesa, it's hard not to wonder whether there's something extra special in the Peach State that aids in developing such impressively sludgy sounds. Long before any of these bands were laying their riffs down in Savanna, Atlanta and beyond, however, there was Harvey Milk. Formed in Athens, Ga., the very same town that can boast Of Montreal and The B-52s as alumni, Harvey Milk came barreling out of the college town with an impressive ruckus, mixing noise, metal and indie rock for a sound that didn't fit into any niche so easily, and sounded all the more amazing because of it.
More than a dozen years into their career, Harvey Milk hasn't let up in the slightest. If anything, the trio has only refined their dense and destructive low-end riffs. Their new album Life…The Best Game In Town finds all of the elements in place—doom-inspired drones, furious punk rock explosions, stoner riffs, even a few soaring melodies. And though the variety of noises emanating from Life may be great in number, they sidle up beside each other comfortably, making for an accessible, consistently exciting sludge fest.
Massive, eight-minute leadoff opus "Death Goes to the Winner" doesn't initially seem so threatening, as its pretty, distortion-free and baroque melody seems more like a lazy afternoon in the grass than a ride on Cerberus' back. About a minute and a half in, however, that Hellhound comes a-runnin', careening toward the depths through a brutal barrage of ultra low-tuned riff mayhem. "Decades" plows with a "When the Levee Breaks" beat and some of the thickest molasses chug this side of a Melvins record. Just when the trickling, overdriven magma slowly seems to engulf everything, an eruption ensues with the prog-metal instrumental "After All I've Done For You, This Is How You Repay Me?", a furious exercise in blazing fretwork and churning, nauseous rhythms.
Though Harvey Milk is certainly masterful at the slow and brooding, they're not averse to plowing viciously through a punk rocker, as they do on the cover of Fear's "We Destroy the Family." Especially interesting is the next song in line, "Motown." Here, the band opts for melody and accessibility over supreme heaviness, still turning in a song that rocks, but with a catchier, classic rock approach and a laid-back, good time vibe. The good times subside temporarily during brutal standout "A Maelstrom of Bad Decisions," which finds its recklessness in the company of antagonistic rabble-rousers such as Pissed Jeans or Jesus Lizard. And that's never a bad thing.
Now, sharp fellow that I am, after the bait-and-switch of "Death Goes to the Winner," I knew not to get too attached to any gentleness the band might dangle before me, and as such I sat back and enjoyed the punch to the face after the delicate intro of "Roses." Changing up the pitch yet again is "Barn Burner," a track with a self-explanatory title, surging at high speeds as the band kicks into Mötörhead-style high gear. And after the dust settles, the band ends their reign of terror with an epic inferno in "Goodbye Blues," starting off with a slow trudge before catapulting into a furious boogie.
What's particularly amazing about Harvey Milk isn't so much that they balance killer melodies with piledriving metal, but that they remain one of the heaviest in the land while doing so. Life…The Best Game In Town is a crushing, seething monster of a record, with teeth gnashing and tentacles flailing. Just don't let it know how much fun you're having while it terrorizes.
Similar Albums:
Boris – Pink
Melvins – Stoner Witch
Om – Pilgrimage
Download at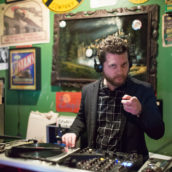 Jeff Terich
Jeff Terich is the founder and editor of Treble. He's been writing about music for 20 years and has been published at American Songwriter, Bandcamp Daily, Reverb, Spin, Stereogum, uDiscoverMusic, VinylMePlease and some others that he's forgetting right now. He's still not tired of it.