HEALTH : DISCO 4 :: PART II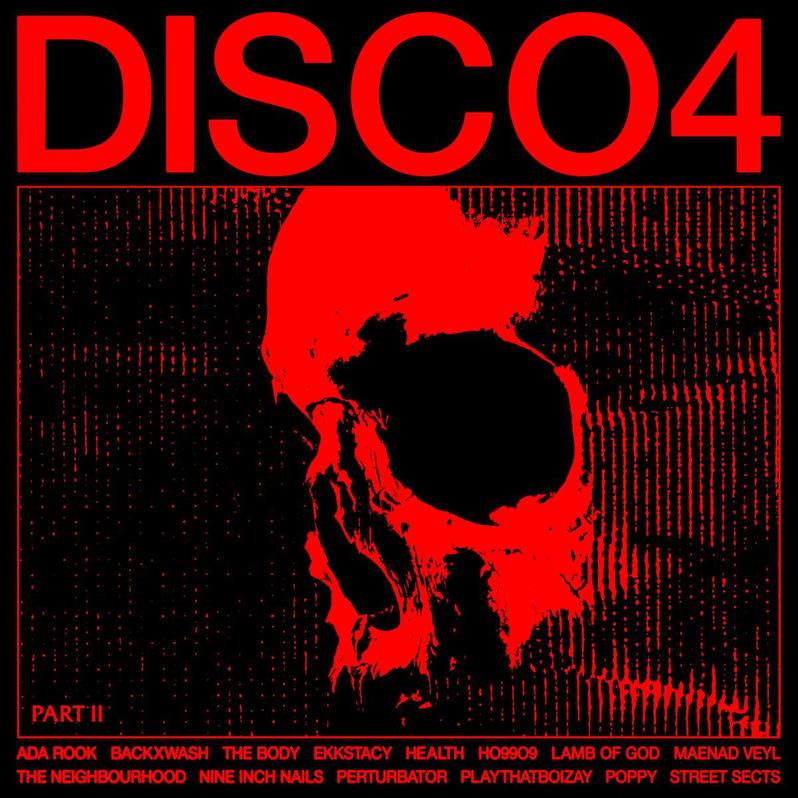 HEALTH are in a unique position to give a fresh take on industrial music take while being embraced by the old guard. While DISCO 4 :: PART II is the second installment of a collaborative series, the sequel drives the point of the project home even further. When in collaboration with another artist, they place themselves in an interesting position of juxtaposing their own sound with unexpected elements, sometimes allowing another artist to be a more prominent focal point. Without the softly cooed vocals of Jake Duzsik to create the airy detachment to counterbalance all the crunch and stomp, the result often ends up somewhere different than a HEALTH song might typically go.
From the get-go, however, HEALTH are in good company, and the first track is in fact one of the best. Poppy loses all the Internet personality quirk on "Dead Flowers," and her voice makes for one of the best blends with Duzsik's own vocals. It's surprisingly even stronger than HEALTH's collaboration with Nine Inch Nails, "Isn't Everyone," if in large part because it sounds a bit less like a natural collaboration than an enhanced Trent Reznor production.
HEALTH wade into the SoundCloud world with serial collaborators Ada Rook of Black Dresses and rapper PlayThatBoiZay. Though some of the lesser known collaborators, like industrial techno artist Maenad Veyl, prove more successful, as their song "IDENTITY" just flows better and makes a more effective use of the atmospheric backdrop. I'll confess not to being much of a fan of Lamb of God outside of their Sacrament album, but here however, the fusion of the two bands on "COLD BLOOD" is a strong one, finding a proper balance between each of their sounds. Perhaps because HEALTH dials some of the Lamb of God's aggression back, but it's one of several examples in which the two artists bring out the best in each other. Like, for instance, on "AD 1000," with The Body, in which the sludge duo provide a rougher shade of gray mixed in such a way that neutralizes the more abrasive elements.
When joined by Ho99o9 and Canadian rapper Backxwash on "Gnostic Flesh / Mortal Hell," the group creates something that sounds like a more aggressive version of Massive Attack. "The Joy of Sect" is a team-up with Street Sects, and it's not surprisingly the best song of the album. While the Duzsik's vocal technique is more interesting than the typical foot-on-the-monitor approach of most rock singers, Leo Ashline is an equally compelling vocalist, and combined their voices provide a contrast well suited to one another.
While it's good to hear HEALTH keep an ear open to a contemporary scene of bedroom artists, bringing on board the likes of Ekkstacy on board, the end result is one of the least memorable. At the other end of the spectrum they pull from a more mainstream pop direction by working with The Neighbourhood, but that band's Jesse Rutherford's voice is another one that seems tailor made for harmonization with Duzsik. On this track, it's hard to tell where one band begins and the other band ends. It should be no surprise that "EXCESS" with Perturbator has one of the album's best grooves, with perhaps NIN coming in second place in that regard.
It's a little ironic that on an album of musical team-ups the last song, on which the band is left to their own devices, is arguably the best. Not only does "These Days" work well on its own two feet, but finds the band continuing to mature on their own. Though another album of unaccompanied new material is still yet over the horizon, an album like DISCO 4 :: PART II seems like an essential stop on the road to the next full-length, fuel for both inspiration and getting out of one's comfort zone. Much like relationships teach us where we stand in relation to ourselves by using others as a mirror for what we might want or not want to do with our lives, this album serves to offer a sense of context and contrast as to where this band stands in the current climate of dark music. Here, they prove they can be true to who they are no matter who else is in the studio.
---
Label: Loma Vista
Year: 2022
Buy this album at Turntable Lab
---
Similar Albums: