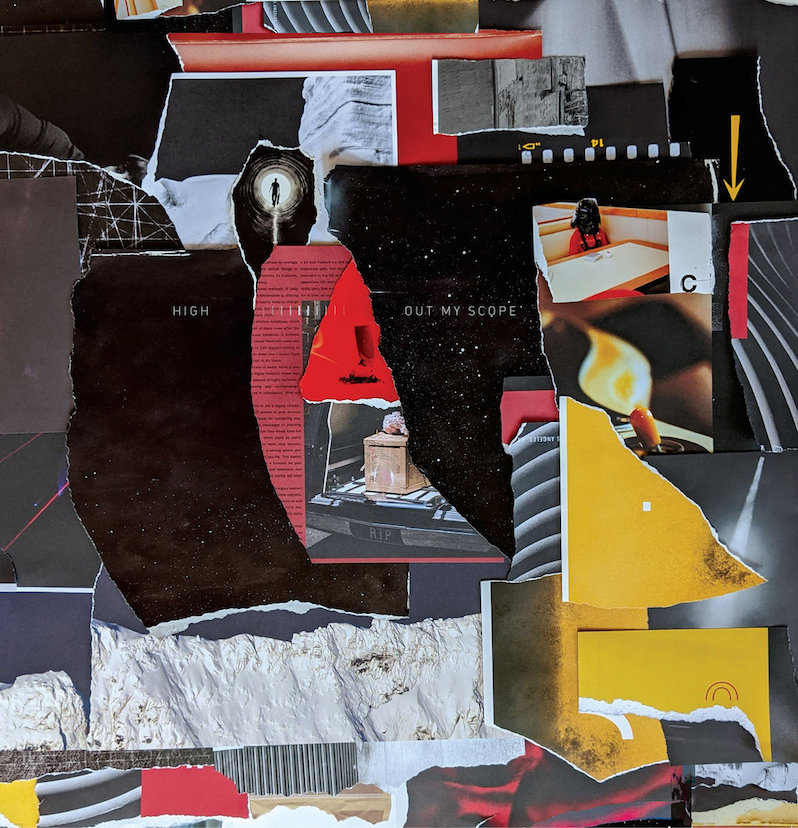 Out My Scope is the third album from HiGH, a band who between their first and second saw significant refinement to their technique, but never quite pressed further into new territory. This is not always a mandatory requirement for any artist either, to constantly innovate instead of refine. Yet the need is always there, to challenge and shift expectations. What those expectations are, specifically, differs from listener to listener, but HiGH offer something ambitious beyond the standard comfort of nostalgic punk.
"Oldest Things," a track with some explicit '80s punk/pop affectations, opens the album with a concussive bang. It's exceptionally well mixed, sounding rich and luxurious while still maintaining a vintage layering, most notably in frontman Craig Oubre's disciplined, J Mascis-style riffs. Not a single track here overstays its welcome, all of them short, punchy and concise, yet not lacking in impact or intent. Even slower tempo tracks like "Smartest Things," which cleverly follows the similarly titled opener, still have enough dynamism to captivate while moving the album forward.
Oubre and company make the most of their limited space here, employing some interesting Hüsker Dü/Bob Mould-inspired sonic palettes while doing so. "Ten at Zero" is a standout track that has a fascinating, languishing rhythm that evokes a heaviness that feels more typical of post-grunge acts. Yet never does it feel like a pastiche, or parodic in its design—there is a sincerity that is palpable, and an incredibly cathartic climax.
"Bon's Breath" and "After You" are where the band cuts loose for a bit, pushing harmonies to the breaking point and reveling in some really fun vocal filters that make the tracks (especially the former) feel absolutely grimy. There's some creeping prog elements in the ladder that would have been wonderful to see explored further. But underneath the veneer of the production beats a heart of punk that's consistent throughout the album's seamless progression.
The last quarter of the album features some of the most engaging tracks. "Milkweed" stands as a surprisingly somber and melancholy highlight, possessing a quasi-ethereal and haunting soundscape, teetering between a sea of reverb and pinched chromatic riffs. It's a genuine surprise both in it's placement and impact. Similarly "Overdrawn" collapses inward into some genuinely brilliant imitations of second wave emo acts, always feeling on the cusp of breaking, but maintaining enough harmonic discipline and structure to embed listeners in a surprisingly huge wave of sound.
Out My Scope is an album that specializes in a very specific brand of punk nostalgia, one that recalls the better years of the '80s, not as a vehicle for aesthetic embellishment, but rather as a time of tumult and growth that sonically informs that band's compositions and fills their soundscapes with fuzzy, reverb laden riffs. Although the album does sometimes struggle to embrace its identity or break free from moments of redundancy, what is on display here is a remarkably sensitive and thoroughly engaging love letter not to punk itself as a genre, nor its ethos, but rather what happens after you hang up that fabled mantle and finally digest what it really all meant and what it means going forward. 
---
Label: Strange Daisy
Year: 2020
---
Similar Albums: