Hold On to Your Genre: Coldwave/Minimal Wave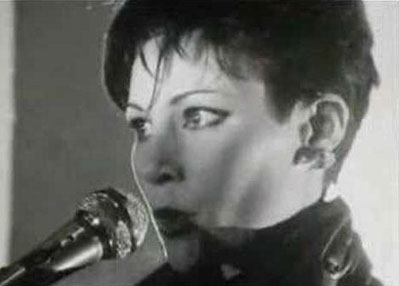 In 2005, New York DJ and synth-pop enthusiast Veronica Vasicka launched a label under the name Minimal Wave, with the purpose of releasing and reissuing vintage and out-of-print electronic recordings from the 1980s. Though Vasicka claims to have coined the term, "minimal wave" seemed to accurately summarize everything the label released, namely post-punk and new wave records characterized by a minimal, vintage synthesizer sound. And while it may not have officially been recognized as a genre prior to the label's effort to create a resource for artists whose music fit the stylistic characteristics, in 2012, the spread of "minimal wave" is much better documented, and a wide array of artists that shared a similar aesthetic were blessed with a new terminology.
Vasicka was not the first person to take to archiving these vintage sounds, however, and perhaps not everyone is completely sold on "minimal wave" as a catch-all for minimal, synth-driven post-punk and new wave. So, perhaps "minimal synth" is a better way of addressing this subset of bands that specialized in dark, icy and sometimes quite abrasive synth-pop sounds. I hesitate to say the nomenclature doesn't matter; after all, the purpose of this feature is to attempt to define and survey a specific genre (in this case two, sorta). But maybe semantics shouldn't become a sticking point in this instance. What is important is the sound, its throbbing, stabbing chunks of synthesizer riffs, its minimal arrangements, and its DIY aesthetic. Many of minimal wave/minimal synth's most notable artists weren't far removed from punk, and one of the most prominent — New York City's Suicide — essentially were a punk band.
Across the Atlantic, meanwhile, groups of similar minded musicians in France and Poland were beginning to form their own minimally minded bands in the 1980s. Inspired by the dark, gothic atmosphere of bands like The Cure and Joy Division, while snatching up newly available analog synthesizers manufactured by the likes of Moog and Roland, bands in the coldwave movement added an extra layer of gothic moroseness and drama, while remaining minimal in aesthetic. In essence, the music sounded "cold," and thus the name stuck. But in contrast to many of the new wave minimal synth bands of a similar era, coldwave was primarily a European institution, and most of the bands considered part of it, such as Siglo XX, Charles de Goal, Martin Dupont, Ruth and End of Data, didn't sing in English. There were, however, exceptions, like KaS Product.
Minimal wave and coldwave have more similarities than they do differences, however, and in general, the two camps tend to specialize in synth pop with a decidedly dark and minimalist streak. In an attempt to try to give readers a roadmap to help navigate the confusing, dodgy terrain of coldwave and minimal wave, I've assembled seven albums that embody the primary characteristics of these styles, but in very different ways. Some of them are out of print, some of them are readily available, but they're all worth seeking out, should one be motivated to begin hunting.
Update: Listen to some of our favorite minimal/coldwave tracks on our Spotify playlist!

The Human League – Reproduction
(1979, Virgin)
When stepping into a pair of connected, yet obscure and somewhat ambiguous genres such as coldwave and minimal wave, it's best to start with someone familiar. The first notable minimal wave album is, generally speaking, Suicide's first, self-titled album from 1977. But I'm skipping ahead a few years to 1979, when the UK's Human League released their debut. A few years later, The Human League became a household name (their hit single "Don't You Want Me" was No. 1 in the UK the day I was born), but their first album wasn't quite the glossy New Romantic work that Dare was. Reproduction, whose cover image depicts a group of people standing on a transparent floor with a whole mess of babies underneath, is more in line with Suicide, Kraftwerk and nightmares. Reproduction is an abrasive and eerie album, and even at its most absurd, on the single "Empire State Human," it was still pretty damn bizarre. But the minimal synthesizer sounds on the album lent it a kind of aesthetic cool that, even when the band drops something so frightening as "Path of Least Resistance," is alluring all the same. My personal favorite track, "Almost Medieval," starts off the album with a menacing throb that would undoubtedly come across as surprisingly harsh to anyone who first became familiar with the band via singles like "(Keep Feeling) Fascination." But it kinda rocks in all of its twisted coldness, as does the album on the whole.

Dark Day – Exterminating Angel
(1980, Lust/Unlust)
Prior to launching Dark Day, Robin Crutchfield was a member of experimental no wave act DNA, and was already somewhat established in New York avant garde scenes. So it probably shouldn't come as much of a surprise that, of all the artists mentioned here, Crutchfield's Dark Day is the closest in aesthetic to synth punk icons Suicide. The bulk of his debut album Exterminating Angel is creepy and sparse, primitive keyboard sounds throbbing with dub-influenced atmosphere and minor key post-punk guitars swirling overhead. Crutchfield's own vocals are distant and ominous, more often spoken than sung, and appropriately unsettling all around. That said, accessibility isn't an entirely foreign concept to Crutchfield, he just happens to wrap his catchiest melodies in icy effects, robotic voices, and violent stabs of synthesizer and guitar. Take "Arp's Carpet," which builds to an intense throb of a jam, or a climactic death in a horror movie. Either way, it proves an exciting listen, if not one that lends itself to sunny Sunday afternoons (note: this was written at dusk after a sunny Sunday afternoon). The minimal arrangements on the album lend themselves to subtle shades of black and grey rather than of a rainbow palette, but that's sort of the point, isn't it? And it also doesn't make highlights like "Chameleon" any less stunning.

The Units – Digital Stimulation
(1980, 415)
Apparently part of an "SF Wave" scene in the early '80s in San Francisco, The Units had a decidedly more punk rock take on the minimal synth style, and that has a lot to do with why they sounded so much like Devo at times. That and their vocalist is a dead ringer for Mark Mothersbaugh. Anyway, sounding like Devo has never been a bad thing, really, and The Units' resemblance to Ohio's most well known new wave band only goes so far. If anything, The Units actually had a fatter, rougher and more intense sound. Their most famous single (relative term here, I know) "High Pressure Days" is an absolute banger. Big synths, big hooks, big drums – it's all just massive. And it pulses. And it rocks. And you know, it sounds pretty fresh and contemporary today. The title track to their debut, Digital Stimulation, is even harder in its punk-rock drive, and with its subject matter about computer sex (complete with the line "I need to know her"), it seemed to predict online sex chat by more than a decade. And then there's "Warm Moving Bodies," which boasts "We are the ones, the ones that have the bodies." Creepy. At least aesthetically the group listed here that sounds like they're having the most fun, The Units still had some unsettling ideas, they were just masked by upbeat synth melodies.

KaS Product – Try Out
(1982, RCA)
France was the central hub for coldwave during its heyday, though there was certainly a fair share of notable American, British and Polish bands creating icy new wave with analog synthesizers during the era. KaS Product, one of the most well-known coldwave groups of the '80s, was based in keyboardist Spatz's home country of France, though singer Mona Soyoc was American. As such, the duo was one of the rare groups to actually record all of their lyrics in English, and whatever chill Spatz's electronics emitted were offset by Soyoc's theatrical, expressive vocals. Certainly, she could affect a robotic monotone when she wanted to, but just as frequently, she yelped, hissed and cooed with a sinister sensuality. Equal parts Siouxsie Sioux and Marlene Dietrich, Soyoc is a large part of what made KaS Product stand out in an obscure field of dark and arty synth pop groups. Yet, they perfectly embodied the distant and sinister aesthetic of coldwave, via the creepy pulse of Suicide and the danceable minimalist weirdness of Soft Cell. Throughout their album Try Out, they transition from punk-edged rippers like "Countdown" and "Man of Time" to strangely playful cabaret numbers like "No Shame" and the truly bizarre "Pussy X." And on the note of that last one, while the title sounds pornographic, it's more innocent than that, but no less disturbing: Soyoc sings from the perspective of a cat, with meows no less. The real treat is "Never Come Back," a frenetically paced single and goth-pop gem that's fierce and strangely catchy, despite being so, well, cold.

Opposition – Intimacy
(1983, Charisma)
London's Opposition is, uniformly, considered part of the coldwave movement, but after listening to some of the more synth-heavy acts like KaS Product, Martin Dupont or Charles De Goal, their connection to the movement (if one can truly call it a unified movement, which is up for debate) is curious. For starters, the band hailed from the UK rather than France or Poland. And more importantly, there aren't many synths in their songs. In fact, their second album, Intimacy, largely considered their best, is very much a guitar and bass album, more sonically connected to the likes of Killing Joke and The Chameleons. Their debut, , probably is more tangibly "coldwave" than Intimacy, but this album is an important one to highlight for being an example of the genre on its farthest reaches and its most ambiguous edges. But it's also easy to find the connection between Opposition and KaS Product, even if it's not immediately apparent. Both bands take influence from early, darker post-punk acts like The Cure, and aesthetically speaking, Intimacy is, unquestionably, a very cold album. The effects laden bassline of "Big Room, Small View," or the haunting atmosphere of "My Room Is White" both sound distant and spare. Sure, there are no fuzzy, buzzing synths at play, but Opposition make a good case for the coldness of guitars as well.

End of Data – Sahrah
(1984, Divine)
A darker, haunting entry in the French coldwave scene, End of Data predated Depeche Mode's turn toward dark, theatrical compositions by a few years. Yet, at the same time, the group had an abrasive streak as well. Take a track like "If I'm Not a Killer" from their first album Sahrah, which is practically a punk rock song with its quick-paced rhythm and crunchy power chords. And yet, "Follow Me & So" is so ethereal and eerie, awash in heavy keyboard drones and a recurring piano lick that's somehow playful and kind of unsettling at once. However, the strongest combination of all these factors arrives in the title track, a danceable, yet bleak exercise in proto-industrial heaviness and nocturnal synth pop. It's the stuff of nightmares – sexy, sexy nightmares – and an essential track for any coldwave or minimal synth playlist, mixtape, etc. Finding a hard copy, or even a paid download of the album, unfortunately, is next to impossible. You can purchase the original LP on Discogs marketplace for upwards of $140. Or… you can download it via some file storage service, because that's essentially the only way you'll find it. But I'm crossing my fingers that someone, one of these days, will give it the proper reissue it deserves, as labels have done with records by Ruth and The Units.

Ruth – Polaroid/Roman/Photo
(1985, Album)
France's Ruth arose from Thierry Muller's earlier project Ilitch, a more experimental and discordant outfit, but that avant garde sensibility actually fed into the unique blend of synth-pop, industrial and art rock that Muller created on Polaroid/Roman/Photo. Ruth has often been compared to Cabaret Voltaire, and with good reason — both groups nimbly balanced the danceable and the chaotic with an ear for compelling melodies and soundscapes. Polaroid/Roman/Photo has all of the minimal synth hallmarks of coldwave, but treated with an innovative approach to arrangements. The most important instruments on the album, in addition to synthesizer, are horns. That probably sounds a bit strange in reference to a synth-heavy album, but Muller actually uses horn sections quite stunningly here, at once freakily funky on "Thriller," and textured with touches of jazz on "Polaroid/Roman/Photo." Yet some tracks, like Muller's cover of Can's "She Brings the Rain," hearken back to the late '70s minimalism of Suicide, complete with the New York City duo's knack for aural terror. Where "Polaroid" or "Thriller" sound hedonistically dangerous, this track sounds just plain menacing. But then again, Muller just as easily pulls out a track like "Mabelle," which pulses with no wave funk rhythms, thumb piano, jaw harp and flute. It's gorgeous, funky, and practically a Talking Heads song. Polaroid/Roman/Photo is one of coldwave's true masterpieces, and even more miraculously, actually in print!
You might also like: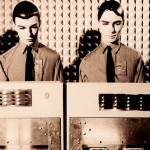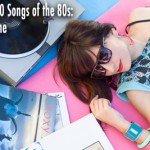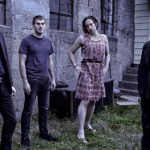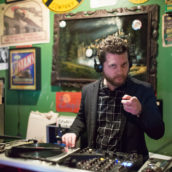 Jeff Terich
Jeff Terich is the founder and editor of Treble. He's been writing about music for 20 years and has been published at American Songwriter, Bandcamp Daily, Reverb, Spin, Stereogum, uDiscoverMusic, VinylMePlease and some others that he's forgetting right now. He's still not tired of it.