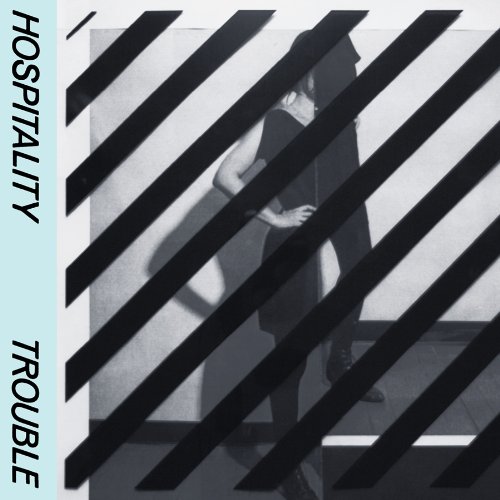 Buy at iTunes | Buy at Insound (vinyl)
Variety is important to sequencing an album, and bands that know how to achieve the requisite ebb and flow between highs and lows do so by always sticking to their vision for creative construction. A song is something that needs to be built from the ground up, and alterations may need to be made on the fly. Music is an art; it usually begins with a blank canvas or a pile of dirt. Hospitality is an indie pop band from Brooklyn, and Trouble, their second full-length for the trustworthy Merge Records, may earn them a degree in experimental architecture. But, for Hospitality to walk off the stage with the diploma, the group would need some help from adventurous listeners like us.
Trouble has both the power to excite and the calm to induce sleep. Sometimes, this happens within the same song. Opener "Nightingale" begins with the heaviest sequence of the entire album, then drops into moments of silence before ramping up the chorus again. Merge said that Hospitality expected silence during the making of Trouble, and it shows most on the fluttery "Sullivan" — singer/guitarist Amber Papini walks over the rest of the band with her sweet voice. Indeed, the band acknowledges stillness throughout the album, but it also accepts placement. Most of the mid-song transitions work with fluidity. Hospitality's charm works best through Papini's playful voice, but one should not underestimate her guitar playing; she'll whip out a solo when you least expect her to, and it always works. Papini's extended guitar lick on "I Miss Your Bones" wouldn't be out of place on a Sleater-Kinney album.
Papini in particular shines on Trouble, so much that I find myself not caring about the other two people in the band — Brian Betancourt (bass) and Nathan Michel (percussion). The final two acoustic tracks — "Sunship" and "Call Me After" — are the most beautifully played/recorded tracks I've heard so far this year. Papini is practically alone with her voice and guitar, conjuring images of sea, sand, ocean, and rocks. If you're laying down for these last two songs of Trouble, Papini will lull you to a pleasant sleep. While Hospitality begins the album as a fully electric band, they shed more and more weight on its ever sprawling side B. Once Papini sits alone, strumming her acoustic — imagine her looking out an open window towards the ocean — it's like the rest of the band was never there. Still, we should find solace in knowing that the rest of the band can, and will, be there when we need them. Papini sings about anxiety and unease through everyday environments, but Trouble is lovably invigorating, and a recommended cure for apprehension.
Similar Albums:


Feist – Metals


Vampire Weekend – Modern Vampires of the City


Taken by Trees – Other Worlds