Take a good look at the cover of Justice's debut album, †—the monolithic cross image, pitch black on a field of black, backlit by a glowing yellow corona. It's simple, powerful, and cryptic all at once, though a lot can be read into its iconography. Intentional or not, one could easily read it as homage to T. Rex's Electric Warrior, only instead of depicting Marc Bolan's bad ass self in front of a Marshall stack, they used the cross, an icon which has become synonymous with the duo itself, ominous and shining behind them during live performances, in which they, too, blast their scrappy brand of house music out of towering Marshalls. In short, it's their way of saying "this album rocks."
Technically speaking, † is a dance album, not a rock record. That in mind, it rocks like no house record ever has before. If Daft Punk used the nasty, grimy distortion sounds on "Da Funk" in all of their songs, they might be able to hammer out a record as fiercely rocking as this one. But this is dirtier, more aggressive, and less vocodered than any of Daft Punk's albums, instead stomping with a sort of intensity that brings to mind leather clad arena rock bands of the late '70s and early '80s. This is AC/DC, T. Rex and Judas Priest, filtered through hard-grooving Eurodisco beats. It's easy to see why the strict dance music dieters aren't too eager to accept Justice's fuzzbox beat chemistry. But hey, for those who like their house beats and their power chords, here's your peanut butter and chocolate.
The French duo of Gaspard Auge and Xavier de Rosnay already created quite a buzz with two singles found on †—"Waters of Nazareth" and "D.A.N.C.E."—both of which can certainly rock a party in more ways than one. The former is a prime example of the duo's ethic, fuzzy synth grooves grinding like a Big Muff treated Les Paul, beats thumping and bass throbbing, even with a "Rockit" breakdown between the massive riffs. "D.A.N.C.E." is a much different beast, however, sounding almost like a Cassius remix of The Go! Team. In true disco fashion, Augé and de Rosnay juxtapose funky basslines against violins, while adding in a children's choir singing pieces of Michael Jackson's "P.Y.T." It doesn't have the harder edge of its predecessor, but damn does it compel the body to move.
There are, of course, much huger rock moments, such as the ominous, timpani-beating opening to "Genesis," which, true to the cross imagery, approximates a Cecil B. DeMille style earth creation, which soon subverts into low-end funk. The sound system distressing "Let There Be Light" has an eerie keyboard hook, simultaneously catchy and creepy, yet containing one of the funkiest basslines on the entire album. Then comes the two-part Goblin sampling "Phantom," a horror house symphony that rocks the hardest with a brutal sonic explosion that's anything but subtle. It's easy to imagine a Jack White wailing the main riff on his guitar, and now that I think about it, would make for a pretty cool cover. Yet Justice's production goes beyond mere surface riffs, turning the bass heavy shreds into shrieking, slicing jabs. One might have trouble deciding whether to pump his fist in the air or bust out with the uprock.
When † veers into tracks with vocals, the results are a bit mixed. "D.A.N.C.E.", of course, is pure joy. And the hand-clapping disco anthem "DVNO" is wonderfully catchy as well. However, "The Party," featuring femme emcee Uffie, is an abomination. We already don't need Lily Allen or Lady Sovereign, and we certainly don't need this track. All is alleviated with the frightening, hyperactive workout of "Stress," true to its name, a shrieking, shrill, Bates Motel club night. The closer "One Minute To Midnight" is one moment that could easily be mistaken for French house's pantomime robot heroes, melodic and bumping, but with a bit more subtlety for the come down. So this must be where the lighters come out.
House purists be damned, † is one invigorating debut. With the exception of "The Party," it's a seamless flow of grimy, distorted dance 'n' roll. Really, the idea behind both rock and dance music is the same—both exist for the sole purpose of kids being able to have a good time. On †, Augé and de Rosnay are the kids having a good time, and bearing their luminescent cross, will confidently lead many to do the same.
Similar Albums:
Ratatat – Ratatat
MSTRKRFT – The Looks
Daft Punk – Homework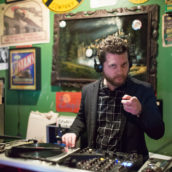 Jeff Terich
Jeff Terich is the founder and editor of Treble. He's been writing about music for 20 years and has been published at American Songwriter, Bandcamp Daily, Reverb, Spin, Stereogum, uDiscoverMusic, VinylMePlease and some others that he's forgetting right now. He's still not tired of it.