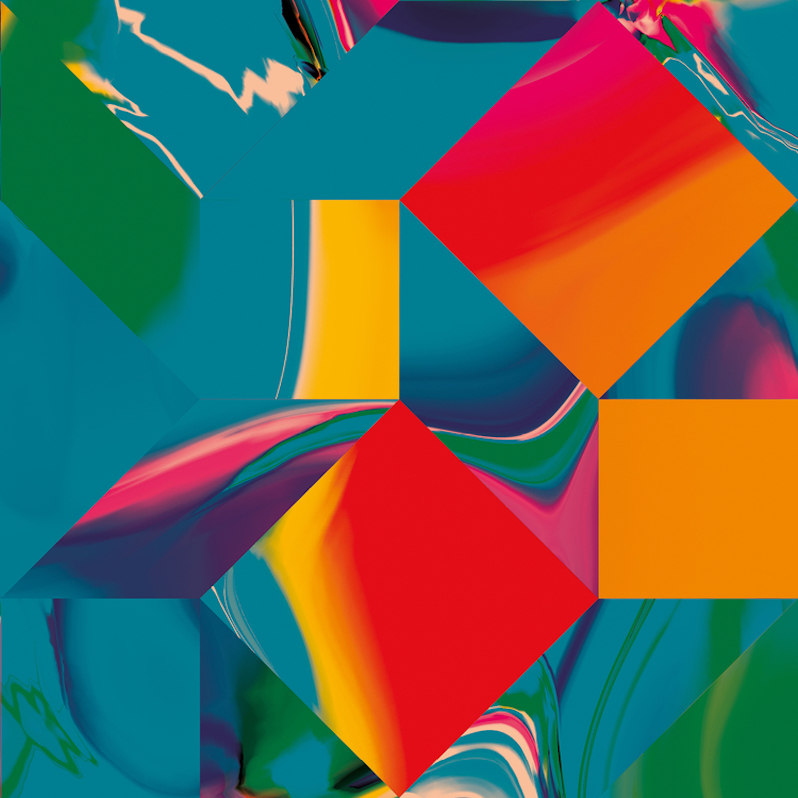 I was speaking with Amir Abdullah, owner of the 180 Proof imprint, last week and in non-chalant conversation he reminded me of something. Nobody is really buying club music during COVID. A light went off in my head: Who wants to be reminded of halcyon days at the club-like just last year-while stuck at home, battling those fascist regimes, starting with the current White House administration? Jazz, rock, funk, soul—these are the genres backlogging vinyl pressing plants internationally. Google those facts and you'll find it's the chicken soup battling a global depression. Worried souls are panic buying their memories, yearning for a simpler time has ignited vinyl record purchasing, ballooning it to an all time high, many months in advance of the holiday season.
Of course, KAMM—the infrequent-operating electronic rock outfit—would deliver a timely project, finely in accord for the space between two earbuds, the year dancefloors went cold and patrons of the arts took it to the streets, fighting for justice. Loosely organized in San Francisco and then solidified circa 2012 in Berlin, this four-man band is a composite of veteran DJ alchemy. Years of selecting, mixing, and producing the "big tunes that go boom" after midnight runs through this clique. But right now, posse-ing up collectively as band members proves to be another type of superpower. As one cohesive unit, Dave Aju a.k.a. Marc David Barrite, Alland Byallo, Kenneth Scott and Marc Smith a.k.a. Locksmith, they scrap the dancefloor turn-up.
Ice-breaking, self-deprecating jokes about their name [Kinetic Abyss of the Micro Micro, Kill All Mediocre Music or Kindly Ask My Mother] get created by the group. They may make jokes, but this band is not kidding around. Those arrangements feature Barrite, handling another cherry engineering job—he's an in-demand entity around L.A.—on prominent lead vocals, Byallo curmudgeonly pushing out those trumpet notes, Scott on synth bass and Smith coloring with guitar sections, all top notch.
Cookie Policies, the second iteration of all KAAM on deck, wiggles about, jimmy rigging like a busted compass taking uncharted sonic adventures. Wide ranging, beaucoup with moves, they dial up free jazz frequencies, indie rock outlines met with bass foundations, and a squee bit of that electronic thump in the night. Released on Circus Company, the Parisian upstart imprint, these tracks, strut with gravitas. That heavier, aged, elder statesman tone, peacocks about, sprouting its grey whiskers with pride.
Kick Drunk Love, their first collaborative mini-album released in 2016 through Marcel Vogel's Amsterdam-based Intimate Friends imprint, captured their first presentation; feeling out the space, working compositions with various BPMs and textures, united by a love of "the early to mid-'90s MoWax catalog." Cookie Policies says eff that. Persistently shapeshifting, writing electronic lullabies like "Rachel, the Largest Bullfrog" over here, to other-sounding expansive fusion communiques. That tunnel density of "CCBPGC" or the aquatic imagery of "Schleem" only comes about, by way of adventurous spirit and hubris. It's a large resounding project with vivid, smeared colors. They never back down, shifting from the familiar to WTF strange and unhinged. In the same dang song.
"Buckle Down" the "did you learn your lesson" 21st Century sad-banger trip, guides vocalist Aju down old paths with revised thought patterns: "She called out your name/But you couldn't hear/Too much noise out there/She called out your name." It's the emotional center of the record. Slippery contrition designed into a head-nod procedural. Exiting with rubbery slump. Byallo's "till next time" phrasing on trumpet. Sorrow never got so much funk-face.
You can get lost on the closing "Soft Glow of Electric Sex" amid "Pink Floyd, Can, In A Silent Way-era Miles and Liquid Liquid" energy mentioned in their presser. I cheated on that 13 minutes of wonder. Fast-forwarding did happen. I had no idea how the boys were gonna stick the landing for what seemed like pulsating confusion. But with four minutes and change left, they bust up the cosmic laser 4/4 tempo, downshifting into a half-time pocket of evergreen comfort. Should have known better. Getting out of your comfort zone for a second leads to good things. Hey America, just maybe, somewhere, in there, a political metaphor exists. If not, welp, hearing this band reunite in 2020, for their second go-round at the project, somehow reflecting the uncanny times we currently mask-up in, kinda fits.
---
Label: Circus Company
Year: 2020
---
Similar Albums:
John-Paul Shiver
John-Paul Shiver has been contributing to Treble since 2018. His work as an experienced music journalist and pop culture commentator has appeared in The Wire, 48 Hills, Resident Advisor, SF Weekly, Bandcamp Daily, PulpLab, AFROPUNK and Drowned In Sound.