Marina Allen : Candlepower

Marina Allen's debut album Candlepower descends from a tradition of folk/pop singers of the '70s with her own authentic creativity and musical ingenuity sprinkled in. Laura Nyro, Joni Mitchell, Karen Carpenter, Carole King are all present—in spirit—on this remarkable album by an able and original new artist. It's an album about searching for one's place, of admiration of an established style and seeing what you can add to it.
The album's first track, "Oh, Louise" begins slow and then takes off. In a near-falsetto whisper, Allen sings over a quietly strumming guitar. It is peaceful, relaxing. Then the beat kicks in; the guitar is more urgent; Allen's vocals are louder, confident, controlled. However, the song backs down halfway through, returning to a steady, more mellow mood—even a sax blaring airily in the background. It seems a sort of love song, a song for a much admired, close friend. It's marvelous in its range of dynamics and tones.
Taking a turn towards ecological concerns, "Belong Here" starts with the lines "California is on fire" (no doubt to Joni Mitchell's horror), "New York is underwater." With a guitar riff repeating in the background and a flute-like synthesized sound, it is a haunting song about changing as the planet changes, about being aware of being connected, of belonging in a world that doesn't always want to change. It is simple and effective in its message and musical delivery. Throughout Candlepower images of trees and caves and nature pop up solidifying the listener in the artist's frame of mind. This third track runs nicely into the next, developing the idea of not only belonging to the world but belonging to oneself as well.
"Ophelia" also continues this search in Allen's music for belonging. As a new artist, Allen is still finding her voice. So far she has delivered wonderfully, but the fun thing about music is that there is always somewhere else to go, something else to discover. "Not where I live, it's my father's house," speaks to Allen's need for a room of her own (to bring in Woolf's momentous concept). Here is yet another parallel with Joni Mitchell's work (who seems to be a prevalent presence in Candlepower); both seem to be questioning being in a male-dominated industry—though it has obviously changed some since the '70s, for the better.
Candlepower is not a searing lighthouse searchlight. It is a tender flame with moments of flareups, of sparks in the dark. It is a prayer to her artistic heroes; it is playful and mesmerizing in its range of musical prowess and constancy to a style. Each track is thoughtful and adds to what came before it. Though "Oh, Louise" is the shining star, "Sleeper Train" and "Ophelia" shimmer along with the other tracks, illuminating not only what Marina Allen has accomplished but where she can still develop her unique sound. 
---
Label: Fire
Year: 2021
---
Similar Albums: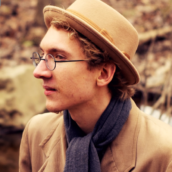 Konstantin Rega
Born in Krasnoyarsk, Russia, Konstantin Nicholas Rega currently attends East Anglia's famous MA in Creative Writing with the Ink, Sweat and Tears Scholarship. He is a professional musician, the former host/producer of Jazz Jams on CSRfm 97.4, and twice a Dan Veach Prize for Younger Poets finalist. He is the Fiction Editor for Crack the Spine and a contributor to The Black Lion Journal. He also blogs.