Marina Allen : Centrifics

An artist with an approach that descends from the school Carole King and Laura Nyro, Marina Allen is not the average singer/songwriter. With an earthy tone, she concerns herself with what makes us grow while revealing her own struggles and triumphs. Her sophomore album Centrifics is a more mature album than her debut, Candlepower, of which she said in a statement, "I was fed up with hiding myself and a fierceness started to enter the songs, which I leaned into." Her fire is subtle, but still burns hot.
"Celadon" opens with a punchy beat and shifts into vocal tricks and vibrating strings, yet it still captures the listener as it changes again to a slower beat. The piano and her voice work together wonderfully, a true tag-team that moves the song without losing momentum. Though there is "dust and doubt," as she sings, it never stumbles or falters.
Allen is a versatile artist, balancing the slow ("Getting Better") and the upbeat ("Foul Weather Jacket Drawing") while keeping a consistent style and vibe. Her sort of falsetto, higher notes are a unique aspect that gives a depth and a range to her songs. The album as a whole shifts from a more western-styled guitar fit for a Cormac McCarthy novel to ethereal chimes that nod to jazz-fusion—think Return to Forever and Chick Corea. In her western on-the-trail style, "Smoke Bush" even widens sonically and turns darker, with heavy reverb and distortion halfway through, telling a story through sound as well as lyrics.
Though one or two songs are a bit too soft or leave less of an impression, Centrifics by and large is an engaging listen. Since her last release, she has expanded her approach, with a clear influence from her surroundings, on nature and landscape as well as soundscapes from past artists. "I am still me, I am still me," she sings in the last track "Gardiner's Island," giving herself permission to be herself as well as to reveal to her audience who that really is.
---
Label: Fire
Year: 2022
---
Similar Albums: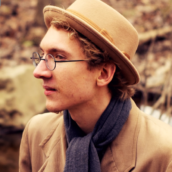 Konstantin Rega
Born in Krasnoyarsk, Russia, Konstantin Nicholas Rega currently attends East Anglia's famous MA in Creative Writing with the Ink, Sweat and Tears Scholarship. He is a professional musician, the former host/producer of Jazz Jams on CSRfm 97.4, and twice a Dan Veach Prize for Younger Poets finalist. He is the Fiction Editor for Crack the Spine and a contributor to The Black Lion Journal. He also blogs.