oOoOO : Our Loving Is Hurting Us EP
I get the sense that many people forget what the term "critical mass" means, it having been co-opted by social movements for years now. It represents the smallest amount of nuclear material you need for a sustained chain reaction; basically, it's the point where shit starts to blow up and burn. When you're a pro-bicycle activist, that could mean you're beginning to make an impact against the status quo. Apply it to a musician or musical style, and maybe you're about to reach a saturation point—or even jump the shark.
That's the conundrum facing oOoOO, the witch-house stage name of San Francisco's Chris Dexter Greenspan, and his newest EP, Our Loving is Hurting Us. There are points on this release where oOoOO suggests the genre can transcend its R&B and shoegaze influences. What doesn't do that simply sounds like everything else that's been buzzed and blogged about witch house in the last two to three years, so in this moment oOoOO might represent the point where the stuff turns into an annoying blur.
To Greenspan's credit, opening cut "TryTry" really wants to jump up and meet post-industrial music head-on. It's about as close to mainstream, 4/4-time as experimental music can get, synths and violins weaving among broken vocals, metallic percussion, and nighttime crickets. Later on, "Starr" sounds like an evil twin of the proto-post-dubstep (!) in James Blake's "CMYK."
"NoWayBAck" is as close to pure gothic soul as the genre ever gets, only because vocal and lyrical heft is supplied not by samples but by living, breathing musician Butterclock. Yet this and the remainder of the five tracks on Our Loving is Hurting Us fail to rise above work from contemporaries like How to Dress Well and Salem. It's not just the sound, but the size as well. First having hit store shelves with about 25 minutes of music, two years later oOoOO wants to sell us just 18 more that sound about the same. Working in little chunks like this will make it tough for oOoOO to make waves with listeners, much less drag a genre kicking and screaming toward the future.
Similar Albums:
Shabazz Palaces – Black Up
Coil – Horse Rotorvator
How to Dress Well – Love Remains
Stream: oOoOO – "TryTry"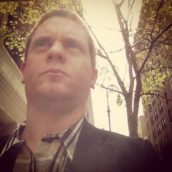 Adam Blyweiss
Adam Blyweiss is associate editor of Treble. A graphic designer and design teacher by trade, Adam has written about music since his 1990s college days and been published at MXDWN and e|i magazine. Based in Philadelphia, Adam has also DJ'd for terrestrial and streaming radio from WXPN and WKDU.