Out of the Bungalow: An Interview With Bon Iver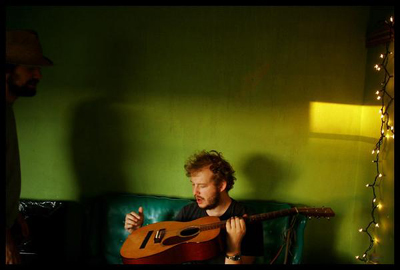 For many newly budding musicians, the grassroots exposure of the blogosphere can be a violent catch-22. Just ask Voxtrot, who were hailed as the up-and-coming indie pop revivalists in '06 on the basis of a few self-released EPs, only to be shunned from the limelight when their debut LP hit just last year. Or the once unknown Clap Your Hands Say Yeah! who converted every NPR enthusiast and indie mag staffer, and then reaped but a cold response after releasing their follow-up. In the case of Bon Iver, though, the mangled Français moniker of Justin Vernon, whose self-released debut For Emma, Forever Ago last year ignited a warm reception from The New York Times and a year-end nod from Pitchfork, fortune seems to be in his favor. That's certainly no fluke as this homespun venture—laid to tape all on his own after absconding to a secluded hunting cabin in the northwestern wilds of Wisconsin—is a jaw-dropping culmination of Vernon's winter-bred musings and painstaking production. Picked for a wider re-release on February 19 after signing to the ever-trustworthy Jagjaguwar records last October, Bon Iver will soon be touting his humble bedroom recordings on tour alongside labelmates Black Mountain and Phosphorescent for the next few months.
Treble caught up with Vernon a few weeks ago and coaxed him into a little phone dialogue about the success of For Emma, the creative process behind the album and what led him to his newfound solo efforts in the first place.
We start off the Bon Iver interview with a few throw-away questions …
Treble: So where am I calling you at?
JV: I'm at my little bungalow house in Eau Claire, Wisconsin.
Treble: Ok, I wasn't sure if I was going to catch you holed up there or somewhere else getting ready to go on the road. Anyway, I appreciate you taking the time to talk to me.
JV: No worries, man. Not at all.
Treble: Being in your bungalow, it seems that you're the kind of guy who enjoys being out of the loop a little bit. Is it going to be an odd change of pace going out on tour again?
JV: Not so much. I think I'm more of a go-with-the-flow kind of guy. I'm a pretty social dude and I like seeing people, having people over to the house. It's more of a rare thing now, but by the time a tour comes around, I'm ready to go. After a few days on the road, I'll definitely need to just hang out in the van by myself for a little, though. It takes a while to start decompressing. In general, it's a pretty good balance, I think. I do enjoy quiet the older I get; the more quiet time I have, the better. It makes the other rambunctious periods a little more meaningful. And vice-versa.
Treble: I see you're starting off the tour with a show actually in Eau Claire.
JV: Yeah, the coffee shop down the street has a little venue. It's going to start to become more and more difficult, it seems, to play there, because they don't do advance tickets, and it's gonna be really crowded from what I can gather. I just like doing that. It's a good way to warm up.
Treble: I was actually wondering how that would work, because from everything I've read, it seems like Eau Claire is so-called wilderness. But that's probably not completely true.
JV: It's a town, like the fourth biggest in Wisconsin. There's some stuff going on here; there's some stuff not going on here [laughs].
Treble: One thing I've been able to gather about the making of For Emma, there's one thing I'm still confused about. It seems like other writers always pose your trek to Wisconsin as a Walden Pond experience to, basically, chop wood all by yourself and then happened upon writing this music. So I wondered, did you happen to have all this recording equipment around?
JV: That's a good question. When I left North Carolina [to Eau Claire], I'd just got done working with a band called The Rosebuds from Merge Records. I was working on their record producing and engineering and mixing along the way. We finished it up, I packed up a U-Haul and my car, my Honda, with all my stuff – everything I own, basically. That's all I had … my computer, my four-track stuff, my microphones were probably in my car for two weeks before I brought it in. So I mean, I always have it around; I'm always working on music. But the reason I went up there, first and foremost, was really out of necessity. It was kind of a rushed decision. I didn't go up there thinking, "Alright, I gotta make a record."
Treble: So all you used was a four-track and basic equipment?
JV: It was mostly an old-model Macintosh and ProTools LE.
Treble: Because I'd heard there were some overdubs later on, but there were also a lot of tape-splice sounds like you'd tinkered with them for hours and hours.
JV: Yeah, it was labor-intensive. I spent a lot of time recording each individual part over and over again until they were all smoothed out. On many of the songs, there's a minimum of eight vocal tracks, so to get them to blend and do the right thing, I just went over and over it until it sort of smoothed out.
Treble: You were able to capture a wide vocal range in very little.
JV: Yeah, exactly.
Treble: Well, what parts of the album were overdubbed? What did you go back and include afterwards?
JV: Everything was overdubbed to a certain degree. One guitar part was taken from a demo, just a once-recorded idea I had laid down in North Carolina … so that was still on my computer. I just opened it up one day and finished it as is. But other than that, all the guitars, singing and drums were all recorded up north. And then in early February [2007], before I went back to North Carolina to tour, to go to Russia with The Rosebuds, I got my friends Randy [Pingrey] and John [Dehaven] to play trumpet and trombone on "For Emma." They came over for a day and we drank some whiskey, and I had them write some parts for me … And then probably in April, after I got back from Russia – this is back in North Carolina – I had to bring my computer back down because I wasn't done mixing. At that point, I thought the songs were just demos. I was only trying to mix them really, really nice to send out to a few labels to see if they would give me money to record a "regular" album. But I handed my couple buddies a copy of the CD, and literally, after handing those out, it never slowed down. It started an avalanche and I had no choice but to put it out as a record.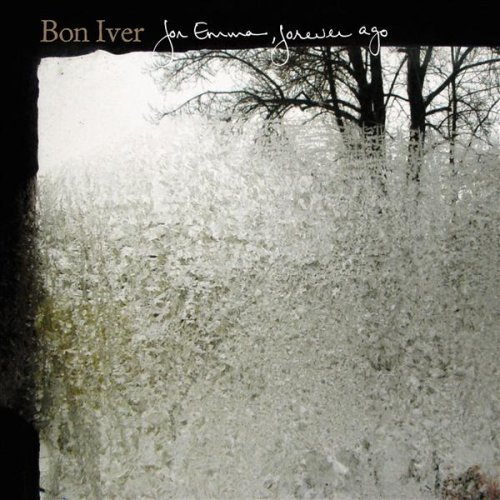 Treble: The first thing I thought of, probably even before hearing For Emma when I was just reading about you, it reminded me a whole lot of what Sub Pop did with Sam Beam of Iron & Wine. How they released it as-is from his home recordings in Florida. Do you prefer that method? Do you like that things worked out this way, where the record is exactly what you did in the cabin, instead of having to redo it again?
JV: I think so, if for no other reason than when you try to re-record something, it's like trying to re-acclimate yourself to a certain mood after the fact, and you just never get it again. I'm a pretty worrisome dude, so the only reason I thought [the originals] were demos was because I was insecure. I still, to a certain degree, will be insecure always, but I think that I'll continue to make records like this. I'm not going to hire engineers; I'm not going to hire producers. I'm fully capable of doing all that stuff, and I'm just going to keep it within myself, under my control and surveillance.
Treble: And you've done plenty of production work with The Rosebuds and Nola already. That was before For Emma, right?
JV: Yeah, that was before. My band DeYarmond Edison broke up right in the middle of this long time when I had mono and pneumonia in the summer of 2006. During that time, I broke up with my band and then broke up with my girlfriend, and I was also recording Nola, which was her band. We finished that record after we broke up, and then The Rosebuds asked me to produce their record. So I was staying on the couch for a couple months at my girlfriend's house while I finished The Rosebuds. It was not a comfortable situation, and I was still sick. It's a long story, but I had a bad liver infection that is still with my to this day. But as soon as The Rosebuds record was done, I took off [laughs].
Treble: With your time producing and judging by your own record, it sounds like you're the kind of guy who likes to spend a lot of time with the sounds themselves, as opposed to leaving someone else to do it all.
JV: You know, Bach and other composers, maybe they thought about the acoustics of their orchestra, how they would like one room better than another, but with the medium that music is today, most of it is shared recording. So I think it's most important that that's reflected correctly, and I take that seriously. I'm not an audiophile, but I take what I know pretty seriously, about how it sounds and how it gets mixed together, and how it's going to be perceived.
Treble: Just out of personal curiosity, how did you make the vibrating string sound on "Flume"? I ask because I used to record my own music and had tried to make a similar sound, but kept breaking guitar strings from using handheld buffers and things.
JV: It's a magnetic field you put over the strings called an E-Bow that's been used in a lot of different genres. It creates a magnetic field between the strings and the magnet, so it gets the string vibrating really, really fast. And then if you slam the magnet against the string, it gives it a break sound. The string itself doesn't break, hopefully. It's a very light vibration, but it sounds very violent.
Treble: In another recent interview, you mentioned a unique method you had of coming up with your vocal parts – how you would not come up with the lyrics first, but the actual vocals, which you would then "interpret" into words.
JV: It's exciting for me. It's a new thing. Basically, I had a lot on my mind, but it was stuff that I had tried to write about. I would get so tired of it and get to where I was kinda giving up trying to make music a career. I thought maybe I could record bands, but I had run out of things to write about. But I still had all these things on my mind that had been unexpressed, like un-extracted, I guess you'd say. I'd record a line in "Lump Sum," then I'd go back and record a melody, and then if I liked the first line but didn't like the second line, I'd go back and record syllables of a melody. So I'd have the melody, then I'd double that with the new syllables. And it kinda sounds like jargon: two people saying different things.
Treble: Uh huh …
JV: And I'd do that for all the songs, then I'd go back and listen to them about 20 times and write down what I thought I heard. It would be different every time. I compiled them and, at the end, it was very interesting for me; it was very freeing. I found all this shit, all this grudge and meaning in what I was singing, these syllables. It was weird to put them together and match them up to the sounds that I was hearing. I was able to get every sound and nuance of the voice on a musical level, with phrasing and the way words sound natural going after each other. Good lyricists are also people who just put words in good order 'cause they sound good together. So I was able to do all that completely unhinged, instead of having to make words that rhyme or whatever, and I was able to get lyrics that were born and meaningful to me in a way that was distant and new. It wasn't like I was pulling them out of my heart and putting them on a piece of paper. It was a roundabout way of doing it and I ended up writing some of my favorite songs that way.
Treble: Kind of like a Ouija board method.
JV: Yeah, there ya go.
Treble: In your blog journal, "Creature Fear," you wrote about choppin' wood with a woman named Sharon who lived down the road. I was wondering if that was where the lyrics to "Re: Stacks" came from.
JV: Oh, that's a good question. No, it's not [laughs]. I'd actually forgot about that. No, in "Stacks," there's a mention of gambling chips, and also how that is a metaphor for how things stack up. The chorus is very repetitive, but there are different lyrics every line. It's just a billion ways to say that things build up and it's impossible to break them down sometimes. You're just underneath it all.
Treble: Going back to the journal entries, one stated that you had a Powerbook you threw in the snow because its memory was accidentally erased, which included some "bad songs" that you were glad to get rid of. What were those and did they pop up again at all on For Emma?
JV: Every one of those songs had been written for years and were all written the same way about the same things. That was interesting. I felt like It really robbed me of all these personal memories – there were photographs – but it was really a metaphor for me that those songs were leaving. It was almost like somebody was saying, "Dude, get rid of 'em. You don't need those anymore." Because it sounds like another person wrote those songs compared to the person that wrote the songs in For Emma. At this point, I don't miss those songs at all.
Treble: How were they so different?
JV: I sounded like I was wrapped up in my influences, where I had tried to sound like people who had inspired me to be a songwriter, rather than approach it myself with any sort of honesty or validation. I couldn't write beyond myself for years and years.
Treble: Was that part of why you broke up with your last band?
JV: Yeah. We broke up because I didn't know why I was frustrated. I was really lost; they seemed to be really found, like they were really sure of themselves about the kind of music they wanted to make. It seemed like, day by day, I grew less sure of myself – less and less sure, less and less confident, and less and less into what we were doing as a band. What contributed to the break-up most, out of all the variables, was me being dissatisfied, and them being dissatisfied with my dissatisfaction. So I left and they formed a new band, Megafaun, which is excellent, if you get a chance to hear it. So it was weird for awhile, but we'd played in a band together for ten years and we're like brothers. I talk to them pretty much every day.
Treble: And Ticonderoga?
JV: Ticonderoga is another friend I met when I moved to Raleigh. We just started recording stuff together. We were thinking about putting out a record as Ticonderoga, but now I think he's going to do his own solo album, and then in a few years, we're going to put all these old recordings that we did last year on a split.
Treble: That was actually my final question – what you had planned for the future. After the whole blog blizzard surrounding For Emma, which will only increase with its re-release on Jagjaguwar, I was wondering how you would go about making another record. It seems like the myth behind that album is such an integral part of it, I was wondering how you would be able to follow that up.
JV: I don't know. I'm just going to make a record, ya know. I'm just going to make the music that I want to make and I'm going to take all the time that I need to do it. And if I need to go up [to Eau Claire] to make another record, I will. If I don't, I'll still make a record that I'm proud of, if I can be free of distraction, free of outside influence. As long as I can be happy and free to approach my music the same way – if I can recreate the path and not the process, or if I don't care about the story, I'll be good.
You might also like: