Picking Band Names Sucks: An interview with Dysrhythmia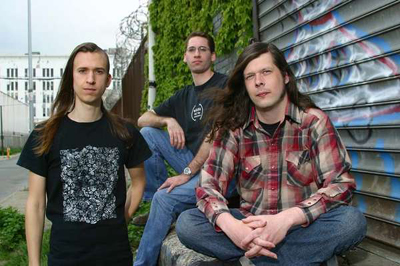 Who needs stories about trashing five-star hotels, exotic stimulants and vanguard prostitutes? Not me. I'd rather talk to a guy whose most outer exploits are the ridiculous ventures into temp agency work. Treble caught up with Kevin Hufnagel of progressive instrumental outfit Dysrhythmia about the band's most recent LP Barriers and Passages (Relapse, 2006), touring, and, of course, Britney Spears.
Treble: How did the recent tour with Psyopus and Behold…the Arctopus go?
Kevin Hufnagel: Turnouts were great every night, at least by our standards. We played some new places that were surprisingly good like Owensboro, KY and Delran, NJ. Probably the best part was listening to the compilation CD I brought of Paul Stanley stage banter, every day in the van. We burned copies for the other bands too and it was all we could talk about.
Treble: Is playing with both bands, two high-energy acts, taking its toll on Colin (Marston, bass)?
KH: He handles it amazingly well.
Treble: Have you noticed an appreciable spike in attendance at shows in the past few years? I remember seeing you in Boston in early 2006 to just a few people, and then later, a few months after Barriers and Passages was released, to a much larger crowd.
KH: It's been a slow process gaining an audience with this band. Certainly not an overnight thing like I notice with some bands these days. But those that are there are very passionate about it and at this point there are people that have probably seen us 15-20 plus times now in their areas. It's mainly been through word of mouth and returning to the same areas that the audience has expanded over time.
Treble: How do you feel about Barriers and Passages more than a year removed from its release?
KH: I still think it's our best album as a whole and it motivates us to do better with the next one.
Treble: What was your favorite song from that record and why? How about from your whole discography?
KH: Either "Sleep Decayer" or "Seal/Breaker/Void." I think those songs are neat 'cause they're fairly busy and complex but still evoke a mood and atmosphere. From the whole discography I really can't pick one but I still like "Let You Fall" from No Interference, "And Just Go" from Pretest and "Earthquake" which is an old song we just re-recorded for a split.
Treble: What does Colin bring to the table, both in terms of technical ability and the compositional element?
KH: His way of writing bass lines is totally unique and often takes me awhile to wrap my head around. I think he's been able to keep what gave us our sound when Clayton was in the band and add his own style along a heavier tone and more complex ideas.
Treble: If there ever came a time when Colin decided to commit all his time to Behold…The Arctopus; would Dysrhythmia continue?
KH: I don't think we would try and find another bassist. We would most likely move on to other things.
Treble: How does a Dysrhythmia song get composed?
In general, it begins with a few guitar or bass ideas which are brought into the rehearsal room, then Jeff (Eber) adds his drum ideas and parts get changed around a lot. We usually record our ideas and sit with them for a few days and work on them individually and then present our latest ideas again at practice and so on until the song feels complete. This can take many months.
Treble: Can you hear a Dysrhythmia influence in any new bands? If so, what does that feel like to know you are directly influencing future music?
KH: There are bands that write us and tell us we inspire them, and send links to their music, so in most of those cases I can notice it. Other than that, I don't hear it a lot…but being considered any influence is certainly a nice feeling.
Treble: How is the relationship with Relapse Records going?
KH: It's fine. They give us money to make records and make them available to the people. We don't ask for much.
Treble: What do you think about the new market for fringe, avant-garde metal acts like Sunn O))), Earth and Xasthur?
KH: It's interesting how those bands are now being accepted by the more artsy and hipster-ish crowds. Hopefully it makes people want to dig further into history and the underground and discover some other metal bands that changed/are changing music.
Treble: What is the first thing that comes to mind at the mention of the following artists?
– Metallica?
KH: Should've stopped after Cliff Burton died.
– Seefeel?
KH: Great ambient music.
– Voivod?
KH: Gods. Killing Technology, Dimension Hatross, and Nothingface are untouchable.
– Direwolf?
KH: Fantasy metal from beyond lands untold.
– Slowdive?
KH: In my opinion the best songwriters of all those shoegazer bands.
– Jarboe?
KH: Grateful that I had/have the opportunity of working with her, musically. She's also a lot friendlier than you would expect someone from one of the most dark and misanthropic bands of all time to be.
– Britney Spears?
KH: Bald.
– Behold…The Arctopus?
KH: Truly pushing the boundaries of music these days.
– Megadeth?
KH: Should've stopped after Rust in Piece.
– Dysrhythmia?
KH: Should've stopped after… oh, wait…
– Om?
KH: Chris Poland was great in Megadeth.
– Fates Warning?
KH: A very important band for me when I was young. Awaken the Guardian is classic.
– Nirvana?
KH: I hated them when I was in high school, but today I can appreciate the simplicity of their songwriting. They had some balls to blatantly steal the riff from "Eighties" by Killing Joke for "Come As You Are."
– Mastodon?
KH: Hardest-working and wildest dudes we've ever toured with.
– Scott Walker?
KH: Totally fascinating. Another artist pushing music ahead these days. I want to see that movie about him, "30th Century Man."
– Ulver ?
KH: Chameleons.
– Opeth?
KH: Still Life and Blackwater Park are good records.
Treble: How is the new material coming along?
KH: We plan to get serious with writing this summer. Right now we have one complete song, another almost done, and 2 others that are just guitar right now. Hopefully by next summer we can have a full album ready to record. So far it's a bit darker than any of our other material.
Treble: Can we expect a new release any time soon?
KH: Yes, in the form of a split with Rothko called Fractures. We will be contributing a 14-minute reworked and rerecorded version of the song "Earthquake." We always thought that song could've been better than the version on our first CD Contradiction. It's changed over the years from playing it live. A new full-length won't be likely until 2009.
Treble: Tell us a bit about Byla.
KH: It started out as Colin and I wanting to experiment with ambient music and really focus on details and manipulating guitar sounds. Right now we are preparing to release our second album called Viscera, which is a collaboration with vocalist Jarboe. This time we worked very differently. With the first album, everything was created on the spot and then recorded immediately…like we just pulled everything out of thin air and that was really fun but this time we worked a lot of the material out before recording it and had more of a concept before we began writing.
Treble: Any other new projects in the works?
KH: I have some new things going on when time allows, the main one is a group called Mahj which is me, Bruce Lamont from Yakuza on saxophone, Charlie Zeleny from Behold… the Arctopus on drums, and Brett Bamberger from East of the Wall on bass. A few songs have been recorded already and we hope to have a full-length album recorded by the end of the year. The music is very improvisational but not without form. Jeff Eber has a new jazz trio with his cousin and they play often in the NY/NJ-area.
Treble: If you could co-compose one song with any other human being, living or dead, who would it be?
KH: Arvo Pärt.
Treble: If you could pick any band to be in, who would be the members and what would be the name?
KH: There are a ton people I would love to work with… how about Kevin Shields from My Bloody Valentine on guitar, Steve Shelton from Confessor on drums, former Voivod bassist Blacky, and Ogre from Skinny Puppy on vocals. That would be a weird and interesting combination of styles. I have no idea what it would be called. Picking band names sucks.
Treble: What are you listening to most these days?
KH: Man, I feel like such an asshole for all this name-dropping but your questions are begging for it… Anyway, this week I actually BOUGHT 2 CDs, which is something I haven't done in a while. So this week I've been listening to the new Blonde Redhead album 23 and Wire Chairs Missing. Also, been on a big '80s Skinny Puppy kick lately.
Treble: Do you guys ever joke to Jeff about how obsessive-compulsive he looks banging his sticks on everything in the venue before a show?
KH: You're not the first to say that. He gets excited.