Spring/Summer Festival Preview 2013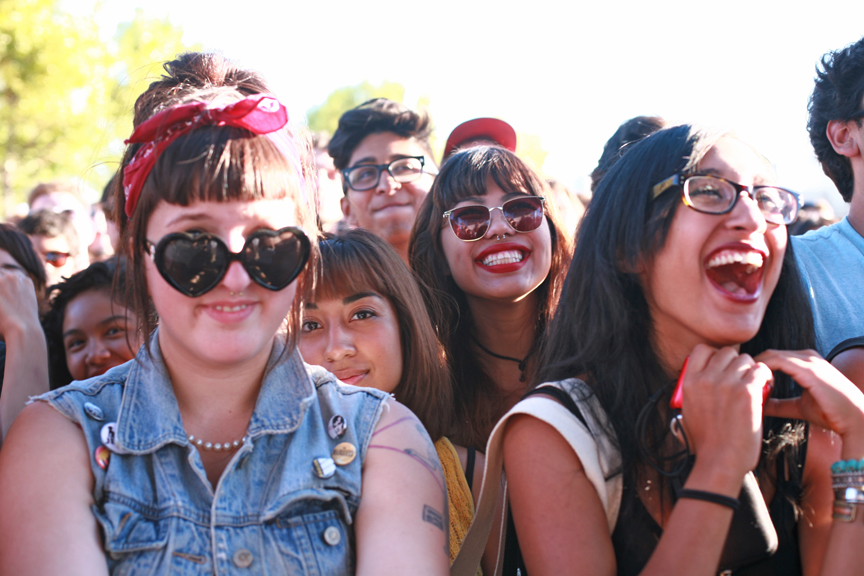 With SXSW and Coachella behind us — one weekend of it anyway — festival season has officially begun. It's both a blessing and a curse. On one hand, it means that your favorite bands are probably touring right now. On the other hand, if the closest tour stop to your city is a festival, it might mean having to shell out some extra cash to see them. In the interest of doing a public service to our readers, we thought it a good idea to round up a list of 1o of the most interesting/promising festivals happening this spring and summer, with all the info needed to make the best decision on how best to cram in a weekend of music, beer in plastic cups, sunburns and good times. We're only looking out for you. Take notes.
Austin Psych Fest
Website
When:  April 26-28
Where: Carson Creek Ranch – Austin, Texas
Price: $150
On the Lineup: Deerhunter, Os Mutantes, Goat, Black Mountain, Black Angels, Black Rebel Motorcycle Club, Warpaint, Tinariwen, Silver Apples, Roky Erickson, Clinic, Boris, White Fence
Pros: Lineup doesn't mirror that of every other music festival; unique location; reasonably inexpensive; Goat!
Cons: There's a good chance you won't remember everything that happened; dirty hippies.
Maryland Deathfest
Website
When: May 23-26
Where: Sonar – Baltimore, Md.
Price: $155
On the Lineup: Converge, Melvins, Pig Destroyer, Pentagram, Repulsion, Venom, Sleep, Carcass, Cobalt, Bolt Thrower, Down, The Obsessed, Pagan Altar, Pallbearer, Pelican, Tragedy
Pros: Reasonably small venue means short walks between stages; more metal than almost any other fest; there's some good crab nearby.
Cons: If you need a break from metal, you're kinda out of luck.
Sasquatch
Website
When:  May 24-27
Where: The Gorge – George, Wash.
Price: $337.50
On the Lineup: The Postal Service, Sigur Ros, Vampire Weekend, Elvis Costello and the Imposters, The xx, Built to Spill, Grimes, Andrew Bird, Tame Impala, The Presets, Killer Mike, Danny Brown, Death Grips, El-P, Japandroids, Dirty Projectors, Twin Shadow, Toro y Moi, Torche, John Talabot, Red Fang, Baths, Chvrches,
Pros: Four days of music rather than three; probably the most diverse lineup outside of Lollapalooza; cheaper shower fees than Bonnaroo; the beauty of the Pacific Northwest.
Cons: That fourth day might be a breaking point; Strange abundance of douchey DJs; per Treble's Donny Giovannini, "an insufferable man in a Sasquatch costume."
Chaos in Tejas
Website
When: May 30-June 2
Where: Various venues – Austin, Texas
Price: $150
On the Lineup: The Damned, Baroness, Andy Stott, The Field, Iceage, Jessica Pratt, Absu, The Bats, Bolt Thrower, Coliseum, Lower, The Men, Merchandise, Milk Music, Parquet Courts, Pinkish Black, Screaming Females, Tragedy, Waxahatchee
Pros: Better hardcore and metal lineup than most other fests; Austin is always fun; Little to no likelihood of product placement; Smaller and more intimate shows (aka no jumbotron); bat season.
Cons: Some shows might fill up quickly; reminders of what went wrong at SXSW; Austin heat in June; waking up with more bruises than usual.
Governors Ball
Website
When: June 7-9
Where: Randall's Island – New York City
Price: $95 per day
On the Lineup: Guns 'n' Roses, Kanye West, Nas, Grizzly Bear, The xx, Kendrick Lamar, Beach House, Animal Collective, Erykah Badu, Local Natives, Crystal Castles, Dirty Projectors, Deerhunter, Fucked Up, Twin Shadow, Wild Nothing, Japandroids
Pros: Kanye!; New York City is more fun than the desert (and you can actually find a hotel room); ping pong and croquet; the food selection looks unusually delicious.
Cons: The ubiquitous Lumineers; the commute to and from the island will probably be a clusterfuck; New York is also pretty damn hot in the summer.
Bonnaroo
Website
When: June 13-16
Where: Manchester, Tenn.
Price: $269
On the Lineup: Paul McCartney, Tom Petty and the Heartbreakers, Bjork, The National, Wu-Tang Clan, Nas, Passion Pit, The xx, Wilco, Animal Collective, Kendrick Lamar, Grizzly Bear, Tame Impala, Dirty Projectors, Swans, Baroness, Araabmuzik
Pros: Swans!; Possibly most diverse lineup of any summer festival; Broo'ers festival with more than 20 breweries.
Cons: Daniel Tosh; the outdoor sauna effect; dirty hippies; geographic isolation; more alt-bluegrass bands; $7 showers.
Pitchfork Music Festival
Website
When: July 19-21
Where: Union Park – Chicago, Ill.
Price: $120 (or $50 per day)
On the Lineup: Bjork, R Kelly, Belle and Sebastian, Joanna Newsom, MIA, Solange, The Breeders, Yo La Tengo, Swans, Lil B, Toro y Moi, Savages, Low, Wire, And You Will Know Us by the Trail of Dead, Phosphorescent, Killer Mike, El-P, Mac DeMarco, Andy Stott, White Lung, KEN Mode, Metz, Frankie Rose, Merchandise, Julia Holter
Pros: Extremely wallet friendly; almost everyone on the lineup is worth seeing; no Mumford; no Lumineers; again – Swans!
Cons: There is only one metal band on the lineup; Joanna Newsom is billed higher than Yo La Tengo; obnoxious dorks who will battle each other over R Kelly fandom only to bounce after one chorus of "Ignition".
Lollapalooza
Website
When:  Aug. 2-4
Where: Grant Park – Chicago, Ill.
Price: $235
On the Lineup: The Cure, Nine Inch Nails, Phoenix, New Order, Vampire Weekend, The Postal Service, The National, Queens of the Stone Age, Kendrick Lamar, Grizzly Bear, Local Natives, Crystal Castles, Cat Power, Frightened Rabbit, Death Grips, Beach House, Ghost B.C., Baroness, Wavves, Angel Haze, Jessie Ware
Pros: The Cure!; Nine Inch Nails!; every band ever!; local food vendors at Chow Town.
Cons: Every band ever also means The Lumineers and Mumford and Sons; Scheduling conflict likelihood is pretty high; Chicago heat in the summertime? Yikes.
Outside Lands
Website
When: Aug. 9-11
Where: Golden Gate Park – San Francisco, Calif.
Price: $215
On the Lineup: Willie Nelson, D'Angelo, The National, Phoenix, Yeah Yeah Yeahs, Daryl Hall & John Oates, Foals, Kurt Vile and the Violators, Jessie Ware, Chromatics, The Men, Youth Lagoon, Jurassic 5, Wavves, Yeasayer, Grizzly Bear, Tallest Man on Earth
Pros: Hard to beat San Francisco as a backdrop; extensive and diverse food options; Beer Lands; Wine Lands; Choco Lands!
Cons: Limited transportation options; Per Yelp, "Ambience: Hipster"; dust and more dust.
Made In America
Website
When: Aug. 31 and Sept. 1
Where: Benjamin Franklin Parkway – Philadelphia, Pa.
Price: $99.50 (per day)
On the Lineup: Beyonce, Nine Inch Nails, Queens of the Stone Age, Phoenix, Miguel, Kendrick Lamar, Public Enemy, Solange, Schoolboy Q, A$AP Rocky, The Gaslight Anthem, AlunaGeorge, Ab Soul, more to be announced.
Pros: High likelihood of Jay-Z appearance; price is surprisingly reasonable; they won't run out of beer.
Cons: The beer is Budweiser; Anheuser-Busch branding gone amok.