The Best Albums of the '00s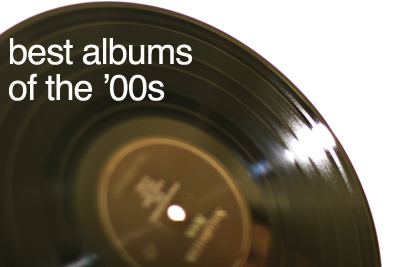 A lot changed with regard to music in the last ten years. The MP3 became the dominant medium of choice, indie rock went mainstream (again), mainstream went underground, listening habits became far more scattered and patchwork, million-selling albums became an endangered species, and against the odds, vinyl sales actually saw a dramatic upturn. But for all the transitions that occurred, a lot of things didn't change. For all we've heard about how much the music industry and its business model has changed, somehow, hundreds upon hundreds of artists continued to put out incredible albums. To anyone who bet the future of music on the ringtone single, better luck next time.
The '00s, aughts or noughties—whatever you want to call the 10-year span we just closed out—saw an absurd number of genre hyphenations and sub-categorizations. From "blog-house" to "shitgaze," "glo-fi" to "electroclash" and "dubstep," a lot of different sounds came and went, sometimes with brief periods of deafening hype. Tried-and-true sounds were re-contextualized and re-introduced in an oddly fresh way. A handful of artists managed to exist outside of genre altogether. And more than a few artists who rose to prominence in the '90s made an even bigger noise in the '00s.
In the end, the wealth of great music presented as a cohesive whole was more than abundant in the past 10 years, it was almost overwhelming. Against the odds, we managed to trim our favorites down to a digestible 150. Like our singles list, we voted for our top 125 albums of the decade, then added an extra 25 personal favorites for good measure. This exercise was exhausting, but rewarding, and we hope you enjoy our picks for the best albums of the '00s.
150. Killing Joke – Killing Joke
(2003)
Being a band with socio-political leanings means never having to admit that they have no effect on anything they sing about, so it helps to tend more towards the cathartic than the dogmatic. Killing Joke always took this tendency and ran with it, playing with an anxious urgency sensing nuclear winter around the corner. With the War on Terror in full bloom, Killing Joke felt that urgency once more, and in a harsh realization that the motions of old never really stopped, intensified even, they wrote and recorded their sonic polemic in reaction to what they saw as the emergence of the American Empire. To be sure, the United States was never imperial in the conventional sense of the term, but its peak, Coleman seems to have failed to realize, was around the time What's THIS for …! was released, but nevertheless, the band had not lost their method of meeting actual violence with sonic violence. Practically out of nowhere, Killing Joke reemerged, talent of old more or less intact along with its bile. Geordie Walker's guitar work, meshing icy new wave with gnashing punk and metal, has only intensified. It would seem that as Al Jourgensen became more indifferent, Walker became more impassioned. The same for Coleman, switching from his cavernous chants to his horrifying screams with more palpable ferocity than in 1981. The aggressive pedigree is made all the more solid with their studio drummer Dave Grohl who, it seems to have been forgotten, is quite good at that kind of thing with this kind of music. It was a well-balanced equation for a criminally overlooked reunion album. – Chris Morgan
149. Silver Jews – Tanglewood Numbers
(2005; Drag City)
I have gotten a lot of flack from fellow enthusiasts of the late, great Silver Jews, for my resolute opinion that 2005's Tanglewood Numbers is their steadiest and most fully realized album. On Tanglewood Numbers, singer/songwriter David Berman addresses the same melancholic consequences of depression, such as alcohol and drug abuse that he's attended to throughout his career as both a musician and a poet. However, here his wittiness becomes almost playful and his self-awareness is so evident it is painfully affecting to the witness. Accompanied again by a stellar supporting cast including ex-Pavement members Steve Malkmus and Bob Nastanovich, as well as wife Cassie, who possesses a tragically charming voice radiantly displayed on "Animal Shapes" and "How Can I Love You If You Won't Lie Down," Berman deals with beer drinking punks, ketamine-induced doldrums, and the haunting realms that exist beyond the blues. More so than on any other Silver Jews album, Tanglewood Numbers shows off the musical deftness and diverse songwriting ability Berman is capable of. "The Poor, The Fair, and The Good" combines the down home country elements of mandolin and violin, and furnish it with a contemporary rock twist, courtesy of Mr. Malkmus' wandering guitar. Clocking in at just under 35 minutes, Tanglewood Numbers is the most concise and elegantly tendered analysis of sadness. – Ryan Agnew
148. Deftones – White Pony
(2000; Maverick)
In the glow of hindsight, it all seems so silly that a genre so insipid as nü-metal was ever considered a scourge on good taste as far as rock snobs saw it. Surely how long could a sound based mostly around lobotomized Helmet, Pantera and Godflesh riffs last on the equally forgotten "Total Request Live" ranks? Certainly not a full decade. The early artists — Coal Chamber, KoRn and Limp Bizkit — are either long gone one-hit wonders or not doing anything that warrants even an ironic listen. Their cousin Kid Rock is a lot more country and a lot less rock n' roll. And their imitators—Papa Roach and Lostprophets—jumped onto the "screamo" bandwagon. Looking back still, it is also easy to see that its final death knell came early on with White Pony, with which the Deftones solidified themselves as the dark horse, so to speak, of their ilk. White Pony was everything nü-metal wasn't: melodic, sensitive, atmospheric, intelligent, enigmatic, complex. For all the crushing riffs that carried over from the pitch-perfect Around the Fur, they found themselves far more developed and confident in their new penchant for artful rock anthems such as "Change," "Street Carp" and "RX Queen" that were immaculately produced and coherently expressed, even with Chino Moreno's refreshingly odd, emotive and ungruntable lyrics. Though they ushered in destruction with as much gusto as any other heavy act at that time that wasn't underground, they had their own special way of asking why, a gesture with far greater resonance and appreciation than all of the wreckage of Woodstock '99. – Chris Morgan
147. Frightened Rabbit – The Midnight Organ Fight
(2008; FatCat)
Scotland's Frightened Rabbit made a humble, unassuming debut with the scruffy pop on 2007's Sing the Greys, but only one year later, they blew the doors wide open with the epic, emotionally charged follow-up, The Midnight Organ Fight. Still scruffy, and definitely a bit inebriated, this Rabbit grew fangs and unleashed a litany of heartbreak and raised glasses, lamenting limbs dissolving in Scottish rain and the inability to find love in a hole. Yet they pull it off with more confidence and magnetism, and Scott Hutchison's gloriously cleansing lyrics, ranging from the angry ("I may not want you back, but I want to kill him") to the desperate ("I need human heat"). If there's an album from 2008 with more fantastic melodies, I certainly haven't heard it. To paraphrase their own lyrics, they're much better than ever. – Jeff Terich
146. cLOUDDEAD – cLOUDDEAD
(2001; Mush)
Before Why?, Odd Nosdam, and Doseone launched their respective solo careers, there was the incredibly potent, expertly talented and dauntingly experimental supergroup, cLOUDDEAD. Their first proper album, 2001's self-titled collection of their six initial singles, is an impressive statement delivered by the rather youthful trio that serves as an appropriate harbinger of their respective careers. The drug-swirled aura that surrounds every corner of the record lends strongly to the overall mystical mood generated by cLOUDDEAD's effortless ability to construct entire landscapes with limited resources. Relying primarily on department store recording equipment, the idiosyncratic voices and melodies of Why? and Doseone, and the masterful artistry found in Odd Nosdam's beats, the group hatched the recordings on the record over the span of a couple years in the Cincinnati home of Odd Nosdam's mother. In testament to their resourcefulness, they use a household blender on "apt.A (2)" to achieve the same effect of a loop. Their clever wordplay and interesting use of obscure samples is on display throughout the entire record. The seventh track, "JimmyBreeze (1)" opens with a phone conversation between the title character and presumably Why? regarding Breeze's response to a fake want-ad posted by the band, looking for a rhythm guitarist, setting up the unknowing Breeze for certain embarrassment. The call is followed by a quick montage of television samples manipulated as a response to the conversation. "I Promise Never to Get Paint on My Glasses Again (1)" provides the album with its most coherent moment of straight-up hip-hop when the chorus, "It's all the same shit but they call it cLOUDDEAD/ I only got two hands and half a head," is repeated several times at the end of the song. This album stands as the tallest monument to the vision of avant-garde hip-hop. – Ryan Agnew
145. Beulah – Yoko
(2003; Velocette)
During their relatively short time together, Beulah were a band in perpetual conflict. That isn't to say that individual members were at odds with each other, though they were frequently threatening to split before making good on that promise in 2004. Rather, they were a band that made joyous music, with bright and buoyant arrangements, undercut by Miles Kurosky's dark, pessimistic lyrics. The remarkable thing is that these disparate elements didn't so much clash as complement each other, particularly on their outstanding swan song, Yoko. Where once the band made giddy, lo-fi distortion addled mini-symphonies, here they focused their efforts on simply making the best rock songs they possibly could, albeit with bigger and brighter arrangements than most. As it turns out, their best rock songs were better than just about everyone else's, from the poisonously catchy "Landslide Baby," to the careening psych-rock of "Your Mother Loves You, Son," to the twangy "Fooled with the Wrong Guy." But even at their tightest and most triumphant, Kurosky all but spelled out the finality in the album's last song: "I sold my soul for rock `n' roll and a case of beer/ I think I would trade it all for another year." So would I, Miles. So would I. – Jeff Terich
144. Aphex Twin – Drukqs
(2001; Warp)
Cornwall's avant garde legend Richard James makes a break from his oft lauded discography and presents us with something a little different. In 2001 James releasead Drukqs, a 2-disc stroll down his demented neighborhood. Upon reception, the album was accepted with mixed reviews, some saying that it was a representation of the typical prankish nature of James. But Drukqs, packed with tracks like "Taking Control" and the frenetic "Meltphace 6," makes it particularly hard for Aphex fans not to get pulled into the prolific mind of a modern day Dadaist. Even some of the shorter tracks are full of texture (haunting piano vignettes like "Avril 14th" and "Petiatil Cx Htdui" to the mischievously glitchy "Kladfvgbung Micshk") like deep scratches in the dirt of James' sonic playground. Whether or not Drukqs was a serious album or not is almost irrelevant. It's perverse enough to justify itself as abstract, neurotic enough to be technically sound and artful enough to be beautiful. Drukqs is like running the gauntlet of Richard James, never knowing whether you will be punched in the gut by a frenzy of noise or washed over with melodic mercy. In short, Drukqs is a crude trick on emotions. It is obscene. I can only hope that it's an obscenity that will remain on our lips for decades to come. – Zeena Choudhry
143. Blackalicious – Blazing Arrow
(2002; MCA)
Speak the words "conscious rap" this day and age, and anyone within earshot is likely to cringe. And with good reason: preachy backpackers are about as much fun as sexless vampires. Northern California duo Blackalicious, however, maintained a positive vibe on their epic second album Blazing Arrow by basically throwing the biggest block party they could. In the process they invite the likes of Jurassic 5, Dilated Peoples, Saul Williams, Zach de la Rocha, Ben Harper and Gil-Scott Herron, but it's our hosts, Chief Xcel and Gift of Gab, who also serve as the guests of honor. Xcel's Technicolor funk samples pair perfectly with Gab's deft wordplay, which ranges from the celebratory ("Make You Feel that Way") to the bitter ("Paragraph President"). Looking back, it's striking just how ambitious this monumental effort is, but what's even more impressive is just how natural it sounds. – Jeff Terich
142. D'Angelo – Voodoo
(2000; Virgin)
The promise of neo-soul has long seemed fruitful, though rarely yielded anything that transcended coffeehouse ambience. Maybe that's why D'Angelo decided to nix the bohemian vibes, line up a team of unstoppable funk musicians (The Roots' ?uestlove chief among them) and make an album of epic, fluid jams that at once recall the Stax archives, vintage Prince, and nothing at all. It's fitting that the Virginia native exposes his bare top half on the album's cover, as Voodoo is a purely naked and intimate expression. And the intimacy goes beyond mere bedroom allure (though there's that too), each song actually feels like an invitation into a private jam session. You can smell the liquor and the smoke, and you can feel the bass pulse. Nine years on and this stone cold classic has yet to see a successor; just how, exactly, do you follow something this badass. – Jeff Terich
141. Rilo Kiley – The Execution of All Things
(2002; Saddle Creek)
The Execution of all Things is a breakup record, written and performed by two people in the process of breaking up. But as Jenny Lewis and Blake Sennett drifted apart, they gained a newfound strength in their own songwriting. Lewis' voice becomes the heartbreaking instrument we know today on this record, and Sennett finds that Elliott Smith-tinged countrypolitan sweet spot that would eventually fuel his underrated band The Elected. Full of songs about dashed hopes, ill-timed phone calls and bullshitting friends, this album could have been a giant self-pity party. But it's saved by keeping one eye on the horizon to better times ahead. As Lewis sings on the campfire sing a long "With Arms Outstretched," "Its 16 miles to the promised land / And I promise you I'm doing the best I can." – Elizabeth Malloy