The Best Tracks of the '00s – No. 18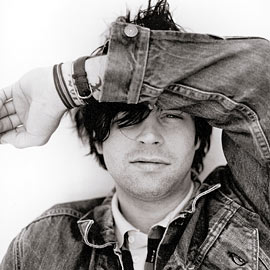 The decade has almost come to an end. And of course, you know what that means-lists, `best ofs' and all kinds of general retrospective features and columns. Treble is no exception, hard at work on figuring out the best albums and singles of the past nine years. Yet, before we get into albums and singles, we're taking a look at the best non-single tracks to emerge since the Y2K scare proved to be a non-event. Every week we'll be highlighting a handful of our favorite tracks of the decade, so keep checking back to hear about what songs remained on repeat on our iPods, CD players, tape decks and turntables since Jan. 1, 2000.
Ryan Adams – "I See Monsters"
from Love Is Hell (2003)
and Loft Sessions (2005)
I've recently discovered that the most terrifying images we experience are not found in any horror movie but what we see on the inside–our own personal demons. It's the voices and flashes of fear that stir inside of us until the moment it takes us over and paralyzes us with the kind of dread only our own minds can imagine.
This has happened to me three times in my life, once as an overindulgence of excess in New Orleans. Another time when I was in Paris, sirens brought back flashbacks of a near death experience with a hold up in the Garden District that I tried to bury inside of me. And, most recently, an experience in our apartment last week. I had gone through weeks of illness, depression, self-doubt and so many tests by doctors, aches and pains that I wouldn't want my worst enemy to experience. I thought it was all over but I was wrong.
Imagine for a minute you're trying to fall asleep so you can some prescription medicine to help you get drowsy. But instead of relaxing, you experience a panic attack. And not just any panic attack but the kind where, for a few hours, you're trying to not lose your place in your own mental universe. Your own existence is being questioned by your mind. All the memories, good and bad, that you have experienced are vanishing by the second. And all that's left are the flashes and whispering monsters in your head trying to take you away from the life and love that you have been cherishing for over three years.
When I hear the "I See Monsters" by Ryan Adams, it brings back and makes sense of that terrifying night that I experienced. What I recall most is towards the end of my ordeal having all those memories that I thought were gone come back to me at a fast pace in the middle of the night. Imagine reliving all the pain and agony of lost love, break-ups, betrayal, hurt all coming back at once. All of those emotions of hurt going through you in the matter of minutes. Horrifying is not even the word. I don't think there is one for what I experienced. But Ryan's incredible freaked-out guitar solo at the end of the Loft Sessions in his awe-inspiring version of Love is Hell's "I See Monsters" comes close. "And then after the song is over, you hear handclaps in the studio and one of Ryan's Cardinals says it best when trying to describe Ryan's solo, "It sounds like Monsters."
The incredible thing about Ryan's song is that he's lived through similar events in his life. In the song, Ryan's in bed with the one that he loves and in his mind, the demons are coming to life in the middle of the night. And these aren't the CGI creatures from your overindulgent horror films that we've all seen. No, these are monsters that live inside of us. They hold our fears and come out in the dark trying to paralyze us with our own personal fears. Something that no film or ghost story could ever emulate, Adams brings to life in the climax of "I See Monsters."
I do feel stronger having gone through this harrowing time. And "I See Monsters" has now become one of my favorite Ryan Adams songs. I used to think that "I See Monsters" was a beautiful song, but the Loft version is more than that. He understands. He almost whispers the vocal as if he's trying to ease himself to sleep. And then at the end he brings out his electric axe and slays his monsters for another night. After it's over, they will be back, but we're all a little stronger for living through these moments of trepidation.
Download at