The Front Bottoms : You Are Who You Hang Out With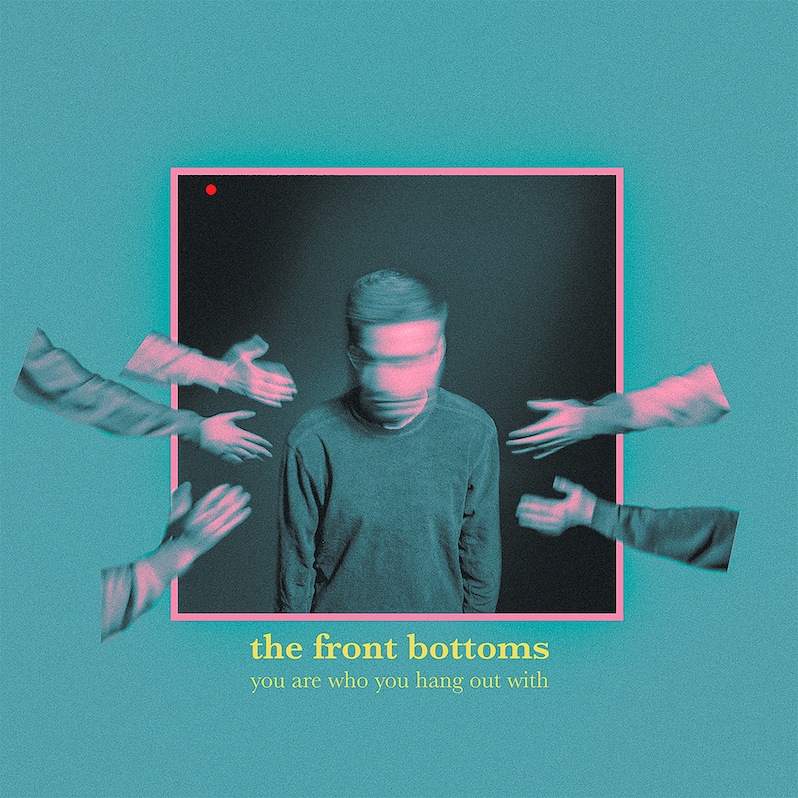 Volatile, narrow minded, and stubbornly resistant to change—you know what music fans can be like. So, let's say you're a well-loved band, and you want to try shifting gears a bit, but you've also spent the past decade or so building up a watchful and dedicated fanbase. What's the best way, then, for you to introduce that change?
The smart money is probably on simply announcing it openly and proudly (or 'ripping off the band-aid quickly,' depending on your perspective)—which is exactly the approach The Front Bottoms have opted for with their sixth full-length record, You Are Who You Hang Out With.
The album kicks things off with the song "Emotional" (also the album's second single), and, in doing so, the indie duo emphatically make the point that this record is to be regarded as a sign of their ongoing growth and maturation. The Front Bottoms aren't quite giving their sound a complete overhaul here, but they're surely only a few steps behind, as the opening track gives Brian Sella's voice a heavy dowsing of Auto-Tune (à la every pop song from 2009), adding a distinctly jarring, inorganic sheen to the group's usual concoction of clean guitars and inelegant but adorably earnest vocals.
Now, the word "folk" gets thrown around a lot when discussing many bands for whom the most avid commitment to genuine folk music begins and ends with the fact they use an acoustic guitar, but The Front Bottoms are a group for whom the label, for better or worse, has resoundingly stuck. So, let's not mince words; Auto-Tune coming anywhere near these guys is a pretty big deal. It's Dylan going electric for the Green Day generation. But does it actually sound good?
The honest answer is that, at first, it's hard to tell. "Emotional," bursting so unapologetically quickly into Sella's robotic "woah-ohs!", largely has the effect of disorienting the listener; it's not until track six, "Paris," that the band apply the vocal effect to truly impressive results. The conflict between a simple yet delicate finger-picking riff—airy but beautiful—and Sella's glitchy, angular refrain "I feel like I'm in Paris," creates a feeling like a slow-motion head-on collision—a soft but somehow deeply intense tug-of-war between nostalgia and progress.
On the whole, though, the album tends to look forward in a more subtle manner, feeling more sedate than the majority of the band's past works. To the extent that it does revisit any older sounds, the furthest back we go is "Clear Path," whose upbeat pop-rock feels reminiscent of 2015's Back on Top, but would probably sound out of place on their debut. Lyrically, Sella is calmly introspective; he looks back at the band's history from a position of relative neutrality, making for some drily amusing meta-commentary ("The name of this band was gonna be 'Mass Shooter,' but the tone felt too spot on," from "Fake Gold," is particularly illuminating).
But neutrality—while it might raise a smirk—won't get your heart racing. The trade-off with The Front Bottoms' more measured mood is that You Are Who You Hang Out With often lacks a punch; you won't find anything on this record that's as raggedly emotive as "Twin Size Mattress," for example. The album pushes in a direction that, when it works, exudes a quiet, mesmerizing, spectacular confidence. But it's a style they've yet to master, and the results are a little patchy; at worst, the album's attempts at growth can manifest as nothing more than the absence of a vital spark. You Are Who You Hang Out With is certainly not a release that will excite every Front Bottoms fan, but it's got sufficient strength of spirit buried amongst the misfires to keep their more patient ones happy.
---
Label: Fueled by Ramen
Year: 2023
---
Similar Albums: