The Top 50 Albums of 2008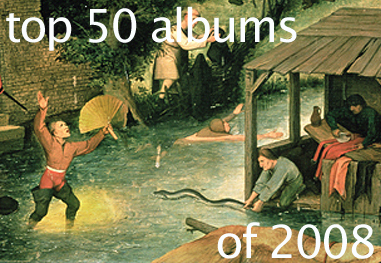 10. Fleet Foxes – Fleet Foxes
There are certain records that sound just fine on an iPod or on your laptop. Certain records can adapt to digital formats and don't beg to be played on a record player. Fleet Foxes' self-titled debut, however, is an album that almost demands to be played on a turntable. Though it is a fantastic album regardless of medium, the warm, homey tones of "White Winter Hymnal" and "Ragged Wood" are at home with the crackles of a sturdy record player. Lead singer Robin Pecknold grew up listening to his parents' Allman Brothers, Beach Boys and Crosby, Stills & Nash records and those familiar sounds ring through the album. Yet these songs don't sound redundant, but rather have a freshness that belies their amber-hued tones. Even the cold technology of an mp3 player can emit the real full-bodied warmth through Fleet Foxes' music. – Jackie Im
9. Beach House – Devotion
As I was compiling my year-end lists, I held marathon listening sessions trying to remember, "what music was out in 2008?" Much of my year was dictated by my first semester in grad school. There was no time for listening to music, much less keep up with the new bands blogs are heralding. When I did have time to listen to music I found that I kept coming back to one album: Beach House's Devotion. Out of all the albums that came out in 2008, I listened this one to the most. I was trying to explain why I loved Devotion so much and why I made it my top album of the year. After failing several times to articulate what I felt, I uttered, "It touched my soul." Devotion is an album of intimate proportions, performed with great care by Alex Scally and Victoria Legrand. Each song carries an elegant and languid charm as Legand's ethereal vocals and Scally's steadfast guitars transport you to an island of calm. Perhaps it was the calming effect that had me returning to Devotion time and time again, but it is the gothic-romantic longing in the songs that make each listen an intimate and profound experience. – Jackie Im
8. No Age – Nouns (Sub Pop)
On one of the standout lyrics from No Age's debut Nouns, drummer Dean Spunt hazily muses, "it's our duty to be overwhelmed." And yet it would appear that he and partner-in-noise Randy Randall aim to overwhelm the listener with their awe-inspiring mix of shoegazer and punk sounds. Where last year's compilation Weirdo Rippers found the Los Angeles duo punching out minute-long pop melodies between minute-long passages of distortion and ambience, there's a greater separation on Nouns. The pop songs are poppier, from the anthemic "Teen Creeps" to the Dinosaur Jr.-like burner "Sleeper Hold" to spunky single "Eraser." And yet the ambient interludes, like "Impossible Bouquet" and "Errand Boy," have become even more abstract. Though there's only two guys here, playing nothing more than guitar and drums, there are layers upon layers of stunning sound, which No Age invites you get lost in, only to writhe and shake your way out. – Jeff Terich
7. Bon Iver – For Emma, Forever Ago
Of the many new artists to emerge this year, very few have had such far-reaching effects as Justin Vernon. By the time his debut For Emma, Forever Ago as Bon Iver was given its proper label release in February, Vernon had lined up not only the beginnings of an exhaustive U.S./European tour, but had lent a helping hand as producer to fellow act The Rosebuds, and would later go to do the same for Land of Talk's noteworthy debut, all the while prepping a follow-up EP due this January. The truth is, if it weren't for the deceptively bare-boned beauty of For Emma—at once intricately barbed yet heartbreakingly vulnerable—Vernon might still be toughing it out with former band DeYarmond Edison, or chopping endless stacks of firewood in his Wisconsin hunting cabin. As it stands, though, Bon Iver is Vernon's untethered medium to his long-dormant muse and, at least in this reviewer's opinion, the best thing to happen to music in years. – Dustin Allen
6. Walkmen – You & Me (Gigantic)
After releasing a breakout hit single like "The Rat," The Walkmen could have ridden their noisy train to mainstream success. Thank God they chose to make interesting albums instead. After four albums (one a song-for-song recreation of Harry Nilsson's Pussy Cats), The Walkmen didn't seem likely to surprise with number five, and yet You & Me did just that. On a certain level, it's everything a Walkmen album should be—reverb everywhere, Hamilton Leithauser's raspy wail—and yet everything is subtle and warm, soulful but not overwhelming. It's an album that demands intimacy, and every note haunts long after the music stops playing. Sure, they rock out when they feel like it (see: "Postcards of Tiny Islands"), but most of all, this is an album to which (and with which) one could really fall in love. – Jeff Terich
5. Cut Copy – In Ghost Colours (Modular)
Whoever is responsible for shipping all of those synthesizers to Australia, I'd like to shake your hand. Muscles, Midnight Juggernauts and The Presets have all made convincing cases in the past year or so for the Land Down Under being the new epicenter of electronic pop music activity, yet Cut Copy were the ones who made the most stunning back to back album of emotional new wave pop. Taking cues from New Order and Depeche Mode while injecting elements of modern disco, Cut Copy gave electro-pop its heart again, flooding the dance floor with tears on "Out There On the Ice," and giving a glimpse of sexual ecstasy in the breathy disco jam "Nobody Lost, Nobody Found." Like any good dance album, In Ghost Colours works as a great stream of singles yet flows so perfectly together, it's almost a shame to separate one song from the whole magnificent bunch. – Jeff Terich
4. Deerhunter – Microcastle (Kranky)
All this time, I thought Deerhunter were supposed to be polarizing and `difficult' and then they have to go and make one of the most mesmerizing rock albums to be released in 2008. With the breathtaking Microcastle, Deerhunter removed the ambient tracks like "Providence" and "White Ink," pushed the hooks and the melodies front and center and let their impeccable and absolutely gorgeous songwriting do the talking. Of course, the distortion and effects are still there, but rather than blanket each song as they did on Cryptograms, they serve as ornate ornamentation, buzzing beneath the delicate progression of "Never Stops" and the powerful, commanding march of single "Nothing Ever Happened." While the band gave a few hints of this sort of elegant and accessible songwriting, I can only defer to Bradford Cox's own words as he sings, "I didn't see it coming." – Jeff Terich
3. TV on the Radio – Dear Science
TV on the Radio has yet to make a bad album. I hypothesize that it's impossible for them to do so. Case in point: Dear Science, the latest in a chain of stellar albums with eclectic roots (new wave, dance, post-punk) and primo execution by way of variety. It opens with "Halfway Home," a song that is ba-ba-ba-ba brooding yet ba-ba-ba-ba fun. Then there's the full-force fuck you of "Dancing Choose," which helps you dance on consumerism to keep from crying; and then there's the lush "Family Tree," which keeps you slow dancing while you keep on crying. There's the shackled "Red Dress" (we've been screwed for too long) and the cynical "DLZ" (we are so screwed) and the utopian "Golden Age" (screw this, let's move forward). "Love Dog" howls out at an empty sky in search of a master and the album closer "Lover's Day" howls out because it's rutting like a dog in heat, hot enough to melt your face off. And they pull it all off. Sex, death, love, politics, you name it—TV on the Radio tackles it with brainy lyrics and daring; unashamed, unafraid, not intimidated by the expectations. So, dear TV on the Radio, thank you for being awesome. Again. – Hubert Vigilla
2. M83 – Saturdays=Youth
When M83's Anthony Gonzalez set out to create an album celebrating an '80s teenage fantasy, he pulled out all the stops. A Psychedelic Furs-like anthem ("Graveyard Girl"), goth poetry, a girl on the cover that looks like Molly Ringwald, a vocalist who eerily resembles Kate Bush (the amazing Morgan Kibby who sings on standout "Skin of the Night")—it's all there. But as audiences have come to expect from Gonzalez, added to this John Hughes homage is one part Kevin Shields, lending a layer of hazy psychedelia over the new wave gloss. That these songs, in some way, sound as if they could have been released 25 years ago is impressive, but Saturdays=Youth, as a whole is timeless. From its enormous production, to its deftly crafted songs, M83's latest opus makes a strong argument as Gonzalez's best. And it's clear that he and the rest of us, like Kim and Jessie, are crazy about romance and illusion. – Jeff Terich
1. Portishead – Third
Third is wicked good, but Treblezine's Album of the Year? How could it not be? We have come to expect only the best from Geoff Barrow, Adrian Utley and siren Beth Gibbons, and Portishead delivers on Third. From the start of "Silence" (originally entitled Wicca), the album opens with a sample of Claudio Campos, a Capoeira master, speaking in Portuguese, reciting a Wiccan precept of the Threefold Law which translates: "Be aware to the rule of thirds. What you give will return to you. You have to learn this lesson. You only receive what you deserve…"
We all were a bit shocked, weren't we? I myself didn't know what to expect but I know it would be challenging, timeless and pure Portishead. Besides, I wouldn't want to hear Dummy part deux. Who would? Third is an artistic achievement by a band that's been relatively quiet for ten years. To awaken from their creative sabbatical with this greatness is a gift from up above.
Gone are the now unfortunate clichéd trip-hop beats, which have evolved into futuristic soundscapes that include the tripped-out prog vibes of "Small," moog synths in "Machine Gun," freaked out cacophony of jazz horns on "Magic Doors" and otherworldly rhythms that perfectly back our favorite damsel of despair. If the back beats hint at an era of desolated isolationism, Gibbons angelic vocals brings some sense of struggle to find hope, in the quietly acoustic "Deep Water" as she sings "I'm drifting in deep water/alone with my self-doubting, again/try not to struggle this time/for I will weather the storm…"through the maddening soundtrack that surrounds her every one of her mesmerizing vocalized harmonies. When she croons "Oh can't you see/holding on to my heart/I bleed the taste of life" on "We Carry On," Beth mirrors our every day challenges to find some glimmer of promises in this age of bankrupt idealism.
If Dummy and Portishead were the sounds of the band during the Cold War/Spy era, then songs like "Machine Gun" show Portishead in the middle of sonic air assault. At times Beth Gibbons sounds as if she's embedded on the battlefield, her angelic vocals describing the chaos she sees around her.
Portishead have become one of the most important and influential artists of our generations. So much so that even Thom Yorke and Jonny Greenwood recorded an impromptu cover of "The Rip" as an homage to one of Radiohead's favorite bands. Portishead's Third is more than the album of 2008, this is a snapshot of our unknown future. I imagine Beth Gibbons outside on December 21st, 2012 when I hear the eerie siren-like sound towards the end of "Threads." "I'm always so unsure" is Gibbons once again singing our own insecurities. What will happen tomorrow, next year or here after? Who knows? We will find out together. What I hope is to have Geoff, Adrian and Beth there along to create the soundtrack for our everlasting uncertainty that prevails within us all. – Adrian Cepeda