The Top 50 Hip-Hop Albums of the Millennium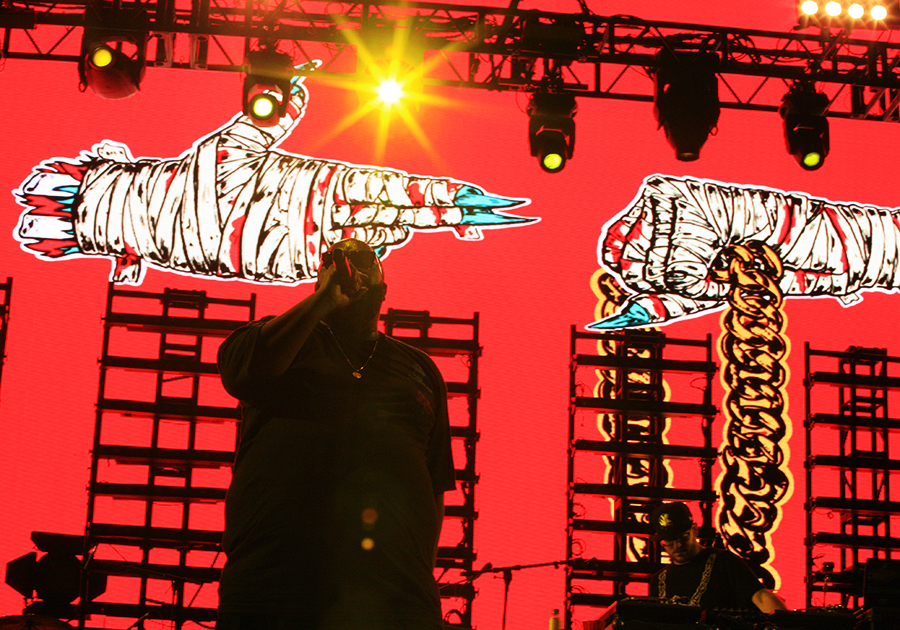 10. Clipse – Hell Hath No Fury
(2006; Star Trak)
Clipse's early career was one defined by delays. Their initial debut, Exclusive Audio Footage, was shelved after completion with their proper debut coming a full three years later. More record label shenanigans followed, pushing back the release of Hell Hath No Fury, their second released album, another four years, making the span from the formation of the group to the release of their sophomore record a full 14 years. The time shows; Hell Hath No Fury still stands as The Neptunes' greatest production work, sounding like sexy futuristic robotic Herbie Hancock, a sci-fi industrial sheen to boom-bap marrying both avant-garde and straightforward hip-hop production ideas in one breathe, all the better platform for Pusha T and Malice (currently going by No Malice) to spit the hottest bars of their career. They had initially used rap as a way to climb out of the drug world and, despite rave reviews of their early work, had found their efforts frustrated again and again, and that frustration clearly lit a fire under them. Their career following this record would follow the same path, with delays and industry frustrations slowing the release schedule of two great MCs, but records like Hell Hath No Fury demonstrate the coke rap duo dropping their tightest, hardest bars against some of the most forward-thinking beats put to tape. Drake has never dropped something this hard. – Langdon Hickman
---
9. Madvillain – Madvillainy
(2004; Stones Throw)
It's 2004. The bling era is in full swing. Dollars and cents and gold and platinum appear in lyrics so often that you'd think everyone was a millionaire. In response, two all timers team up for an all-time record that's a defining anti-floss text (it's not quite a communist screed but it is surrealism at its most political). The lyrics are beyond discussion (alliteration can be declared dead after Madvillainy) and its production brings hip-hop into the bad trip territory of psychedelia (the '50s never sounded so horrifying).
And after all this monumentalism and years of aging, it still bangs. You still scream out the window, "Doritos, Cheetos, or Fritos." You still recite the old superhero samples of "The Illest Villains" with all the melodrama and camp you did when you first heard the words "audiences love to hate." And you still break down when the beat on "Figaro" begins. You were promised a sequel to Madvillainy years ago, but you should be grateful the original exists at all. – Ben Cohn
---
8. Vince Staples – Summertime 06
(2015; Def Jam)
Vince Staples' Summertime '06, his first and best album, is an utterly restless and vital document, a hollow-point with no name on it. Vince's narratives push him from dead-eyed to desperate and back again as he embodies every kid from Long Beach who got caught and drowned in the current. Its Part I (Summertime is a double album; Vince, ever a traditionalist) is breathless and shattering, half-drug nightmare and half-hood drama; it ends with the title track, the only moment of respite Vince allows himself. "This could be forever, baby," he sings, searching, yearning for a better future that it might be wiser not to let himself hope for. Part II is colder, more ruthless, more committed to its bloodthirst, but Vince is never in control. On "Ramona Park Legend, Pt. 2," old friend Earl Sweatshirt intones, "I'm a motherfucking legend"; on track 20 of 20, Vince is cut off mid-sentence. All is lost; all is impermanent. Love will tear us apart. – Ben Dickerson
---
7. Kendrick Lamar – DAMN.
(2017; Top Dawg/Aftermath/Interscope)
Play it backwards, play it forward, play it on random—it's Kendrick Lamar, the greatest rapper since Rakim, which already puts him in the 98th percentile. You're going to play it. Seeing his name next to that album title made the brains of at least a dozen of you gleefully yell out without words "My left stroke just went vi-ral!" If he wants a ubiquitous radio hit that still has some bite, he makes it. If he wants to spit a hot 32 and then make the production catch up to his intricacies, he makes it happen. And if he wants to remove the question mark off of the question percolating around him for years beforehand "Is K Dot the best rapper in the game right now?", then there's only one word to encapsulate what it sounds like when he conclusively does so. – Butch Rosser
---
6. Ghostface Killah – Supreme Clientele
(2000; Razor Sharp/Epic)
Just listen to the opening of "Nutmeg." The horns blow back the hair of metalheads and valley girls alike. The drums drip with diamonds, if diamonds could drip. And the bass coils like a snake with a mouse in its stomach: smooth but a little awkward, heavier than usual, and confident as hell. All that happens before Ghostface has even said a word. When the beat locks in, leaving Dennis Cole the empty space required to remind us of his G.O.A.T. status, it's pure focus. There is nothing else for the 64 minutes of Supreme Clientele, a record who lives to be gaudy. It's the only thing.
There is an elaborate backstory to this record, involving diabetes, a trip to Africa, and various Kung Fu movies. At one point, maybe that mattered. Now, Supreme Clientele exists by itself — a stone cold classic that Ghostface knew was a 10 even as he was recording it. It's one of those inexplicable records where the hits keep coming, one after another. The first listen of Supreme Clientele is like brainwashing; suddenly, nothing exists before this, and you can't imagine that anything else needs to afterward. – Ben Cohn
---
5. Run the Jewels – Run the Jewels 2
(2014; Mass Appeal)
After trading production, guest verses, and tour itineraries at the start of the 2010s, El-P and Killer Mike joined forces in the studio to get on some proper bullshit. Their first go-round as Run the Jewels in 2013 was fun and hard, but as a free download—and in the shadow of their work in the name of Adult Swim—it had more than a whiff of pranksterism. It was their second album that really set spinning the yin of El-P's insular misbehavior and the yang of Mike's seething, activist anger. El's programming packs about as much digitized heat as anything else in his catalog, and the duo are just limber with their bars whether at double speed ("Oh My Darling Don't Cry") or from two converging points-of-view (the devastating "Early"). Lines from "All Due Respect" serve as the motto for Run the Jewels 2: "We the goddamn reason for Ritalin/In the back of the class, twitchin' and fidgetin'." The duo portray themselves not as mere antiheroes but as bullies, straight-up bad guys. They exist solely to crush, be it blunts or pussy, cops or conspiracy theories, your valuables or your vertebrae. – Adam Blyweiss
---
4. Kanye West – My Beautiful Dark Twisted Fantasy
(2010; G.O.O.D./Def Jam)
To get the necessary and the obvious out of the way: something very terrible happened in Kanye's mind between the infrequently medicated bipolar disorder, hanging around with too many rich white people, and the pressures of fame both in terms of a crucible of annihilating self-hatred and substance abuse coupled with people who simultaneously fill your head with gas and also convince you that you are a shithead. That said, however, he manages to crop up again and again on our radars not because of the struggles he undergoes and the occasionally absolutely totally wack shit he says, but because he makes absolutely great music. His debut The College Dropout is up there with 36 Chambers, Illmatic and Reasonable Doubt as one of the greatest rap debuts of all time, not to mention its place within the broader canon of debut records, and his two subsequent followups if not being quite as good are at least very close, clustered as one of the best first-three-record spans of an artist of all time. 808s and Heartbreak is a little iffier, but its successes and experimentalism more than substantiate it as a worthwhile record, not to mention the massive cultural influence it had in more or less creating rap-singer figures like Drake ab nihilo. But My Beautiful Dark Twisted Fantasy is Kanye West's magnum opus, not only one of the best rap records of this millennium so far but simply one of the very best albums period, regardless of time.
Track by track, it is one flawless composition after another, from world-class album opener "Dark Fantasy" featuring both a pre-famous Nicki Minaj spoken intro and choirs from Justin Vernon tastefully buried in the background to the ubiquitous and rightfully praised "Monster" to the the all-star musical and choral gang on "All of the Lights," a song which still reigns as the very best art-pop headphone/arena hybrid banger Kanye West has ever written. Album closing suite "Lost in the World/Who Will Survive In America?" brings an apocalyptic and revolutionary political slant to the hedonism Kanye West would later indulge in too much on later records. And yet every track discussed seems only to highlight the ones overlooked, like "Gorgeous," potentially the best track on the record featuring a powerful Kid Cudi hook and a killer verse from Raekwon, the killer trio of "Runaway," "Hell of a Life," and "Blame Game," a track that features the only skippable moment of the briefly entertaining Chris Rock skit. Likewise the greatness of tracks like "POWER" and "So Appalled," each showing a pre-Watch the Throne level of opulence in hip-hop. My Beautiful Dark Twisted Fantasy functions as the first record of the diptych made with Watch the Throne, the latter being the face and throne of the conqueror while the previous is the darkened mind of the king that sits upon it. We can and should be critical of Kanye's personal actions and his increasingly spotty musical output, which now too often vacillates between the brilliant (DAYTONA, Kids See Ghosts) and the middling to poor (ye, NASIR), but My Beautiful Dark Twisted Fantasy is one of the very best records ever made by any artist, the first half of a two-record period at the end of the sentence of one of the most beautiful, revolutionary and just plain fucking good five-record spans in music. – Langdon Hickman
---
3. Outkast – Stankonia
(2000; LaFace)
How can you accurately summarize the sheer goddamned weight of this record? To avoid getting tripped up in mental tangents I'll stick to the criteria of this list—its place in hip-hop history. Southern styles were making inroads in the broader genre consciousness in the late '90s/early 2000s, as L.A. struggled with an identity crisis and New York fell under the rule of Jay-Z. Prior OutKast records like Aquemini helped, as did the emergence of Missy Elliott, Timbaland, Ludacris and others. Stankonia, though, had the immediacy and intensity of, well, a bomb landing on Baghdad. There's a reason why so much rap music from the past 15-plus years sounds to some extent like early-2000s trap.
The music on Stankonia, of course, is what ultimately matters most (although you could go all day talking about the sociocultural and -political significance of this album). Produced largely by Big Boi, Andre 3000 and Atlanta rap stalwart Mr. DJ as the collective Earthtone III, it's a rich tapestry of funk, soul, trap, blues and rock 'n' roll, most of it live instrumentation by local session players. (There are exactly three samples on Stankonia.) The sound is labyrinthine enough to get lost in for days but accessible and hook-laden enough to attract a mass audience.
Right off the bat there's the glorious Funkadelic/Muscle Shoals hybrid of "Gasoline Dreams" with its sardonic Andre 3000 refrain: "Don't everybody like the smell of gasoline?/Well burn motherfucker, burn American dreams!" Then there are the big hits like "So Fresh, So Clean" and "Ms. Jackson," neither of which sacrificed Andre or Big Boi's identity to become chart-toppers, and the uncompromising "B.O.B.," which is one of the greatest songs ever made by anyone, anywhere, ever. But Stankonia is also positively lousy with deep cuts: the Stax Records soul-inflected panoramic view of Atlanta project life on "Spaghetti Junction," a skewering of male sexual selfishness ("I'll Call B4 I Come"), the tragic story of suicide in "Toilet Tisha," the Black Power defiance of "Humble Mumble"…I could go on. You probably know this album at least in passing if you're reading this, but it contains multitudes. Consider delving back into the place from which all funky things come. – Liam Green
---
2. Jay-Z – The Blueprint
(2001; Roc-a-fella)
The Library of Congress, America's flagship archive and the world's largest library, houses an original draft of the Declaration of Independence, original letters written by Mark Twain, Martin Luther King Jr. as well as seminal works of literature. The library's prerogative is to be a microcosm of America, meant to help America teach itself about itself. In other words, a work being included in the LoC's archives is a symbolic ordainment that posits that your work is an aggregate echo of the people. As of March 2019, Jay-Z's The Blueprint has been included in the archive.
Jay-Z's past efforts had always been a showcase of rap's pantheon of producers but perhaps what makes The Blueprint stand out is the seemingly telepathic link between Jay-Z and the album's producers, specifically Kanye West and Just Blaze, arguably the two most pivotal architects in the creation of the 2000s' hip-hop sound. For the latter, "Girls, Girls, Girls" and "U Don't Know" were productions that fused the sample heavy soundscapes from early '90s rap with a pop-friendly ethos. Kanye West's creations, like the infinitely charismatic "Izzo," would also propel the once-shy producer towards his own legend. The Blueprint was also the most introspective of Jay-Z's albums up until this point. Even the drab "Renegade," a meditation on the complications of social mobility, hears an intimate and tired Jay-Z allow himself to be upstaged by Eminem's nimble technical theatrics.
Purist rap zealots will inevitably argue that Reasonable Doubt is Jay-Z's opus but The Blueprint is the project that made Jay-Z an inseparable part of his art. Like Andy Warhol's soup cans, the lyrical dexterity and soul-centric production propelled Shawn Carter into a societal luminary. – Paul Glanting
---
1. Kendrick Lamar – To Pimp a Butterfly
(2015; Top Dawg/Aftermath/Interscope)
The road from Sherane's house to a Pulitzer included a detour through a free-jazz and funk fantasy shot through with a nervous breakdown brought upon by the trappings of fame. Kendrick Lamar's weirdest and most experimental record was only his third overall, and when it arrived it did so without much in the way of a warning from Kendrick himself. By this point, Lamar already had one masterpiece under his belt—2012's good kid, m.A.A.d city, an autobiographical-of-sorts narrative of growing up in Compton painted with both gritty and fantastical tones. But having ubiquitous singles like "Swimming Pools (Drank)" and "Bitch Don't Kill My Vibe" all over radio has its drawbacks, and within a few years K-Dot was beginning to ask the bigger questions about fame, Black fame in particular, and allusions to the likes of Richard Pryor, Tupac and Michael Jackson (and a winking reference to Bill Clinton) illustrate the perilous path that filled him with trepidation. But rather than become a recluse like Sly Stone, he made a groundbreaking psychedelic soul record…like Sly Stone. With guests such as Thundercat, Kamasi Washington, George Clinton and Snoop Dogg, Lamar opens the doors to a strange musical hallucination that's both introspective and deeply funky. He talks to God who takes the form of a beggar, rewrites James Brown lyrics to take a jab at Drake, and released a single that came to be an anthem for the Black Lives Matter movement. There's not a moment on this record, however peculiar, that doesn't feel monumental.
That this album is here at the top of this list shouldn't be controversial, but of course it inevitably is: People are still debating it. At the time it was subject to "this album is overrated" essays. It was also a favorite of the President. No, not the current one—the one whose assertion of "I think we'll be OK" on Anthony Bourdain's Parts Unknown now feels like a punch to the stomach. Things got worse after that. Things got worse after To Pimp a Butterfly. Everything except Kendrick's own music, it seems. But when Pharrell takes the mic briefly to say "We gon' be alright," it's not blind optimism but a statement of determination, and the enduring power of "Alright," the optimism of "i," the anger of "The Blacker the Berry," and the jubilation of "King Kunta" prove Kendrick Lamar as a figure both inspirational and inquisitive. He's the first to admit he doesn't have the answer, but there's something reassuring about him being right there with us. Is there a better rap album released in the past 20 years? Maybe—many of the album's best moments don't even involve rapping. But there's no single set of music that's as powerful. – Jeff Terich
---
Support our Site—Subscribe to Our Patreon: Become one of our monthly patrons and help support an independent media resource while gaining access to exclusive content, shirts, playlists, mixtapes and more.