The Watson Twins : Talking to You, Talking to Me
The Righteous Brothers weren't really siblings. If the Thompson Twins were related (they weren't), that would make for the most unconventional family ever. The Watson Twins may not be the only pair of actual musical twins out there, even identical, but they are one of the most soulful sets out there. Having gained prominence by backing Jenny Lewis on her solo debut, and simultaneously releasing their own material, the Watson Twins have been bringing their unique blend of country, folk and soul to the masses, even having one of their songs becoming Starbucks' "Pick of the Week." Now, that's a tall order. (Hahaha…ugh.)
Talking to You, Talking to Me, the duo's sophomore full length, though sounding like some kind of Abba tribute, is instead a continued confirmation of the sweetness and soul of these sisters' voices. Whereas Fire Songs was a little more country, Talking is a little more R&B. From the outset, the album picks up the pace from the slow languor of its predecessor to the quickened pace drum beat of "Modern Man." Those aching for the sound of Portishead's debut album need listen no further than "Harpeth River," a sinuous throwback groove that combines eerie disco tropes with the gorgeously overlapping voices of our featured twins. But nowhere are the girls reaching down into your shoes than on the organ fueled blues of "Midnight," its "oohs" and "no-no's" a powerful showcase of the twins' magnetism.
The rest of the album may not stand out as clearly as the opening tracks, but there are hidden treasures to be found throughout, overall yielding more highlights than lows. The Spectoresque "Savin' You," and "Tell Me Why," the shimmer of "Brave One," the organ stomp of "Devil In You," and the Steely Dan meets the Eagles swagger of "Calling Out" are all testament to the diversity and strength of Talking to You. The Watson Twins were always better than being a mere set of backup singers, and this album is simply further proof.
Similar Albums:
Carole King- Tapestry
Linda Ronstadt- Heart Like a Wheel
Portishead- Dummy
Download at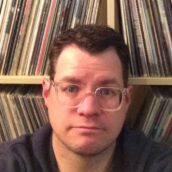 Terrance Terich
Terrance Terich firmly believes that 1985 is the best year for music. He lives near Seattle with his books, movies, and music.