Tom Waits : Swordfishtrombones
In 1983, Tom Waits saw himself creating an entirely new identity for himself. After leaving longtime label Elektra, Waits transitioned to Island, where he began a legendary tenure that saw some of his career-defining and best-known records. The first of these was Swordfishtrombones, which for Waits, was a drastic step into an altogether new direction. Before moving to Island, Waits was known for his barroom balladry, something that he was clearly ready to drop by the end of his time on Elektra. His final record for the label, Heartattack and Vine, showed the singer-songwriter moving away from his radio-friendly sound into dirty blues-rock terrain. But even that wasn't enough of a warning to fans of what was to come on Swordfishtrombones.
Swordfishtrombones was the work of an entirely different artist. Waits stepped out of the bar and into the alleyway, into a cab driven by a drunken pyromaniac who was to drop him off at the pier where he would smuggle himself onto a cargo ship full of bootleg liquor. Or at least that's what it sounded like. This was the sound of a man leaving routine behind for a new, strange adventure, one that he would explore in song. From the opening marimba and horn of "Underground," it was clear that this wasn't the Tom Waits that sang "Ol' 55." From the sound of his hellacious grumble to the oddball instrumentation, Waits had reinvented himself in just under two minutes. But the rest of the album displayed just how deep his newfound experimentation had bled.
"Shore Leave" saw Waits narrating a sailor's encounters in spoken word format, while the jazz-inflected "Soldier's Things" took a similar idea and simplified it, as Waits went down a list of, well, soldier's things. His cast of characters still seemingly comprised a similar rogue's gallery of outcasts, but they felt more surreal, like abstract charcoal drawings of sailors and drunks rather than vivid photos. It was the same Waits writing the songs, only he had taken it a step further into something much more weird.
Several songs on Swordfishtrombones are monstrous takes on the blues. "16 Shells from a Thirty-Ought Six" is the loudest song on the album, seeing Waits shouting "I'm gonna whittle you into kindlin'" like a madman. "Gin Soaked Boy" and "Down, Down, Down" are shorter, but similar in style, pairing bluesy guitar riffs with fiery Hammond organ. Waits had merely used the formula he created on "Heartattack and Vine" but stretched it out into the colorful rave-ups heard here.
Among the many brilliant tracks on the album, "Swordfishtrombone" is my personal favorite, an "obituary mambo" played on marimba and upright bass that foreshadowed the Latin-influenced work that would be much more prevalent on later albums, particularly those that feature guitar work by longtime collaborator Marc Ribot. This song tells a tale of yet another soldier, albeit one who sets out for California, leaving neighbors in his hometown to gossip about his uncertain fate. But even without that song, the deranged tale of "Frank's Wild Years" is worth the sticker price of the album alone. I played it on a drive to the beach with some of my friends once. As they heard the opening line, "Frank hung his wild years on a nail he drove through his wife's forehead," they collectively widened their eyes and did a double-take, only to be taken aback by the end, in which Frank torches his house and gets the hell out of town. (In hindsight I don't know why this was our beach-party music of choice, but it got their attention.)
As Swordfishtrombones was the first record to see Tom Waits entering his strange world of oddball characters and twisted melodies, it also makes for a good starting point for those who haven't taken the step into the singer/songwriter's strange, spectacular second act. Some might also suggest Rain Dogs, which is no less badass and even a bit stronger on the whole. Yet no collection is really complete without Swordfishtrombones. It's a brilliant, peculiar, colorful collection that opened the door into Waits' bizarre imagination.
Similar albums:
Crooked Fingers – Red Devil Dawn
Nick Cave and the Bad Seeds – The Good Son
Ed Harcourt – Here Be Monsters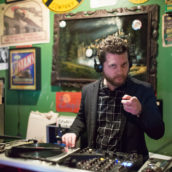 Jeff Terich
Jeff Terich is the founder and editor of Treble. He's been writing about music for 20 years and has been published at American Songwriter, Bandcamp Daily, Reverb, Spin, Stereogum, uDiscoverMusic, VinylMePlease and some others that he's forgetting right now. He's still not tired of it.